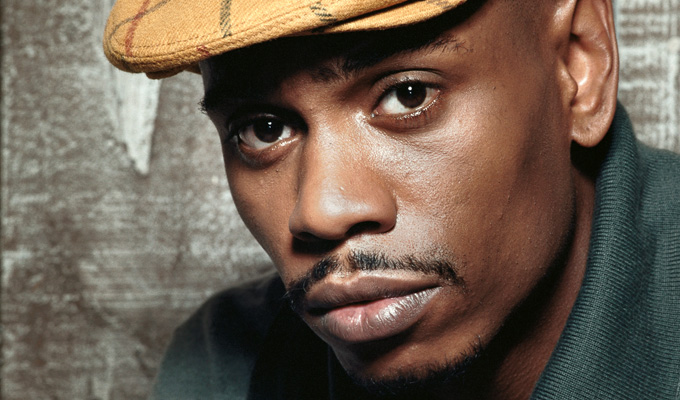 Chappelle's back - and he 'kills'
Dave Chapelle got back on stage last night – 24 hours after a rowdy crowd had forced him to abandon his show – and 'killed'.
The 40-year-old comic made headlines across the States after quitting his set in Hartford, Connecticut, on Thursday night amid a chorus of heckles and catcalls.
But the next night of the Oddball Comedy & Curiosity tour in Pittsburgh passed without incident – with other comedians on the bill describing Chappelle's performance in glowing terms.
Al Madrigal tweeted: 'Dave Chappelle killed in Pittsburgh in front of a great crowd. #oddballfest night & day, only difference is the crowd. #listening.'
Flight Of The Conchords – who had dubbed Hartford 'Harshford' following the audience reaction to Chappelle – posted: 'The population of Pittsburgh are good dudes.'
Kristen Schaal added: 'Pittsburgh was great. Chapelle was awesome. Get ready Chicago
And Hannibal Buress added: 'Chappelle just destroyed in Pittsburgh.'
Fans in the audience of the First Niagara Pavilion baked that up.
Marshall Taylor tweeted: 'The #oddballfest in Pittsburgh was great. @DaveChappelle was great, @hannibalburess killed. Really amazing all around.'
Ben Steiner said: 'I think I can honestly say I was witness to one of the better comic performances of our time tonight #DaveChappelle Chappelle @OddballFest
And Robert Lovell said: 'Had a once in a lifetime experience at the @oddballfest. #DaveChappelle is back and in full force.'
It is a complete turnaround from his show in Hartford when, ten minutes into his set, he complained that the 30,000-strong crowd were making too much noise, and abandoned his prepared routine.
He pulled up a stool and started smoking and making idle chat until he had completed the 25 minutes he was contractually obliged to be on stage. Before he left he said: 'This crowd sucks' and 'Sorry about that for those who were trying to hear a show.'
Ebony magazine later claimed there was a racial element to the incident.
Writer Lesli-Ann Lewis, who was in the audience, invoked the era of minstrel shows and said: 'This was a Black artist shrugging the weight of White consumption, deciding when enough was enough.. 
'There is a long history of asking African-Americans to endure racism silently; it's characterized as grace, as strength. Chappelle's Connecticut audience, made up of largely young White males, demanded a shuck and jive. Men who seemed to have missed the fine satire of the Chappelle show demanded he do characters who, out of the context of the show look more like more racist tropes, than mockery of America's belief in them.'
Published: 31 Aug 2013
What do you think?