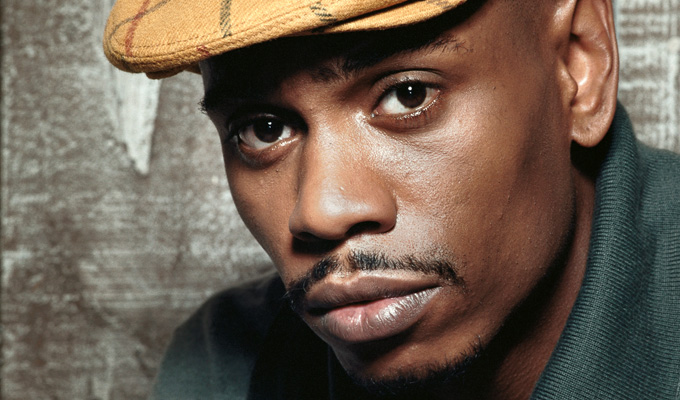 Dave Chappelle booed off stage
Dave Chappelle walked off stage to a chorus of boos and heckles last night after a rowdy audience ruined his stand-up comeback.
The comic faced a barrage of hollers from the moment he took to the stage at the 30,000-seat Comcast Theatre in Hartford, Connecticut.
About ten minutes into his set, he complained that people were making too much noise, and abandoned his prepared routine. He pulled up a stool and started smoking and making idle chat until he had completed the 25 minutes he was contractually obliged to be on stage.
'You are booing yourself,' he said over the wall of noise. 'Go home and look in the mirror and say "boo" at yourself. At the moment, that's how I feel about you.'
He added: 'Ah, fuck you, I'm the one that has to get the review in the paper tomorrow. I'm going to have to read about this shit for months.'
During the lull, a woman from the audience came up to the stage, and gave him a copy of a book she had written, and Chappelle started reading the cover notes.
Later the 40-year-old added: 'Ah this crowd sucks. Security is having a conference about how to get me out of here. I'm never coming back. This was a nightmare.'
As Chappelle prevaricated some more, a slow handclap breaks out among the audience. He told them he was going anyway, and apologised: 'Sorry about that for those who were trying to hear a show,' before cueing music and walking off stage.
Chappelle was appearing as part of the Oddball Comedy and Curiosity tour alongside Flight Of The Conchords, Hannibal Buress, Demetri Martin, Kristen Schaal and Al Madrigal. It has been billed as his return to the spotlight since he abruptly walked away from his $55million deal with Comedy Central in 2005, saying he was unhappy with the direction his sketch show Chapelle's Show was going.
It is not the first time Chappelle has walked off stage in the face of a rowdy audience. In June 2004 he quit his show in Sacramento, California after berating his audience for constantly shouting 'I'm Rick James, bitch!,' one of his catchphrases from Chappelle's Show.
According to some reports, some people in the crowd were repeatedly yelling 'Rick James' last night, too.
Needless to say, Chapelle's filibustering and early departure led to some complaints on Twitter.
One fan, Joe Moriarty, said: 'Dave Chappelle has been on stage 30 minutes, and has not told one joke. He's reading a book and smoking.'
Another user, Lunhness Monster, said: 'I paid $50 to watch dave chappelle sit on a stool and smoke cigarettes'
Another, Dmaq, wrote: 'Yo Dave Chappelle just bombed tonight... I was really disappointed man. I drove 3 hours and paid 70 bucks and fuck man!!! So pissed.'
But others were more sympathetic. Chris Vinyard said: 'So many white Frat boys in Hartford tonight are upset Dave Chappelle didn't appreciate them screaming Rick James during his routine.'
Mister Santos, who describes himself as a comic in his profile, said: 'People in Hartford suck. Was at the Dave Chappelle show tonight and be couldn't get a word out.'
Here is some cameraphone footage of the walkout
Published: 30 Aug 2013
What do you think?