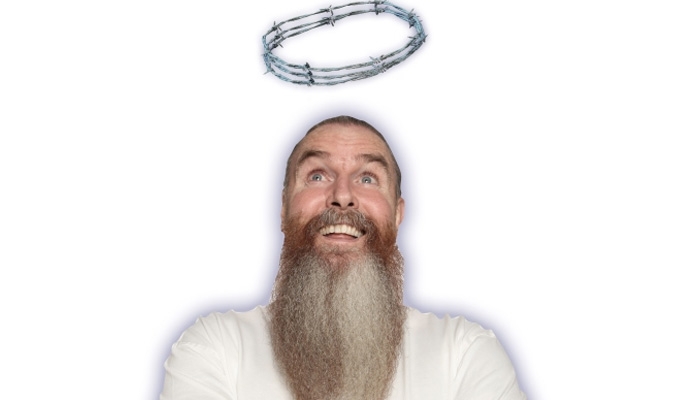 Moosed amusing: Fringe award's top ten revealed
THE Amused Moose Comedy Awards has announced its shortlist of the top ten Edinburgh Fringe shows by comedians who don't have DVD deals or options. The list is: John-Luke Roberts: Broken Stand-Up; Al Lubel is Mentally Al; Luke Toulson: I Don't Know How I Feel About My Kids; Martin Mor: How Do You Like Your Blue-eyed Boy Mister Death? (pictured); Danny Ward: Pressure Point; Jonny & the Baptists: Bigger Than Judas; Mae Martin: Slumber Party; Milo McCabe Schiz; George Ryegold: Adulterated; Nathaniel Metcalfe: Enthusiast. The winner of the £5,000 prize is announced on Sunday.
FILMING has begun on the second series of Jason Cook's BBC Two sitcom Hebburn, starring Chris Ramsey. Writer Cook told the Shields Gazette: 'Everyone is more than excited to get started with the filming. We had a read-through of the scripts recently and it was just phenomenal.'
MILES JUPP is starring in a cricketing comedy to raise funds for The Lord's Taverners. On Her Majesty's Secret Wicket is a full-production radio-style comedy about an elite band of Victorian era cricketers, who combine spy work for the Queen with their exploits on the pitch. The first episode is available for free download with those who enjoy it invited to make a donation to the charity. To hear it, visit secretwicket.co.uk.

THE AMERICAN remake of The Inbetweeners is to get another airing on British TV. MTV has bought the rights to the short-lived, 12-episode series, which it will air from September 9. The show, starring Joey Pollari, Bubba Lewis, Zack Pearlman and Mark L. Young, previously aired on E4 last year.
COUNT ARTHUR STRONG will be getting a repeat run on BBC Two in the autumn, co-writer Graham Linehan has tweeted.
Published: 13 Aug 2013
What do you think?