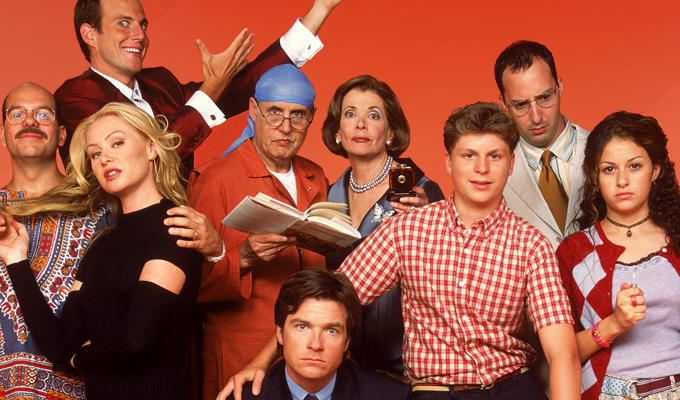 Is Arrested Development coming back? Definitely
Arrested Development will be back – either as another series or as a movie – creator Mitch Hurwitz has confirmed.
When asked during a Q&A session at the Just For Laughs comedy festival in Montreal if the show would be returning, Hurwitz said baldly: 'Definitely.'
Then, turning to Netflix chief content officer Ted Sarandos, he said: 'I don't want to get into a whole negotiation right now... but I've got a family to feed.'
He added: 'I keep thinking about it, and why don't we do the movie version of this and then do the series, because this series kinda peaks with the story?
'I kinda go back and forth between that and a series. But here's the most important thing, whatever we do, I want to get the cast all together and not do another anthology thing, and that's why I keep thinking about kicking off with a special or a three-part show and then going into a series.
Then he asked Sarandos: 'Are you game for that?'.
'Absolutely,' the Netflix boss replied. 'In any form.'
Hurwitz said he had long planned a movie – but star Jeffrey Tambor always jinxed it. 'We would see each other and talk about it, and then it would end up in the press with him saying "We're doing it!", but we didn't have have a deal, we don't own the property – 20th Century Fox owns the property – and there were a lot of things to get in place.
'And also part of it was us stalling a little bit, too, waiting to see if the right idea came to us. And I think it has. We have it basically, we have the next step.'
Netflix revived the cult sitcom for a fourth 15-part series this year, with each episode concentrating on one character because of the difficulty in getting all the cast together. Although, the on-demand service does not release any audience figures for their shows, it is thought to have been a success.
Hurwitz also said he enjoyed the creative freedom the company gave him, saying it was 'completely unlike the prior experience, which was a external battle every day. This was an internal battle, which was more difficult, but more rewarding.'
He later added that he had battles with executives at the Fox network about dumbing down the show.
'The show was very expensive and it wasn't making them money,' he admitted. 'But their answer was to dumb in down and take out a chunk of it.
'We weren't trying to make an arcane, smart show. We had to tell them, "No, it's a dumb show, it's really dumb. I swear to God I'm doing it to get you an audience. I'm trying to make it successful for you."'
But although Hurwitz spoke of sticking to his guns, he added: 'It's not selling out to try to figure out what's best for your audience.'
He also discussed how Alexei Sayle was mistreated by the Hollywood machine, after being signed up to reprise the Eastern European persona he had employed as the landlord in The Young Ones for the 1992 Golden Girls spin-off Golden Palace.
Hurwitz, who was a writer on the series, told how executives fired Sayle before the pilot had been shot.
'Everyone just decided, as they do when there's a lot of executives, "He can't do it, he's not funny. We gotta fire him."
'So he's fired. And then we shoot the pilot. And he storms it like crazy. The crowd loves him; he gets a standing ovation at the curtain call, but he's got fired.'
The network then got Cheech Marin, of Cheech and Chong fame, to step into the 'funny foreigner' role. But when he got on set he refused to do the comedy Mexican accent he employed in his stoner double-act, telling them: 'Oh no, I don't do that any more.'
The sitcom got cancelled after one season.
Published: 25 Jul 2013