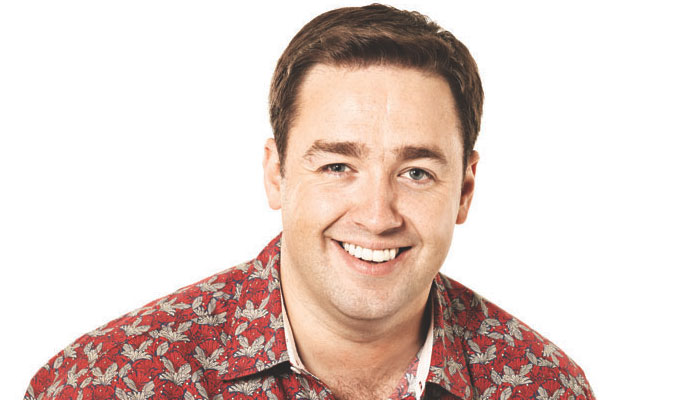 Another comedy club closes
A comedy club backed by Jason Manford has gone to the wall because of declining audience numbers.
The purpose-built Laugh Inn in Chester has announced that it is to close soon after three years of difficult trading.
Co-owner John Locke said he was 'absolutely gutted' to make the decision, but the club never attracted large enough audiences to survive.
In a post on Facebook, Locke wrote: 'After almost 3 years of trying to create the best comedy club we could, I am really upset and unhappy to announce The Laugh Inn Chester is soon to close.
'I am as you can all imagine absolutely gutted in a personal sense as myself and the team put our hearts and souls into the club. Unfortunately it has never made the money it needed to sustain the business and we have had to make the decision to close because we simply have no other choice. I am gutted to say the least about the closure.
He paid tribute to the 'dedicate and passionate team' who worked at the Laugh Inn and said: 'Without them the club would have shut months ago'.
Locke added: 'We supplied Chester with some of the finest comedy the UK had to offer but we just never got the numbers in we needed regularly and we have come to the end of the road.
'I would also like to thank all of you who attended regularly and made The Laugh Inn the special place it was for the time it lasted.
Locke, the former marketing manager of Manchester's Comedy Store, owned the venue with local entrepreneur David Coughlin. It had played host to the likes of Michael McIntrye, John Bishop and Russell Kane - as well as Manford.
In December 2011, six months after the Laugh Inn opened, the club said Manford had become a 'major shareholder' in the company, putting out a statement that he had joined the directors as a co-owner.
Despite the widespread publicity that received at the time, Manford's agent today said that although Manford lent Locke a substantial sum to invest in the club, no paperwork was signed to make Manford a director or owner. She added that Manford had not yet been repaid the money.
As recently as three months ago, Locke claimed that the club was booming. In response to media reports of business woes at the club, he told Chortle the club was growing, after seeing a slump in audience numbers. He said then: 'We are beginning to see the light now.'
Click here to read our review of the opening night.
Tweet
Follow @chortle
Published: 8 Jun 2013
What do you think?