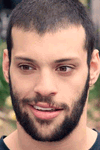 Not welcome here...
Disabled stand-up Tim Renkow was turfed out into the street by hostel staff who he believes mistook him for a homeless man.
The receptionist at the Times Hostel in Dublin twice slammed the door in the comic's face; and the second time it made contact, almost knocking him down.
Yet although he had a reservation, the hostel has refused to apologise or even engage in any dialogue about the incident, which happened earlier this month.
Renkow told Chortle: 'I can see how I could be mistaken for homeless – or drunk – but I had booked a room. I want some action to be taken against this man.'
The London-based comedian – who last night secured a place at the Chortle Student Comedy Award Final – was mistreated when he headed to the Irish capital fro a gig earlier this month.
He arrived in Dublin city centre at 8am on May 3, and headed to his accommodation in College Street
In a letter of complaint to the hostel, Renkow explained what happened.
'The man at the desk took one look at me and slammed the door in my face,' he wrote.
'Being that it was so early I figured that the hostel wasn't open so I had breakfast. When I came back at 9am the same thing happened except, this time the door hit me almost knocking me down.
'To cut a long story short, I had to force my way in, demanding a refund. According to the man I wasn't on the list but I have an email contradicting him. He also called the police on me.
'I'm a stand-up comic so, I travel all over and I have never been treated with such disrespect. Even if I was not on the list there was no reason, apart from prejudice, to close the door, literally, on me.
'I'm writing for two reasons: if I did pay I want a refund. Mainly though, I feel you should be aware of the bigotry of your employee. Especially because your in the hospitality business so, your employee's actions is not only a reflection on your company but also your city and country.'
Chortle asked the hostel for a comment yesterday, but no one has yet replied. But on their website they boast: 'Our lovely staff are always willing to help out.'
Dublin Gardai say they can find no record of a call-out to the hostel on May 3.
The other comics to secure their place in the Chortle Student Award final at the London semi last night were Richard Perry, Evelyn Mok and Nathan Wilcock. The final of the competition, presented with ALCATEL ONE TOUCH and Universal Pictures (UK) takes place in Edinburgh's Pleasance One at 10.30pm on August 12. Tickets.
Tweet
Follow @chortle
Published: 14 May 2013