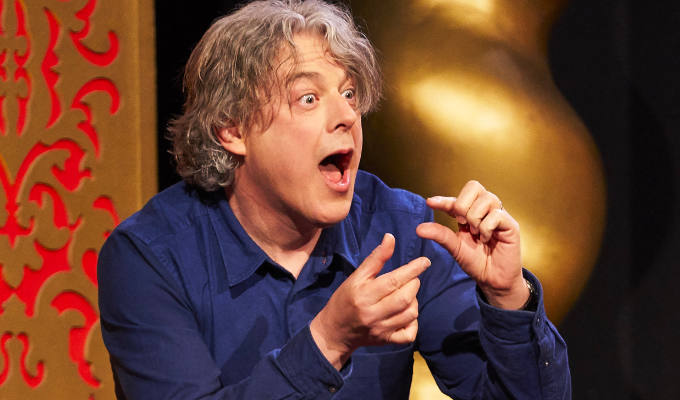 'I had to resist this narrative that I'm elderly and slow, and should be in a home'
Alan Davies is one of the contestants in series 12 of Taskmaster, coming to Channel 4 later this month. Here he talks about being the oldest of the group, about how QI prepared him for humiliation and how Greg Davies's rants are some of the funniest things on TV…
---
Why did you sign up to Taskmaster?
Lots of people I know have been on and they all told me, 'It's really great fun, you should do it.' Lou Sanders is a huge advocate of Taskmaster, Jo Brand has done it, Lee Mack, lots of people. I know David Baddiel counselled Victoria Coren Mitchell before she signed up. Victoria and I live near to one another. We had the same reservations about public humiliation, and also a lack of confidence in our ability to be quick-witted and versatile enough, and make a good fist of it.
Did you have a strategy? Did you think, 'I'm going to try and butter Greg up'?
That would have been a good idea! No, I just wanted to enjoy it, and for it to be funny. Apart from the group tasks, you spend a lot of time doing tasks by yourself and they don't give you any clues as to how you've done, or how anyone else has done. You're all kept in the dark, because you're absolutely forbidden from talking about it to anyone, so it's hard to know what a good strategy would be. It's like MI5! Or I presume it is, I don't know anybody at MI5.
Sometimes you feel like you've got a handle on something and done a task really well, then when you get to the studio you get no points. Sometimes you think, 'I've made an absolute idiot of myself,' and you get five points! Initially, you're sat there thinking, 'I have no idea how this points system works' but once they put the numbers up on the screen, you get drawn into this psychological process. You find yourself thinking, 'If I get two more points I'll be level with Morgana [Robinson],' or something. 'Oh, no! Guz [Khan] has won, he's ahead!'
Were there any particular tasks that you were better at than others?
Greg made a lot of jokes about my timekeeping: he has an admirable comic instinct that sniffs out where the comedy is. On one task I thought I'd done it quickly but I was the slowest by miles. On another, when Alex said, 'It's against the clock,' the crew actually laughed.
Did you concentrate on being funny, or doing the task well?
Your instinct is mainly to be funny, of course, but what you're not prepared for on this show is that there's something very unguarded about this whole process: they have a lot of cameras in all sorts of places, so you don't know where they all are.
Once the task begins, you forget they're there and your instinct is simply to try and complete it as best you can. Perhaps it's something that all comedians have in common: we don't get any thrill from being rude or ill-tempered; we get a thrill from people smiling and laughing, and we're terribly needy. We like people to be happy, we want to do it, we don't want to stomp off and throw everything on the ground.
But also, comedians do have a capacity for making unusual connections and thinking outside the box, so sometimes you do see some ingenious solutions. The variety of solutions in this is amazing, actually, and also the myriad ways in which you can fail.
The thing that rarely gets mentioned about Taskmaster is that the editing on the programme is extraordinarily good – I've rarely been on a show where the editing is so strong. They gather, from multiple cameras, reams of digital footage, and some of the comic timing in the edits and the way they put music over things is exceptional.
I'm sure that's one of the main major reasons they won a Bafta, because the technical side is incredible. We can do pretty much anything, and they make it look either really funny or really daft. I felt as though I was in safe hands, because they want to make an entertaining show.
Do you think there was a difference in the way you approached the tasks compared to some of the younger contestants?
Greg kept teasing me for being old, because I am the oldest, I'm 55. Guz is the youngest at 35, and Morgana is 39, Desiree [Burch] is 42 going on 17, so she's got an incredible lust for life and an infectious energy, and a superbrain. Victoria is many years younger than me, and is actually closer in age to Desiree than me. Greg decided to concentrate solely on me as Old Father Time. I had to give myself a pep talk: 'Everyone's treating you like you're at the end of your life. You're in your prime! Look at Joe Biden, for heaven's sake!' I had to resist being dragged into this narrative that I'm elderly and slow, and should be in a home.
You and Victoria have another similarity in that you are the 'intelligent quiz show people'. Did that increase the pressure?
Don't be fooled just because we're on quizzes. I've had a long career of being humiliated and mocked and ridiculed on QI, so that was good preparation!
Victoria is very intelligent, as she showed when she solved a riddle very quickly, a riddle that had me totally hamstrung and confused. It's very easy to confuse me.
The other three contestants may seem chaotic and crazy and ridiculous, and they wear loud clothes, and they're brilliant fun, and great party guests, but they conceal very sharp minds. They're tough competitors. Alex Horne said to me that it's one of the closest series they've ever had, and nobody knew who was going to win until that final bell tolled.
Tell me about the first round, where you have to bring in a prize. Did you lose anything and regret it?
No, because no one wanted any of them! One week we were asked to buy a gift for another contestant. First of all, I didn't realise what budget was available, and people were racking up enormous bills. I slightly misread the situation and looked like an absolute skinflint when I bought Desiree a notebook.
Victoria thought, because I like football, that I would enjoy a Manchester United season ticket, not understanding that's of no use to an Arsenal fan. Greg and Alex thought that was absolutely hysterical. Alex said, 'But don't you hate Manchester United?' I said, 'Yes, of course.' But you can't tell with Victoria if she's in on the joke or not.
Which task made you laugh the most?
I laughed a lot doing some of them, and some of them were exasperating. There was one where I was supposed to paint a picture. I had 15 minutes, and it took me 30 minutes just to find the paint, so that was frustrating.
The one that made me laugh the most was when we had to make an upside-down face. That was my first day, and despite all the arts and crafts I do with my children, I don't think of myself as a very competent arts and crafts person and didn't know where to begin.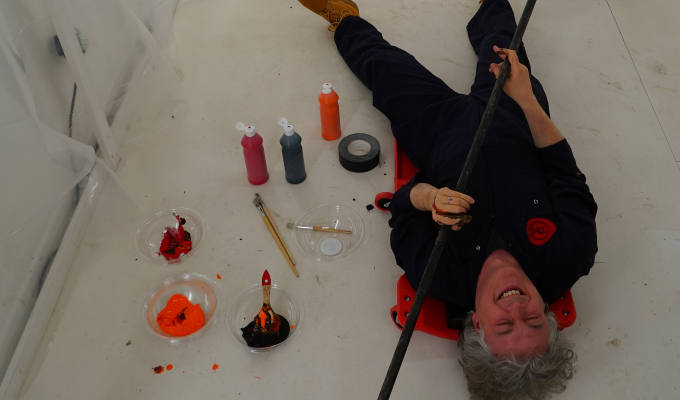 Anyway, I did this thing, and then Greg started to take the mickey out of it. He went on a riff for a long time because as we did the task, the face that I'd created started to fall apart. There was a kind of 'before' it fell apart and an 'after', as if my character had been the victim of a terrible assault. Greg had an absolute field day over that.
When he's on a roll, he's really one of the funniest. I'm lucky to work in comedy, and I know some funny people, but Greg Davies on a riff on Taskmaster, taking someone apart, is one of the funniest things on TV.
Are your children excited to watch this series?
Yes, they are. I imagine we'll be watching Taskmaster Bleeped, as we had a fair bit of swearing. Although Greg did say that some of the editions of Taskmaster bleeped are likely to sound like Morse Code with us.
Taskmaster's very popular with the children in my life. My neighbours' kids absolutely love it too, and everyone's looking forward to seeing it. I'm not so sure whether I am, but I have enjoyed doing it. I really have laughed a lot. I don't always laugh at work, even though I work in comedy. But this is very funny.
• Taskmaster series 12 starts on Channel 4 at 9pm on Thursday September 23.
Published: 8 Sep 2021
What do you think?