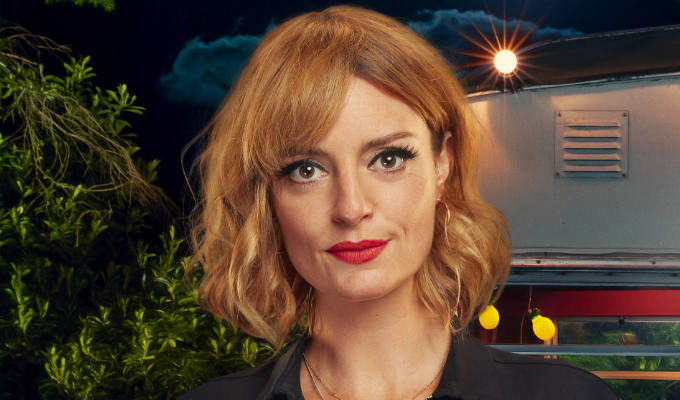 'Why are we seeking validation from this grumpy old man?'
Morgana Robinson is one of the contestants in series 12 of Taskmaster, coming to Channel 4 later this month. Here she talks about being rated by Greg Davies, being unfazed by looking an idiot and her obsession with Natalie Cassidy...
---
Why did you want to do the show?
My friend Jess Knappett did it and she had the best time ever, so I knew I was in for a treat.
Did you go into Taskmaster with any kind of strategy?
There's no point! Nothing ever goes to plan. You're up the creek without a paddle. My game plan was to not have a game plan. Just let God decide.
God, or the Taskmaster?
That's a really good point! He does play God, and he really enjoys it.
How was your relationship with the Taskmaster?
One minute you love him, and the next you don't. It's like you're constantly seeking validation from a bitter old man.
If you get a cheeky five points, it's great. It's weird being ranked. It's like being back at school – and I haven't been there for a while, let's be honest. He's the biggest ranker I've ever met.
Were there tasks you were better at than others?
Yes, there were ones where I thought, 'I've got that in the bag,' then I saw what everyone else had done and I was like, 'Oh, maybe not.' That wiped the smug grin off my face.
I'm not much of an engineer, so I can't build things very well. And I'm very slow in general, so if there was a timed thing I was definitely at the bottom of the ladder. I enjoyed the creative ones, I was all guns blazing for those.
I thought I was good at cooking, but under a time restraint, it all goes tits up. I've realised that my cooking is like, 'Oh, I'm sorry, dinner's an hour late, but I've just had another bottle of wine.' Which is fine at home but it's not good when you don't have that extra hour.
There was one cooking task that took me about an hour longer than anybody else. But no one else had sparklers or marshmallows on their cake, that's all I'm saying. Or tears, in fact. You've got to weigh it up, you know?
I knew it was timed, but I thought, 'Sod it, I'm going for the points.' I was trying to get the prize for most extravagant so I thought, 'Right, it's time to start peacocking. I'm going to enjoy this while I can, so I'm taking my sweet old time.'
Did you learn anything about yourself?
I learned you have to wrestle with your inner child quite a lot, and she raised her head a few times. It goes back to the playground, doesn't it? You reflect that in a childlike manner. I regressed into a seven-year-old. She's still very much around.
Did you win any of your arguments with Greg?
No, not a single one. You can't argue with him. He's the Daddy, isn't he? Why are we seeking validation from this grumpy old man? I don't know. I don't understand this show.
What about Alex: did you find him in any way useful, or was he a hindrance?
I love him! I love little Alex Horne. He's just so sweet! He's a smiley face on a rainy day. A bunch of flowers in this hellhole. I loved him, and his sweet little face. We're pack animals, and you get a bit lonely doing the tasks on your own. He's always there for you.
How did you get on with the others?
We really got on well. In one of the prize tasks where we gave each other presents, we were like, 'I love you!' It was adorable.
And I loved our little team games. We totally bonded. Everyone had such a huge heart. The girls were just incredible, everyone was. And Victoria [Coren Mitchell] was absolutely bonkers. I loved everyone. Loved them.
Does that mean you didn't get very competitive?
No! You can't help but become competitive on this show. I think it brings out the worst in you in that way. At the start you're like, 'I'm just going to have fun,' but by the end of it you're scrambling for half points. It's just like school.
Was there a division between the younger and the older contestants, or the men and the women?
Greg was always going on about how old Victoria and Alan [Davies] are, which is mean. And they're not even old yet!
Does your vanity have to be left at home when you take part in Taskmaster?
Oh, yes, but I'm used to looking atrocious. Being a character actress, you leave your ego at home – or whatever's left of it. So I wasn't fazed about looking like an idiot, basically, if that's what you're asking.
There was one day I had a friend's birthday party on Zoom the night before, so I turned up to the studio like, 'I'm 38, I'm hungover, this is where I'm at.' It was so absurd and I just got the giggles watching myself being ridiculous doing ridiculous things.
It's satisfying in a way, because that was the stuff we were getting detention for at school. The laughter was maybe directed at my old school teachers, because I got the last laugh.
Having said that, it's been a year and a half since we got dressed up for anything because of lockdown, hasn't it, so I went all guns blazing on the studio days like, 'I'm dusting off my sexy boots!'
Did you lose anything precious in the prize tasks?
No. I lost my furry hat, though. I think I left it in that freezing cold house. Other than that, just my pride.
Talking of outfits, you wore a jumpsuit that said 'just doing this now' on the back, which refers to your famous Natalie Cassidy impression. Did you get that done especially for the show?
Thanks for noticing. It was made by this amazing lady called Fi Jones, she's a good friend of mine. She loves That Sketch Show, and she said, 'Let's pop that on the back for the fans.' They're the only ones that will get it. There's not many of them.
It's a brilliant little Easter Egg for those of us who know and love it. Have you met Natalie?
Only on live radio. Someone phoned her up while I was on there plugging my show. We had a chat, and it was lovely. She totally gets the joke.
I've always had an infatuation with her anyway, she's incredible. I never thought for one minute she would, but she's the best sport. She's got a big heart. She wasn't fazed in the slightest.
• Taskmaster series 12 starts on Channel 4 at 9pm on Thursday September 23.
Published: 8 Sep 2021
What do you think?