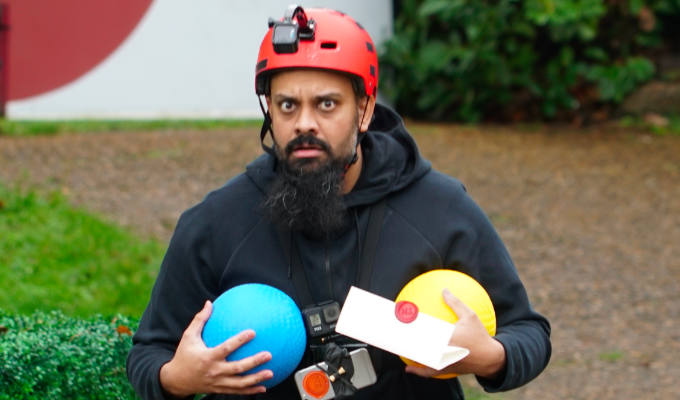 'They decided to show me flob a massive greenie out of my nostril'
Guz Khan is one of the contestants in series 12 of Taskmaster, coming to Channel 4 later this month. Here he talks about why he decided to take part, his most embarrassing incident on camera… and seeing a ghost.
---
Why did you want to do the show?
I'm very averse to looking goofy and doing goofy stuff. It's where I come from. I'll be honest, I like watching other people do it, but me being put in that position? Absolutely not.
But a mate of mine, Jamali Maddix, was in Series 11 and I thought it was time to play outside the comfort zone, so I was like, 'You know what, maybe I should do it too.'
Did he give you any advice?
The thing with a show like this is you've got to attack it in your own way. If you try to take anyone's advice, it'd go pear-shaped because it's the most random, deviant method of judging. There are no rules! Greg decides what he flippin' likes on the spot. There's no preparation you can do for that, is there?
You were a teacher in a previous life. Did that help you in any way for doing these tasks?
To compare teaching and Taskmaster would mean there was some level of sense between one thing and the other. When someone's trying to get you to shove a banana through a keyhole or whatever it is, I don't see how my teaching skills can really help me in that situation.
Tell me about your relationship with Greg. Did you try to butter him up at all?
I tried a range of things, to be honest with you, but he just slaps it off. I get it. He's 6ft 8in and a bit. He's massive. He can do what the hell he likes.
The person I actually tried to build a relationship with the most was little Alex Horne. Obviously, we spend a lot of time with him on the tasks, in the house, on location. That broke early on when he told me his favourite contestant was Alan Davies. I was like, 'Oh, cool, man, you've got your favourites. Let's keep it as it is.' So it was very businesslike from there on.
When we were in the studio, everyone came together, and we were backing each other up. That really got to Greg. I don't know what repressed evil memories he has, or why he treats the world like he does, but it wasn't going to break us.
We were like a bunch of Care Bears, just shooting the love out at massive Greg Davies. He even penalised me for being nice to Alex. I'm never going to do that again, I can tell you, now I know I'm not even his favourite.
Was it not competitive because you got on so well?
Okay, when I say we backed each other up, that's true but when it got to the last two episodes, things did get a bit spiky in terms of appealing to Greg about why he'd given points to this person or that person. But that was natural. It's a competition! We're here to play, we're here to win. All of us. I liked it.
I wasn't determined to win necessarily but what I didn't want was to be like Romesh. I texted him throughout like, 'Bro, how did you not even win one single episode?' Imagine doing the whole series without winning once! That's bad. So I was determined to win at least one.
How did Romesh react when you said that: is he still bitter?
He called me a prick a lot, to be honest with you.
Who was your main competition?
Without a shadow of a doubt, Desiree [Burch] was stealthily the most intelligent, the most well thought-out in her tasks, and a brilliant lovely human being, so I had my money on her for the win. Her swears are incredible. I'm pretty sure they're going to be on Taskmaster T-shirts soon.
Did you find that you were better at particular tasks more than others?
Listen, if it involves throwing, I'm bang on the money. If it involves some, 'Let's have a philosophical debate around where and how to do this task,' there's no way. I've got very short attention span as it is, so I clearly failed monumentally on those. But give me a break, I'll throw stuff through your nan's window very successfully, no problem.
What was your lowest moment?
Oh, man! There was one task that took the mickey. It had me feeling like I had vertigo, and I wanted to be sick.
We'd already done stupid stuff, like walking backwards, and that kind of stuff vexes me out. I thought I was going to need medication afterwards, it was horrible. When you're watching these tasks back, you sometimes think you might have done okay. You might even think you've won it. But every time you think you've won it, you haven't.
Did you want to come across as funny or do the tasks well, or a combination of the two?
I was just trying to be me, trying to get through, and trying to appeal to that flippin' Alex Horne where possible – but early on, as I established already, he told me who his favourite was, and therefore, 'I don't want to be friends, mate.' I'm not going to beg someone to be friends. If you give me the information I need, sound. If not, you can sod off.
Do you have to leave your vanity at home for this show?
There was a particular moment where, on camera, they decided to show me flob a massive greenie out of my nostril. When you've got to flob it out, you've got to flob it out! But they showed it on camera, and everyone who watches the show on Channel 4 is going to see that. So there you go.
Was there anything you brought in for the prize task that you then regretted losing?
No, everything was OK. Something special happened in one episode when we had to bring something in for someone else. That annoyed Greg, because we all took it seriously and brought beautiful gifts in, but love conquers all.
Talk me through the outfit you wore for the tasks.
They're very special trousers – South Asian or MC Hammer trousers. Big up MC Hammer – I heard he's a minister now. A lot of people don't give Hammer the credit that he deserves. I don't know about the bravery it takes to come on television with them kind of trousers, but I wore mine with a South Asian flavour. And then, mate, just bang on a Nike top. Bit of streetwear, bit of MC Hammer/Lollywood, in Pakistan, and that's the treat, mate.
Can you tell me about one of the tasks where you thought you saw a ghost, and nobody believed you?
At the end of the day, people are entitled to believe what they want to believe, it's fine.
All I'm going to say is, they took us into a church for a task. It's cold, it looks haunted from the outset. The geezer that was there looking after the premises with his dog looked like an arch-evil guy on a horror movie. All the energies were wrong from the moment I got there. They're all like, 'Yes, it's a church, but let's get on with filming.' I'm like, 'You need to have some respect.'
If the Ghostbusters were real, Slimer would definitely have lived in that church. That's not to be messed about with. There were spirits. I'm not trying to be sacrilegious, I was very respectful. I got no points for that task, but at least I left unhaunted, whereas the rest of this lot will find out the truth when they have ghosts flying around their living rooms in the middle of the night, won't they?
• Taskmaster series 12 starts on Channel 4 at 9pm on Thursday September 23.
Published: 8 Sep 2021
What do you think?