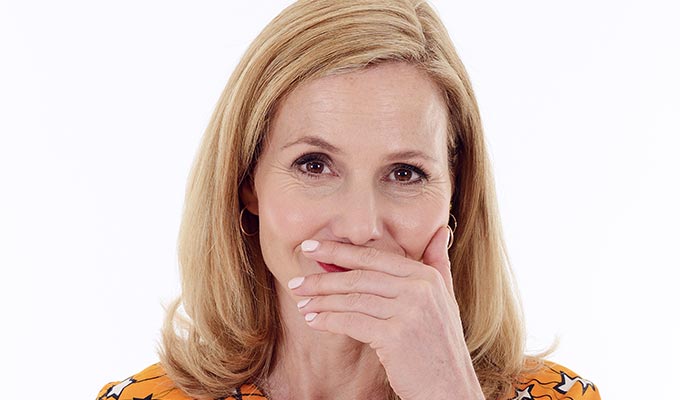 'We're always trying to do Smack The Pony again, but nobody's interested'
INTERVIEW BY JAY RICHARDSON
---
Since her first screen roles, sporting a negligée and Mel Smith's vomit in a Smith & Jones sketch, then playing The Girl Who Smelt of Spam on Fist of Fun, Sally Phillips has always embraced a challenge.
Best known for the Channel 4 sketch show Smack the Pony, in which she starred alongside Doon Mackichan and Fiona Allen, and as Steve Coogan's smirking hotel receptionist nemesis in I'm Alan Partridge, more recently she's been prominent as the eccentric friend of both Bridget Jones and Miranda Hart in her eponymous sitcom. Recent roles have ranged from Vanity Fair to Tim Vine Travels in Time; Trollied's unhinged night manager to a feral criminal in Zapped.
Armando Iannucci, the man of whom Phillips says 'I owe my entire career to', has certainly always appreciated her versatility and improv talent. From being the 'whore in the helicopter', flying over Parliament to entrap an MP on his 1997 Election Night Armistice, he went on to cast her as Finnish Prime Minister Minna Häkkinen in the US political satire Veep.
She resumes filming in Los Angeles this month, but before that she has been putting her improvising chops to the test again in The Tourist Trap, a mockumentary about the Welsh tourist board beginning on BBC One Wales tonight, co-starring the likes of Elis James, Mike Bubbins, Tom Price and Tudur Owen. And on Friday she recreates classic comedy scenes with her guests as the host of My Favourite Sketch, airing on Gold.
In The Tourist Trap she plays Elaine Gibbons, an Englishwoman of the slightest Welsh heritage parachuted into leading the Wow Wales! campaign, and clearly in way over her head.
But as an actor, imposter syndrome is something that Phillips can relate to. 'You always feel it' she admits. 'Especially on panel shows, I feel like I'm pretending to be a stand-up. And on period dramas, that I'm pretending I went to drama school.'
And although she has 23 years of on-screen experience and reckons that 'the thing I'm particularly good at is improvising', she found the demands of ad libbing on The Tourist Trap set tough.
'In Veep, what's happening is already decided, there's a version of the script and you can do it like that,' she explains. 'Once they've got what they need, you can have some freedom. So the odd scene they would just leave Julia and I improvising.
'But with this, a lot of it I'm on my own,' she says of having to address the camera directly. 'It's harder and you're effectively trying to write a scene in three minutes which became exhausting over an eight-hour shoot. Also, I'm the frame for the Welsh characters, so I had to be straighter than the others. So it was quite stressful. But then the character is quite stressed, so I think that adds another layer.'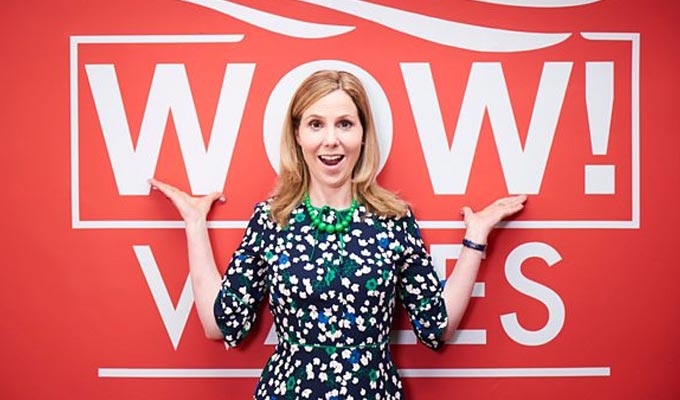 Mockumentary is problematic anyway, she adds. 'Because we're all so literate in it now. And you have to make decisions about how big you make the characters. Are you selling the fact it's real. Or are you just going for laughs?'
Still, she says: 'I really love The Tourist Trap', revealing that the general awkwardness of the Wow Wales! staff is based on a genuine Welsh tourist board promotional film where, 'there's this feeling that don't quite want tourists coming. You have this incredible coastline for seal watching. But the councils won't build car parks near to the sea. So the tourists literally can't get to the attractions.'
With the main cast rarely appearing together on screen, The Tourist Trap is 'quick and cheap, probably the future of television' she suggests.
That's not the view of sketch comedy, as she laments with Paul Whitehouse in the first episode of My Favourite Sketch, which has fallen out of favour with traditional broadcasters, who appear to perceive it as being expensive and usurped by internet memes.
In truth, the BBC has recently made The Tracey Ullman Show, Famalam and Big Field. ITV is to air the hybrid Stand Up Sketch Show early next year. And there are even hints from Channel 4 that they might be ready to relax their blanket ban on the genre. Not before time, argues Phillips.
'Sketch is so incredibly fluid in form that the argument that it costs too much doesn't hold water' she says. 'Sketch can be a gif, it can be just a black screen and someone speaking. It's a backward view of sketches that everybody's wearing 18th Century dress and running over a hillside. French and Saunders used to do that ages ago, there's no reason it has to look like that now. They don't even have to involve people.'
The idea of the internet destroying the market on television is equally outdated.
'That seemed to be true. There was this boom of comedy-only digital platforms, the glory years between about 2005 and 2014' she says. 'But there's such a proliferation of material, both good and appalling online.
'Whereas ten years ago sketches were not infrequently getting eight-figure views, it's now quite rare for a sketch to get six figures. Funny Or Die are laying off writers, lots of these platforms are folding.'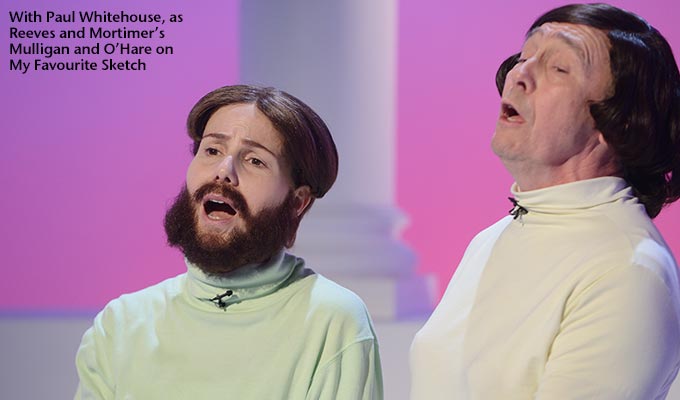 She insists that 'the appetite for sketch among the public hasn't diminished', but that commissioners, who could act as quality control, 'are still a blockage saying that the sketch show is dead'.
Recording My Favourite Sketch, she's 'seen the affection people retain for sketches and the people that do them.
'With so much ranting in the world currently, there's something so elegant and civilised about sketch commentary. If it's not aggressive, it's sometimes more effective,' she says.
'I'm not campaigning. But if I was, I'd say the time is right for sketch on television again. Because we need it curated rather than endless clips of teenagers falling off their skateboards and pranking their mums. It's so hard to find the good stuff now. There's just a need to be creative about how we conceive the form.'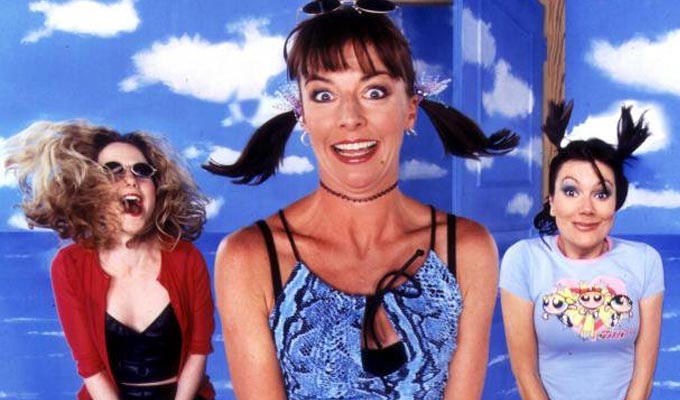 Smack The Pony, above, was revived for a Comic Relief special last year. And Phillips points out that its sketches still get millions of views on Facebook and YouTube. I wonder if she's considered making overtures to Netflix about an extended revival, as Mr Show's David Cross and Bob Odenkirk did recently.
'Well, I'm hoping we'll do My Favourite Sketch again and maybe we can interview [Cross and Odenkirk]' she replies. 'They were really cool about us letting them show their sketches. But Smack The Pony, we're always trying to do it again and no-one's interested.
'I've always wanted to make a documentary about the different ways we've pitched [a revival] and been turned down. The most comical was Shane Allen at the BBC a few years ago when we pitched via [production company] Left Bank Pictures. He said "no, we're not going to make this because we're running a season of classic comedy shows. We're remaking a load of classics and we wouldn't want anyone to think this was one of them."'
To be fair to the BBC's head of comedy, he was poised to make a comedy-drama about three sisters going through divorce with Phillips, Mackichan and Allen when he was a commissioner at Channel 4. But when Allen left for the corporation in 2012, the incoming Channel 4 boss Jay Hunt rejected the project, as 'she didn't want anything single camera except Black Mirror'. And so 'we got into this nightmare of taking it round the channels' Phillips recalls.
'It was a car crash. We'd written it for Channel 4 and then we had to rewrite it for the BBC or ITV brand'. When it got to ITV, they said, "we really like it but can they not be getting divorced and can they all really love each other?" At that point I lost the will to live and decided not to write it.
'It's so frustrating to get stuck in meetings where people are asking for things to be more zeitgeisty, which in fact means something dated. Because if we do our job right, we create the zeitgeist.
'I had a really depressing meeting with the BBC where they said they wanted me to write for BBC One, some load of flattery. They said "we want it to be like Mrs Brown's Boys and it has to star one of these five people". Fortunately, I have enough of a career not to have to do that. Because what are the chances of that being a really good show?'
She's certainly kept busy in the meantime, hoping to continue in the title role of Radio 4's long-running social work sitcom, Clare in the Community, 'till I die, I want to die on air recording it'. She also has a clutch of upcoming film roles, including a non-singing part in Gurinder Chadha's Bruce Springsteen-inspired Blinded by The Light with Rob Brydon. And playing a librarian-cum-spy in the cinematic adaptation of Stephen Fry's novel The Liar. 'Though that seems to be on pause right now. I hope we haven't lost the money.'
Flying out to LA for Veep, she's seeking to continue working on a film she's developing with Louis-Dreyfus, 'the greatest comedy actor in the world', and Amy Poehler, set in a sloth sanctuary. Regrettably, that also stalled during Louis-Dreyfus's recovery from breast cancer, hitting an additional snag of 'there being a practical issue with the sloths.
'You can't film with them outside of Costa Rica and it's quite illegal to transport them. So I'll have a chat with Julia to see how she feels about it.'
Veep's showrunners never give her any insight into the storylines of the deadpan Minna, since she left her position as Finland's Prime Minister, 'until two days before. But they like to get me to speak speak a ridiculous language every time. Last time I checked, she was head of the IMF, so who knows what will happen this time?'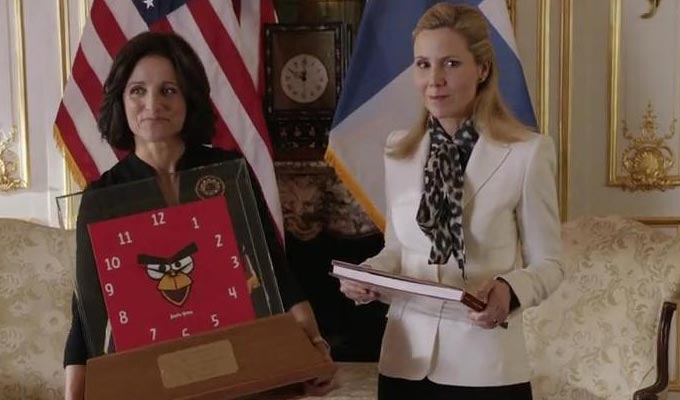 Also this month, Phillips, whose eldest son Ollie has Down's syndrome, is working on a film script in Sweden, provisionally titled My Big Fat Down Syndrome Wedding, a culture clash rom-com which is slated to star Tommy Jessop, an actor with the condition, and which she's co-writing with Swedish-Kurdish comedian Nisti Stêrk, with assistance from Nick Hornby.
Veep and Bridget Jones have already provided Phillips with something of an international profile. And Sweden 'leads the world in diversity' asserts the actor, who has sometimes portrayed a Swedish mother empowered by her country's enlightened childcare support in her live comedy.
'At the moment, if you're going to do a film that has somebody with Down's syndrome in the lead, it's got to be very, very low budget here' she explains. 'But not there. We can have a proper director, proper script, properly financed and all the rest of it. The English bits are going to be in English and the Swedish bits in Swedish.'
Despite the mixed experience she had writing her first film, 2011's The Decoy Bride, which she felt was compromised by script changes forced upon her by the studio, and the disappointing box office of Jo Brand's The More You Ignore Me, in which she appeared this summer, Phillips sees her future in film. She prefers the close-ended story arcs to sitcom. And she reckons that the politics and economics of movie casting are more straightforward than in television.
Consequently, after we spoke yesterday, she was meeting Ronni Ancona, who cameos in The Tourist Trap, to write yet another movie.
Shooting in April, Palm Dog is 'a family fun movie' about the prize for best dog actor at the Cannes Film Festival, which the pair are making with some of the production team of the anti-festive, 'anti-Downton Abbey' movie, Surviving Christmas, which they're also both in and which will hit cinemas next month.
Incredibly, all this and horror film The Rizen is not all that's currently on Phillips's slate.
Despite being a single mother of three young boys, she is busier than ever. Having disclosed that her husband left her for a member of the Russian yoga federation, I put it to her that being so candid, and with her international upbringing, she should try stand-up. The daughter of a British Airways executive, she was born in Hong Kong and spent time growing up in the Far East, Middle East, Italy and Australia.
'I don't know if it pushed me towards comedy and characters but I was definitely the outsider observing' Phillips recalls. 'We moved country every year and a half. I can do lots of different foreign accents pretty easily because those were the people I was surrounded with. You find a lot of comedians have had at least one big disruptive move and there are a lot with parents from the army, navy, teacher and vicars.'
Ultimately, stand-up might prove too time-intensive. So she's thrown herself into jobs like appearing with giggling distinction on the likes of curating the last series of The Museum of Curiosities on Radio 4 and appearing with giggling distinction on the like of Taskmaster (below) and QI, all of which she thoroughly enjoyed.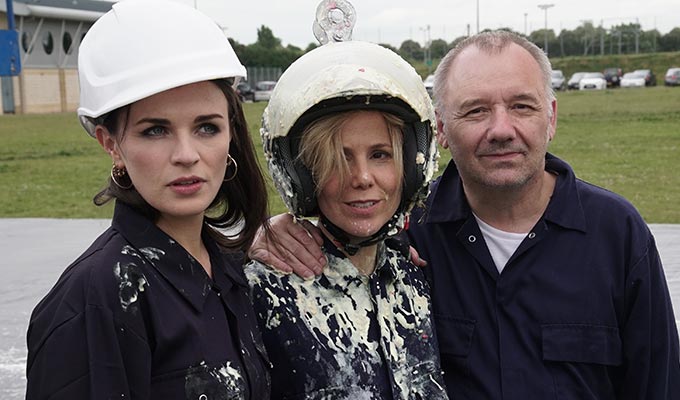 'With two salaries, my dream life would have been to do six indie films a year' she admits. 'But when my husband left, the priority became to stay at home with the kids. And jobs like panel shows are much better for that. I'm going to do one later today. Leave the house at 4.30pm, get home at 10pm. But I'm here to take the kids to school and pick them up.
'Two years ago I started doing what I thought was tacky stuff, through necessity, thinking it would negatively impact my career. But it hasn't been like that at all. And many people have actually suggested that I've had a career resurgence.
'I've spent too long worrying about the brand. A decade ago, I was trying an experiment to do tiny parts in big movies. That ended when I had a dreadful year where I only got offered two parts, hilariously, both times to play Shane Ritchie's ex-wife. I didn't even have the quality to be his actual wife. Just his ex!'
• The Tourist Trap is on BBC One Wales at 10.40pm tonight, then on iPlayer; My Favourite Sketch is on Gold at 10pm on Friday
Published: 2 Oct 2018
What do you think?