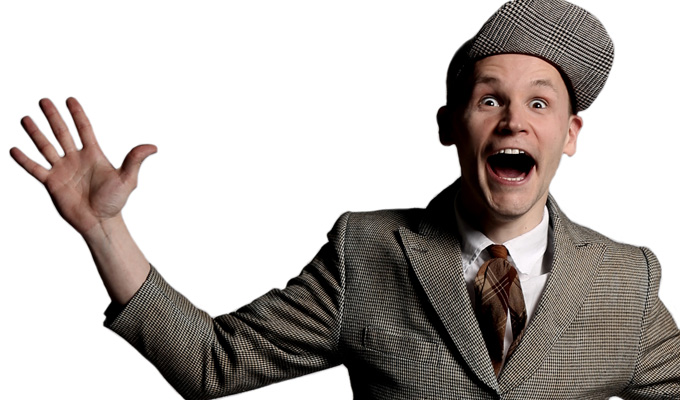 Received Wisdom
Actor Jack Lane is to go on tour this autumn with the stage show Wisdom Of A Fool, about Norman Wisdom's rise through the post-war variety circuit. He takes on the persona of 30 characters as he tells of how Wisdom endured living in the streets of London as a young boy, before transforming himself into a comic star with his iconic Gump character, Norman Pitkin. Lane will even use a costume that belonged to Wisdom, loaned to the production by the comedian's children, Nicholas and Jacqueline Wisdom.
Why does Norman Wisdom hold such fascination for you and where did you get the inspiration to put together the show?
I grew up watching his films from a young age. I loved his slapstick humour, as I grew older I began learning about his life and what he'd been through. I wrote to Norman aged 13 and he replied. I guess that stuck with me, that he'd made time to reply.
When he passed away in 2010 I made a promise to myself that I'd attempt to write a play based on his incredible life and career. It's a classic underdog story which the British have a love affair with.
Many comic performers of the era have had their lives and careers dramatised in some way. Morecambe & Wise have had three plays, Tommy Cooper even more so, and some having also made it to a television drama. But nobody had touched on Norman Wisdom.
Considering his colossal fame in the 50s and 60s, given how important he was to the flagging British film industry and knowing his background I felt a need to remind everyone of how incredible his story was.
What can you tell us about Wisdom Of A Fool as a play?
It's a roller-coaster of storytelling. It's first and foremost a story of a young man overcoming the odds, discovering a gift to make others laugh and pursuing a passion. It's a hugely uplifting story with some important life lessons along the way. I wanted audiences to leave with nothing but admiration and a new-found respect for what the lucky little devil achieved in his life.
I would also stress that you don't need to be a fan or know anything about Norman to enjoy the play. There's plenty for those who know his work and character, however, I was very mindful not to make this a closed shop for old comedy fans. It's his story that interested me above all else.
How do you play 30 characters in one show?
I spent five months workshopping this back in 2015. Making sure each character was individual, where I had a reference for someone I'd research their voice and slightly exaggerate it, in the case of Norman's father where there was no reference, I'd create a character from the information I'd gathered on them.
When is the play set and what is significant about that time in Norman Wisdom's life?
The play takes you from his childhood up until his major success with his first feature film with The Rank Organisation, Trouble In Store. For me, it's the most interesting and vibrant section of his life and career. He was at the top of his game from 1950 to 1970.
I wanted to focus on the early years. The danger with a project like this is trying to cover too much, as is often proved when Charlie Chaplin's life is dramatised on stage and screen.
How closely have you worked with Norman Wisdom's family and what do they think of the play?
Before I began writing the script I wrote to Nicholas Wisdom to ask for the family's blessing – luckily he replied and set up a meeting. Both Nick and Jaqui Wisdom have been unbelievably supportive and they answered every question I had.
It took a year to write, I read every book available and talked to those who knew and worked with Norman. I held a read-through of the script with Nick and Jaqui, which was nerve-racking to say the least. To my astonishmen, they loved it and didn't ask for a single word to be changed.
Having their approval is hugely important and was always a priority. He's not my father; it's their memories and their personal lives I'm dramatising. I wanted the family to be comfortable with what I was saying.
The Gump suit that I use in the show was owned and worn by Norman himself on stage. Nick and Jaqui have loaned it to the production, it forms part of a hugely emotional scene in the play, which your readers would have to see to understand. To dress and perform in such an iconic suit is an honour.
• Jack Lane stars in Wisdom Of A Fool which is on tour from September 6 to October 25 at venues across the UK. For more information, visit www.wisdomofafoolplay.co.uk
Published: 29 Aug 2017
What do you think?