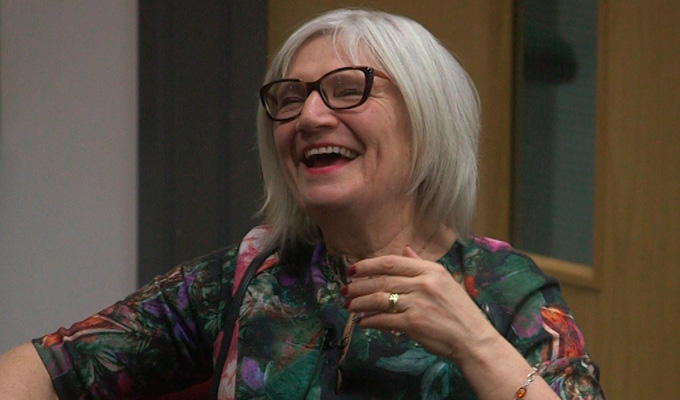 Comedy's lost its underground spirit
Live comedy has lost much of its anarchic, punk spirit and become more 'corporate'.
That's the view of the performer behind the Stockport housewife character Barbara Nice, Janice Connolly, speaking at an 'in conversation' event at the Leicester Comedy Festival last night.
The comic, who started out on Birmingham's indie music scene of the 1970s and 1980s before turning to stand-up said: 'I'm not sure comedy is as rocking as it used to be.  I don't think it's so much fun. It's more mainstream… it's more corporate.'
But she said there remains a link between punk and stand-up – mainly for its do-it-yourself ethos. 'If you've got an idea you can just go to an open mic night and do it,' she said. 'That's what's punk about comedy.'
Defying that growing corporatisation, Connolly refuses to have an agent acting on her behalf, saying: 'Unless you've got a really powerful agent who can get you on all the panel shows, you make your own work. People see you and you get a gig. Plus I'm a bit tight. I don't want to give someone 15 per cent of my money.'
The lack of representation hasn't stopped her from landing her own Barbara Nice sitcom, which starts on Radio 2 next month following a 2015 pilot. And she admits she has written the show – a studio-based sitcom – with one eye on a transfer to television.
'There are lots of set pieces that are visual right but also work on radio,' she said. 'Right from the beginning it's been written for TV. And would be great to have an older woman on TV? A real woman, that is.'
That nod to Mrs Brown aside, Connolly admits that 'it's really hard to write a sitcom'.
'l have immense respect for people who can come up with something like Steptoe and Son, that eternal relationship, and tell so many stories. It's a really difficult thing to do. So I take my hat off the people who can do that.'
She has spent three years working on the show, 'trying loads of different permutations', and adds: 'I've certainly worked hard towards this. It's taken a long time to get there so I hope it's got legs.'
'Originally I said I didn't want Barbara stuck at home with [her husband] Ken and where did we end up? With her stuck at home with Ken. It's about Barbara trying to give him a boost and get him out of the house.'
The commission for the initial pilot came after producer Rebecca Papworth invited TV and radio executives to watch a selection of comedians – also including Ted Robins, Gavin Webster and Tom Wrigglesworth – perform on a barge in Salford. From that showcase,  Barbara Nice also snaffled the job of doing the warm-up for Vic and Bob.
'You've got to put yourself a bit,' Connolly said. 'Chances do happen but they won't happen if you stay at home.'
Many of the chances her alter-ego had came from taking part in the North West Comedian Of The Year final in 1997, where she came second.  The prize money delighted her… until she realised that she'd picked up the rewards that should have gone to the winners  'The bloke that won said, "I think you've taken my money".  I had to go back the next day with my dad to get the actual money... The cleaners had it.'
In fact the accolade that year was shared between Neil Fitzmaurice and Dom Carroll.  But from that gig alone, Connelly got signed with Johnny Vegas's agent  (before deciding to go it alone) and was seen by both Papworth and Peter Kay, who'd won the previous year. He subsequently cast her in That Peter Kay Thing and Phoenix Nights.
She recalls that on the set of the Channel 4 show that was to make Kay's name: 'Peter was always like, "what's it like to be making Bafta-winning comedy?" – before we'd even made anything.'
Connolly also said that the show was 'probably' never coming back, despite fans' pleas. 'I know people are very fond of it,' she said. 'But I think the live shows at the MEN Arena were the end.'
As well as her acting and stand-up, Connolly has also long been involved with projects that take comedy and theatre into the community, which earned her a British Empire Medal in the New Year Honours.
She teaches people about stand-up – claiming 'I can make anyone get laughs from an audience for three minutes' – buy says her courses are designed to build confidence, not as a stepping stone towards a professional career. 'Not everybody who does a comedy course should do it to be a comedian,' she said.
Connolly is currently working on a Birmingham-based project that brings  gang members and older Afro-Caribbean women together. 'It can break down isolation,' she said. 'The sessions seems very alive. It's brilliant –  and Dead Funny –  makes you feel great and makes a difference. 
'Comedy is so underrated in what it can do. It brings people together, it's political, it makes you think about stuff, it exercises your body.'
She certainly thinks Barbara Nice is a political creation, simply because convention dictates that a middle-aged housewife 'shouldn't be there', on stage. 'She says a lot about people standing up for themselves and equally,' Connolly says. 'She doesn't mention it, she just is.'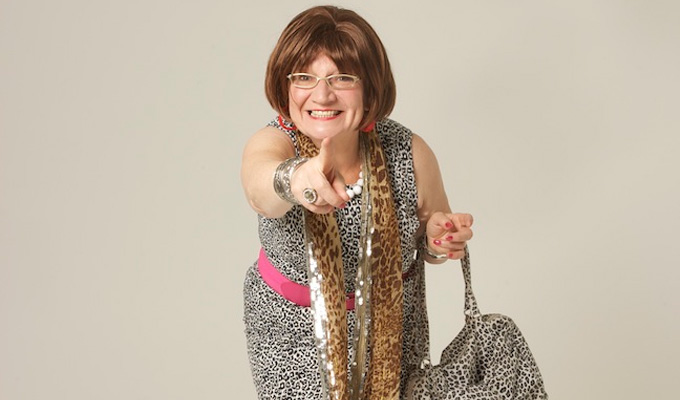 The character came about on the Birmingham circuit as a way to connect with audiences as an older woman. She started as a faux mother-and-son double act with a comic genuinely called Reg Nice, before going it alone when he emigrated.
Inspired by the way she'd seen Frank Skinner interact with the audience, she said she learned her craft at Birmingham's Gag Club, where she was the regular host.
'My kids were little, and I could get the No 50 bus there,' she said. 'You learn so much as a compere;  you see so many other fantastic brilliant acts, and on a club night you get to so many ways of making people laugh: some surreal, some political, maybe some musical.  A good club offers  a proper menu of great comedy that excises different bits of your brain.'
Asked the inevitable question about women in comedy – and goaded by a man in the audience who 'ironically' trotted out the line that women aren't funny, Connolly would only say there wasn't always an equality of opportunity.
She added: 'Because there are more men doing comedy they're only interested in each other and they might not notice the women. But the stage is a level playing ground: if you're funny, you're funny.'
She recalled her first booking outside Birmingham, at the Buzz Club in Chorlton, when promoter Agraman warned her that the audience were bored of female comedians talking about periods.
'Then I watched bloke after bloke talking about wanking,' she said: 'How could he tell me not do to when all these men were doing the same repetitive thing?!'
Women in comedy the subject of the next scripts she hopes to get off the ground,  a radio show based around the pivotal moments in female comics' careers, with each 15-minute show involving the women talking to a male interlocutor in the dressing room.
But before that, there's the small matter of the Barbara Nice radio show, which goes out on Radio 2 from March 13, starting with the pilot programme then four new episodes over the following two weeks.
Published: 23 Feb 2017
What do you think?