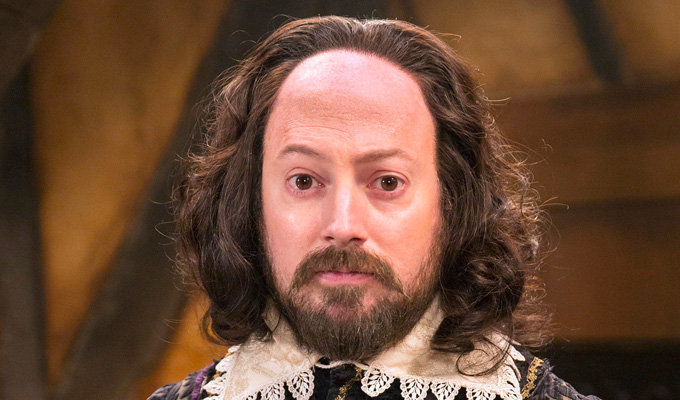 I'm playing Shakespeare as nerdy and uncharismatic
'He's arguably the globally most significant artistic figure – and he's just some bloke from the Midlands. That's an amazing story.'
So says David Mitchell on his latest role, playing none other than Shakespeare in Upstart Crow, a studio sitcom from Ben Elton that owes more than a little debt to Blackadder. But, the Peep Show star argues, the Bard is the perfect character for sitcom treatment because of he aspirations to climb the social ladder.
'He was an aspirant figure,' Mitchell says. 'He was middle-class and he wanted to better himself, he wanted to do well. He had commercial as well as artistic aspirations. Ben told me he brought a coat of arms for his father which is incredibly noove. It's like getting a personalised number plate - he was that kind of middle-class striver.
'He lives in the shadow of his father's shame. We know that historically that Shakespeare Sr was quite a successful businessman in Stratford - he was mayor of Stratford - then he fell into hard times and disgrace. So many sitcoms are about the worries and hopes and fears of the middle class and that absolutely is where his is rooted.
'They are a middle-class family who have made good, and then lost it. There's his mother, who married this businessman who seemed to be going places – she was a minor noblewoman ––and then it's all gone wrong. These feelings of disappointment and shame and hope that things will get better is something that's laced through British culture of every age. He wants to make good his family reputation after what went wrong with his father's career.'
Naturally enough with the class system, Shakespeare both aspires to join the elite – yet despises them for their easy path in life.
'He felt – rightly – that he was looked down upon by people who didn't approve of other people doing better, who wanted the layers of society to remain as they are,' Mitchell says. 'And that's something that resonates – certainly for Britain today.'
Those parallels allowed Elton to sneak in a reference to David Cameron's Bullingdon days in the opening episode, which airs next Monday, for example, while wrapping in storylines from Shakespearean plays across the series.
'It's another thing that's brilliant about the way Ben has constructed the scripts,' Mitchell adds. 'They completely to my mind obey all the rules of sitcom, that for the central character there's opportunity and jeopardy. He's in a situation that he's trying to improve but also trying to maintain and that's what drives the story and it's full of jokes, and jokes that come from character.
'That you can plug into that specific references to, but a comic take on, a well-known Shakespeare storyline means Ben just deserves another round of applause. I think it can't be stressed too much that the scripts are just great.'
Mitchell is not the only member of the all-star cast to be full of praise for the writing – Elton's first TV sitcom since the critically slated The Wright Way in 2014.
'With the greatest respect to my fellow performers we could have stood in a line with bags on our heads and still this would have just sung,' says Lisa Tarbuck, who plays Shakespeare's wife, Ann Hathaway.
Helen Monks, from Raised by Wolves, plays Shakespeare's teenage daughter Susannah. She added: 'There are levels of joke that you can feel incredibly clever if you get, but you don't have to have that understanding. You read [the scripts] and it feels like you're reading Shakespearean language - but that you actually understand!'
And executive producer Gareth Edwards adds: 'What's extraordinary about Ben is that he's able to tell a story and at the same time do an absolute cartload of jokes. There's an amazing deftness with keeping several different story balls up in the air. But making sure every single line is funny, and funny in a characterful way and its that level of sustained craftsmanship that really pays off.
'Obviously we all know Ben can write amazing jokes, but what really struck me about working with him is how hard he works. It's really just extraordinary; I've never seen someone so driven. He's aflame with passion, to say in Shakespearean.'
Edwards also thinks the show adheres to the BBC's founding Reithian ideals to educate, inform and entertain. 'There's something exciting about being able to put on national television a sitcom that makes a joke about the sonnets. I's education by stealth I think. Get people laughing and occasionally put some information in.'
Yet he also justifies Elton taking liberties with the biographical details. 'It was something that Shakespeare himself was always doing, taking the lives of important historical figures and weaving a story around them that will resonate with a contemporary audience.'
And Edwards addressed the inevitable comparisons with Blackadder 2, which Elton wrote with Richard Curtis. 'This is happening in the same world as Blackadder, but several years later and just down the road,' he conceded. 'None of the characters meet, but it's coming from a similar parallel universe. It's lovely to be in that world; it's a world where funny things happen, so we felt very at home there.
'We all grew up admiring the Blackadder world and it's lovely to revisit that slightly heightened, slightly absurd, place.'
The scripts attracted some well-known comedy faces, including Harry Enfield as Shakespeare's dad John, Rob Rouse as Will's almost Baldrick-like manservant Bottom, Gemma Whelan as Kate, Spencer Jones as Will Kemp and Paula Wilcox as Mary Arden. And, unfashionably, they performed the scripts in front of a studio audience.
'We felt that with Shakespeare as obviously a very theatrical figure, the more theatrical sitcom form was justified,' Mitchell says. 'And that allows a script that's written with laugh points, with gags that land.
'That's huge pleasure to play because you say the joke, people laugh, and it feels in your brain like you made it up yourself.'
'Some actors prefer it when there's an audience laughing and others would prefer it without that distraction or pressure. other than the initial "Oh my God, we're doing this in front of people" terror that happened every week, I think it was nice to hear people laugh.
'And frankly the breather you get when there's a long laugh before you have to say the next bit and remember what you're doing is often very welcome.'
The florid Elizabethan-style language was, Mitchell admits, 'a bugger to learn – but at the same time it was great writing and I wanted to get it right.
'Also, I didn't get into acting because I hate the sound of my own voice so it's a case of "if you learn this you'll get to say it in front of hundreds of people and potentially millions of people on TV" and that motivated me to learn it. It's a lot harder, obviously, than if you are expressing things naturalistically. But what's so great about the writing is that it's a nice combination of things that do trip off the tongue but they also have that slightly more Shakespearean feel.'
And far from feeling daunted about playing such a cultural icon – and for once that overused word is justified – Mitchell says that in one way the role plays to his strengths.
'No one knows what he was personally like,' he says. 'So he might have been nerdy and uncharismatic – which is how I'm playing him.'
Read more: Ben Elton takes a pop at Ricky Gervais in Upstart Crow.
• Upstart Crow starts on BBC Two on Monday May 9 at 10pm.
Published: 3 May 2016
What do you think?