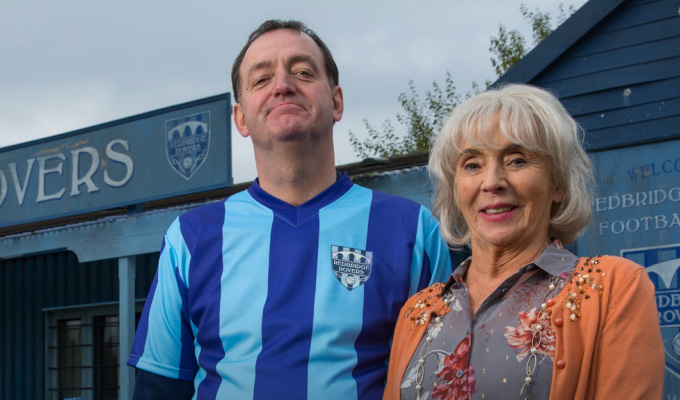 'I didn't really want to act in this'
Craig Cash is returning to TV screens for the first time since 2012's Royle Family special in Sky1's new comedy Rovers.
Not only does he play the 'lovable loser' Pete Mott, die-hard fan of lower-league football club Redbridge Rovers – he is also reunited with his The Royle Family co-star Sue Johnston, who plays Doreen, the 'slightly dotty' club bar manager.
The six-part series has been written by comedians Joe Wilkinson and David Earl, known for his appearances on Ricky Gervais's Derek and as his comedy circuit alter-ego Brian Gittins,
And it features a raft of familiar comedy names, including Steve Spiers as Pete's best friend Tel, Seb Cardinal from Cardinal Burns as Tel's partner Mel, Jamie Demetriou as fan Tom, Lolly Adefope as barmaid Sam, and Diane Morgan as Mandy a 'slaggy alcoholic' plumber who likes the social side of the club.
Despite his high-profile starring role, Cash confesses he never wanted to appear in the series at all. He agreed to direct the series after being approached by Earl and Wilkinson - who also appear as 'wind-up merchants' Bruce and Lee, but only reluctantly agreed to appear in front of the camera.
'I didn't really want to act in this because there's so much to take on,' he says. 'But the boys really wanted me to do it and at the last minute I gave in.'
Part of his reluctance was because both writing and starring 'makes the whole process that little bit longer'. 'Ordinarily I'd just be watching it,' he says of his directorial duties. 'But when you're in it, you have to stop everything and play it back and watch it. But it's handy because everything I've ever done I've been around the set for every second and every shot, so I've kind of got used to it. '
Another reason for his reluctance was his failing memory in remembering his lines.
'I used to be able to come into work and I'd be reading my lines in the car (not driving obviously) and by the time I got to the set I'd know them,' he says. 'Now it takes all weekend with me saying to the wife "Test me, test me!" and I still don't know it. The old grey matter isn't working as well as it was when I was 21.
'I knew how much it would take to direct it, and I knew how much it would take to be in it as two separate jobs, so I was pleading with the boys to get somebody else, but they've always seen Pete as me, so I knew it was difficult for them to shift the idea. It just took a while for me to get my head around it, but I'm glad I did now.'
Earl admits they were dogged in persuading Cash to appear. 'We wrote the pilot and, as Craig is one of our heroes, we sent it to him,' he says. 'Amazingly he liked it and he's worked with us on it for the past year or so, and we just kind of kept saying we'd like him to play the part, and we wouldn't let it go…'
Wilkinson agrees: '[Craig] wasn't sure he could play the lead as well. So he'd suggest someone for the role and we'd say no, and that just went on until he basically crumbled.'
Sue Johnson was another dream casting, especially given her and Cash's track record.
Cash says: 'Working with her again was just like putting comfy slippers on. It's just a joy. She doesn't need any directing, she just needs to know whereabouts the camera is and you set her off. She works so hard.'
The admiration was mutual as Johnson says it was Cash's involvement that initially piqued her interest. 'If Craig sends you a script and he thinks it's great you'll read it,' she says. 'I trust him implicitly.
'I read it and that was it for me. I loved the writing, I loved doing the job. It was the biggest laugh I've had since doing The Royle Family. I loved the jokes, I loved the characters, I loved the writing, I loved working with this cross-section of actors and stand-ups; it was really a wonderful mix.'
She admits it was 'a bit new and strange' to be directed by her friend but said: 'You change your relationship, but he never changes, he's just Craig, so lovely. And he knows what he's talking about – he's not Dave [his Royal Family character], he's a very clever guy. It wasn't like I was working with Barbara and Dave anymore; it's Sue and Craig working. And when we act it's Doreen and Pete. Our two characters are so bizarre – all bonkers it seems to me.'
The supporting cast took some putting together, too, as Earl admits. 'We were so desperate to get people on set who made us laugh. It would be so easy to go for second best, but we wanted to get the people on the stand-up circuit who made us laugh, character comedians that made us laugh, so we were over the moon [with who said yes].'
Having stars of the live circuit certainly made Cash's life easier. 'Comics are instinctive actors,' he said. 'They know where the laugh is, so you're not having to point it out in order to get the most out of the line. Most comics, even when they haven't done it before, have a natural aptitude for it. Because stand-up is just acting – they write a script, usually about their own lives or observations, they go on stage and act it out. They know how to pick up a line and run with it and find the character.
'They basically play a character on stage. But they're good with drama as well because you observe life as a comedian – that is your job, to observe the minutiae of life and see how it can be funny and how it can get a laugh, and that's all you're doing in a sitcom.'
Philomela Cunk star Morgan, who describes her character as 'a northern, alcoholic vamp with no dress sense, had previously partnered Wilkinson in the sketch duo Two Episodes Of MASH, said she took little convincing to take the role.
'I like paying oddballs, basically,' she said. 'You don't get many of them. Especially female oddball characters, they're few and far between so when this one came up I was like, "Oh my God, it's a dream come true."
'It's a funny part to play and it's very different to anything I've ever done. I've never really had any, sort of, romantic scenes – not that you could describe many of the scenes in Rovers as romantic… They're more seedy than romantic.'
Morgan adds that 'weirdly it's not about football', instead being about a community of characters devoted to a lost cause.
'It's insane. In a good way,' she says. 'I think if you're a comedy connoisseur, it's for you. It's about relationships more than football – it's about the relationships of all these people who spend all their time in this football club, in a nutshell. Has that sold it to you?'
Speirs, whose credits include Stella, Extras, and Big School, agrees: 'You don't have to love football to love this but you do have to like comedy to love this.
'You have Craig and Sue together for the first time since The Royle Family, and then you have these very current comedians from the stand-up world, and then you've got seasoned comedy actors like myself thrown into that mix.'
Still, Earl and Wilkinson – a Gillingham fan – had to do their research. 'We went to watch a lot of non-league football, so we started following a Crawley side and a side near Brighton,' Earl said. 'They were in the Ryman South, which is like the southern equivalent of the Evo-Stik. We watched quite a few of those games, and made contact with a guy who worked at Burgess Hill FC, so whenever we needed any details of how they do the day-to-day running we'd get in touch. He basically knew non-league football inside out, so a lot of the inspiration is him and Burgess Hill FC. Except they were doing quite well… Which was annoying.'
Wilkinson said they wanted to depict a different side from the Premiership 'We wanted to show people what real football is,' he said. 'Basically 50, 60 people going to the game, no money, players getting paid £20 a week. Most of the clubs are in the dark ages because they don't have any money.'
Earl says their clubhouse set 'was actually quite nice compared to come of the ones we found when we were scouting around'.
'Some of them were too bleak!' Wilkinson adds. 'The bar's a kind of combination of a few we saw, but it's mainly based on where we filmed the exterior stuff, which is a club called New Mills, who strangely had an article in The Independent the other day saying they were officially the worst club of all time. We thought that was quite apt. How many games on the trot have they lost David? Something like 23? Might be more now.
'Most football fans have a torrid time. That's the truth of it.'
• Rovers starts on Tuesday 24th May at 10pm on Sky 1.
Published: 26 Apr 2016
What do you think?