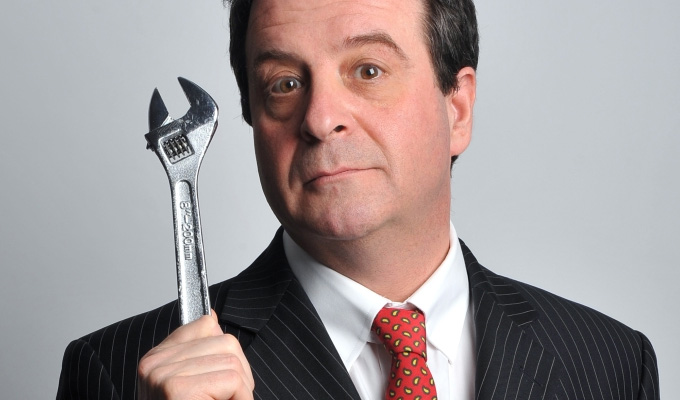 'I love stand-up, but I want to do something different'
The news that Pub Landlord Al Murray is to contest this year's election in Nigel Farage's constituency might be blurring the distinction between comedy and politics, but Mark Thomas has been traversing the line between the two since his performance career began, with serious intent.
In his latest show, Cuckooed, the activist-comedian-playwright-campaigner-reporter-presenter tells of how he found out a close friend among his close circle of protestors was actually spying on him for BAE, Britain's biggest arms manufacturer.
Here former comedy editor for The Sun newspaper Tommy Holgate, now an MP candidate for The Peace Party in Chesterfield, talks to him about the importance of protest – and whether what he does is still 'stand-up'…
There's a lot going on in the world right now. Demonstrations galore. What do you see as the future for peaceful protest?
When you say 'peaceful protest'... For me, most protest is peaceful. There are all sorts of different ways you can protest. It can be very small, it can be symbolic. It can be a tiny tiny thing.
I know somebody who's dad is Irish. Whenever he gets his money out of the cash machine he folds the note and puts it in his wallet in a certain way, so that the Queen is kissing his arse.
That's his little thing, that's his tiny tiny thing that means nothing to anyone, except his state of mind.
And there are things that we do that are entirely about our state of mind, that has no political or social impact, other than to ourselves - and that's a starting point.
I remember going to a protest outside the Home Office for Satpal Ram, who was wrongly charged with murder instead of manslaughter. It was a racial attack on him that happened in a restaurant he worked in. He got attacked, and he used this knife to defend himself and accidentally killed this guy.
It should've been a manslaughter charge but he got a murder charge. The Indian waiters who witnessed it gave evidence to the defend him, but it was never heard. The judge - who couldn't speak Bengali - said they didn't need a translator, that he would sort it all out. It was an 'off-the-scale' miscarriage of justice.
I remember one night there were about eight of us went just to stand outside the Home Office to do a vigil; lighting candles, holding placards, so people could see as they drive by. We thought 'why on Earth are we doing this? The Home Office aren't going to do anything'. But it occurred to me that one of the reasons we were doing it was for that man, so that he didn't feel alone.
Serious stuff. You talk about a variety of earnest topics in your shows... how do you make it funny?
You get out there, and you tell the story. That's all I do. I get out there and I tell the story and I have fun telling the story. That's all it is, and there are bits that are not funny.
What I do now is not stand-up. I'm not interested in stand-up any more.What I'm interested in is doing shows that are mine, which are unique, that no one else can do.
I love what I do. I've carved out a niche of theatre and journalism and stand up and what I'm interested in is just getting out there and telling stories.
Is that a relief, to have dropped the 'stand-up' element?
I don't know if it's relief, it's kind of where the shows have been heading for a while. When I started doing stand-up it was very subversive and naughty, and there was a sense of 'hardly anyone is doing this' – it was great fun.
Now, there are a lot of comics I like watching, whether they be the recognisable end like Stewart Lee and Bridget Christie - who I adore - or Josie Long, or people like Joe Wells, Chris Coltrane, Angela Barnes, who are really interesting.I like Imran Yusef and Nabil Abdulrashid, who is an amazingly interesting guy. This is really exciting, that all these comics that are coming through.
But I want to constantly be doing something different and, actually, that is now about moving away from the form of stand-up.
What other benefits are there to your current niche?
You have more components of a show to play with. You can make sure that each part of it works, for example emotionally - because you want to take people on an emotional journey, and sometimes stand-up has trouble with that emotional engagement with people.
I remember seeing - oh I forgotten his name. I can see him and I've got his 'I put instant coffee in the microwave and I nearly went back in time' line in my head. [It was Stephen Wright]. He was brilliant. Joke after joke for 45 minutes, really original, but at the end of it I just wanted to go 'tell me something about you mate. Just tell me something that's honest, that's just a little bit of you.'
It's not that I don't like stand-up. I love stand-up, that;s where I started. I go and see stand-up all the time. I love watching people who are interesting, whether it be Daniel Kitson or Tim Key or people like Jeremy Hardy who still gets out there, day-after-day and does the business.
He's a legend of current affairs quips isn't he? One current affair is Trident [seemless link]... I'd rather not see it renewed. What do you reckon?
I think Trident is just in the wrong era. They are defending an out-of-date concept.
Is there a nuclear threat? If there is a nuclear threat, where is that nuclear threat coming from?
The most prevalent threats come from 'dirty bombings': terrorist bombings put on the Tube or on buses and things like that, rather than nuclear warheads coming spinning across the place.
The idea with nuclear weapons was that you had mutually-assured destruction, you had mutually assured defence. If one person pressed the button, the other person pressed the button and everybody was destroyed. And that was what kept the peace, the fact that otherwise everybody would die, which is fairly fucking nuts.
But even if you buy into that, that argument doesn't exist anymore. Because the threat isn't from weapons, the threat is from dirty bombs. If you look at Polaris, and Trident... What we have is essentially a status symbol for the British Establishment. 'We're part of a nuclear gang', but it's outdated, it serves no purpose.
It's an interesting time for comedy and politics merging isn't it?
It is. And there are lots of gigs that I love doing, like the UK Uncut stuff. We did a gig organised by Chris Coltrane on Westminster Bridge for the NHS, and a load of comics came down and squatted in the middle of Westminster. I absolutely adore those things, I think they're really exciting.
But this is what I love doing now.
And what could be better than loving what you're doing right now?
Exactly. I consider myself lucky. I was just doing an interview with a young woman who was talking about how she was struggling, and not sure where she was going or what she wanted to do (she works in theatre) and I said, ''Yeah, I know it's a pain in the arse but look what we get to do. We get to create stuff for a living.'
I've done this for nearly 40 years. I've earned my living out of trying to be creative. This is fucking brilliant!
• Mark Thomas kicks off his tour of Cuckooed: A Comedy Of Betrayal on February 10. Clikc here for the schedule.
• Tommy Holgate is a Prospective Parliamentary Candidate for The Peace Party. Follow him at @tommyholgate.
Published: 23 Jan 2015
What do you think?