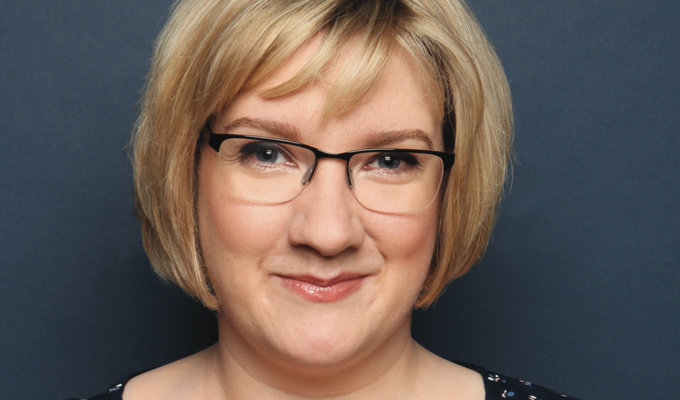 'I'm not Elton John'
What would you say is your unique selling point as a comedian?
I think it's that I could be sitting beside you in the audience. So many people go, 'Oh my God, my auntie's just like you' or, 'My neighbour's just like you,' and I take that as a real compliment.
I'm a kind of Everywoman – I don't look like a star or behave like a star, so there's not that big chasm or moat between us. I'm talking about things that have happened to me, and it's stuff they can relate to, because I'm not Elton John – although I did once buy a seven-pack of socks and wear a new pair of socks every day for a week and felt a little bit like Elton John. I can see why he does it, because they just slide on.
Who makes you laugh?
I love Frank Skinner. He's so naturally funny. I did a few episodes of Frank Skinner's Opinionated, and you know you've really made him laugh when he slaps his leg. When he does that, I'm thinking, 'I've got him!' I also think Jo Brand is wonderful – I did a gig with her in December last year, and the audience was so excited she was there. There's a lot of love for her.
Rhod Gilbert's my favourite comedian. He's always hilarious and a sweet man.
What are your favourite sitcoms?
I love watching old Blackadders and Father Teds. I think Graham Linehan is a comedy genius, if you think that he wrote three of the best sitcoms ever: Black Books, Father Ted, and The IT Crowd. They're all so different and yet all came from the mind of one man.
Where do you find inspiration for your comedy?
By living a bit more of a real life to be able to relate to my audience, not to mention for your sanity. Now I've got a house [in Cheshire] I think I can't be away too long because I've got two cats and a lot of tomatoes that need looking after. Oh my God, if I'm away for a couple of days it makes me so happy to go into my little greenhouse and see if the plants have changed. I'm also learning to cook, at last, and my attempts are making their way into my comedy.
I also get inspiration from other comedians: I've just been listening to Tig Notaro, an American who did a set immediately after she found out she had breast cancer in both breasts. She went straight from the appointment on to her gig. It's been released on iTunes and it's an astonishing piece of comedy. Something like that just blows my bloody socks off.
What did you grow up watching?
A lot of Victoria Wood. Whenever she was together with Julie Walters, it was wondrous. And people didn't watch Victoria Wood and go, 'Oh, she's a woman' – they just watched her because she's hilarious. I love her.
Was a she a role model for you when you considered taking up comedy?
Not really. It was circumstances – my divorce in 2004 – that got me onstage, rather than other comedians. I just got up and had a go. I didn't really know it was stand up at the beginning. I was just talking to people about my divorce.
• The Sarah Millican Television Programme returns to BBC Two on Tuesday September 24 at 9.30pm.
Published: 11 Sep 2013
What do you think?