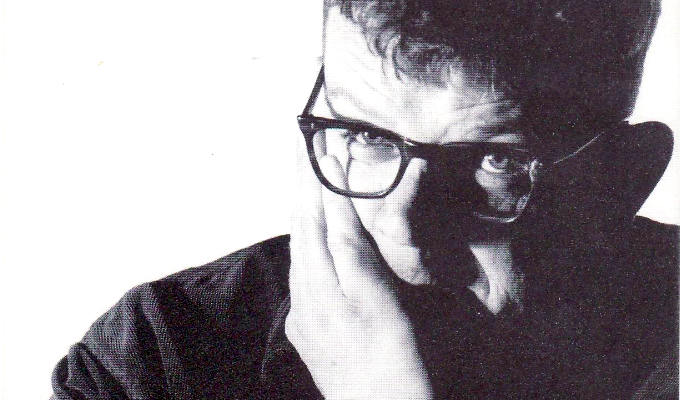 In tribute to Hovis Presley
A hefty new book out today, Forgotten Heroes of Comedy, is the culmination of a long-term passion project from comedy historian Robert Ross, paying an affectionate tribute to some of the finest, funniest and most fascinating names in the business from both sides of the Atlantic. From Dick Emery to forgotten Stooge Shemp Howard, Hollywood golden girl Thelma Todd to Italian film-maker Mario Zampi. In this exclusive extract about one of the more contemporary names in collection, Ross pays tribute to the late, great Hovis Presley.
---
The least surprising thing to learn about the Bard of Bolton, Hovis Presley, is that he was not born Hovis Presley, but Richard Henry McFarlane, on June 9. 1960.
He was a shambolic, rather disgruntled, ale-quaffing chap whose ear and eye for subtle detail and life's irritating little foibles made him one of the most refreshing and celebrated poets and comedians of the flash, cynical Nineties.
Presley was the very nemesis of Thatcherite Britain. His mentality was never 'Greed is good' but 'Life is bloody hard.' If those concerns, worries and personal doubts had to be there – and, indeed, they did have to be there – well, at least he could make them funny for people.
It was something of a life-mission statement but one he never wanted to gain fame and fortune from. His only desire was to be heard. And, perhaps, to momentarily cage his moderately annoying inner demons.
His talent to amuse first emerged during his school days at Thornleigh Salesian College in Bolton. His teachers, genuinely impressed by a comedy sketch he had written, requested its inclusion in the end-of-term revue. Presley reluctantly agreed to perform it, despite his shy, introverted persona, but only if five Curly Wurly chocolate bars were provided as props. Doubtless these sweet treats were subsequently dished out to school chums as a way of countering any embarrassment from his unwanted notoriety.
He took his talents to the streets, literally, founding the busking band Dr Stroganoff Treacle Hammer and His Supporting Wall of Sound. Presley was on washboard and comedy-dancing duties. The outfit even won second place in a Bolton Council busking contest. It was the perfect accolade; first place would have been just too showy.
After graduating from Bradford University, his life took a turn for the exotic. He landed a job working on the German railway and later found himself teaching English in Cairo. Reassuringly, his writing remained rooted in normality and disillusionment.
By the late 1980s he was back in his Bolton comfort zone with enough material to tackle the North East comedy circuit. He had also changed his name. An almost Orwellian conception combining the fantastic and flamboyant with the down-to-earth and working-class, Presley was in honour of Las Vegas-era Elvis while Hovis was the brown bread relentlessly marketed at the time as a lowly but delicious product of cobbled streets and flat caps.
Hovis Presley was the perfect nom de plume. It also gave him an identity to hide behind. He was a slovenly, laconic and almost apologetic comedian who treated the wave of laughter for his pearls of wisdom with sheer disbelief: this wasn't an act.
Like Jake Thackray before him, Presley was at his happiest writing his poetry down rather than performing it. To that end, he published his priceless collection, Poetic Off Licence, in 1993.
He would have undoubtedly preferred to avoid public appearances but he realised that it was his voice, and his voice alone, that could do full justice to his mournfully funny verse. The place to be in the North East at that time was Chorlton Buzz Club, which had opened in 1989. It is no stretch of the imagination to say Hovis Presley became the club's first star attraction.
Indeed, his popularity helped to build the local comedy circuit, a trend fuelled by performers such as Dave Spikey and Steve Coogan. It's clear that later talents such as Peter Kay and Johnny Vegasfollowed in the world-weary, unpretentious footsteps of Presley. Unlike those stadium-fillers of the Noughties, though, Presley's success remained local, and that was exactly the way he liked it. He was a hero of his own backyard.
Presley relished a tour he did with Graham Fellows, in the guise of his keyboard-fingering alter ego John Shuttleworth. Bolton's finest Radio 1 disc jockey Mark Radcliffe, bewitched by Presley's ability to summon up the angst of his generation, invited him on to his show time and time again.
But Presley, being Presley, would turn down offers of bigger comedy venues in the south, almost just because it would mean him having to spend a night away from his beloved home in Bolton. He preferred to stay in Bolton, running his 'alternative to alternative comedy clubs' at the Balmoral Hotel. He was a contented man, nursing his First World problems within this comforting venue: surrounded by the people that he trusted; the people he knew would get what he was writing and talking about.
But that looked set to change for ever in the summer of 1997. A second Edinburgh Festival Fringe show, Wherever I Lay My Hat, That's My Hat, was fast gaining a reputation among comedy admirers and theatre critics. Five-star reviews were flying around his head and his throwaway, monosyllabic and permanently disinterested comedy delivery was seen as surreal, postmodern and just sheer brilliant by sell-out audiences.
Even his poetry collection had been expanded and re-packaged as the sarcastically jolly Poetic Off-Licence Holiday Annual.
The bigwigs were sitting up and taking notice. This was crunch time – and Presley couldn't handle it. Distressed by the acute media interest and lucrative offers being piled up on to the table, Presley disappeared mid-run and the remaining shows had to be cancelled. The situation became so serious that the police were called in to try to trace him. When he was finally found, a few days later, he was visibly shaken, unkempt and unable to return to the glare of the spotlight.
He turned, instead, to charity gigs and intimate social clubs in which it was he, and not the corporate men, who could call the shots. These working men's variety shows effortlessly merged poetry, music, comedy and darts into a relaxed evening of beer and belly laughs. It was all very much Hovis Presley, and Hovis Presley only.
Presley appeared on television on very rare occasions, notably on the Carlton Television game show for kids, Mad For It, and the Channel 4 comedy platform Gas. For a short time, between 1997 and 1998, he would be accompanied on guitar by regular stage cohort Steve Warwick. It was about as commercial as Presley had ever wanted to be.
Alas, half-hearted notions about actually recording his work with Warwick came to nowt, but his 18 March 1998 performance on Gas preserves the greatest surviving rendition of the poem that is undoubtedly his greatest hit: I Rely On You. A bludgeoning, beleaguered, deathly, devoted torrent of words delivered by Presley as a monotonous dirge, it perfectly kicked sentimentality into touch in favour of a realistic truth that togetherness is simply better than being alone. 'I rely on you, like a handyman needs pliers, like an auctioneer needs buyers, like a laundromat needs driers, like The Good Life needed Richard Briers' is a typically joyous moment.
Presley was asked countless times by engaged couples if they could use the stanzas in place of the traditional wedding vows. He would doubtless be tickled pink to know that today the poem is included in the official Salford Register Office choice of verse.
Peter Kay, something of an unofficial protégée, was so enthralled by Presley that when he was planning his new Channel 4 situation comedy Phoenix Nights in 2000, he offered Presley a leading role. The offer was turned down. Presley didn't want to get tied down to the commercial treadmill.
He was still writing poetry, though, and on very rare occasions he would return to telly to perform. He finally accepted the invitation to take part in Whine Gums, BBC Three's celebration of comic verse. Presley only really agreed because friends and contemporaries Steve Coogan and John Cooper Clarke were also on the bill but, as usual, Presley nailed it. And he stole it with one wonderful moment. A poetic short story: 'I met a girl who changed my life, I asked her if she'd be my wife. She said: "I already am. Will you stop drinking!"'
He was still writing such cutting, hilarious verse as late as 2004, when he delivered one of his most bitingly funny couplets in I've Bitten Off More Than You've Had Hot Dinners. The poem itself isn't much longer: 'I once spent an evening with Lola or Layla. She said, Make me breathless. I hid her inhaler.'
Again, as with Jake Thackray, Presley returned to teaching for the last few years of his life, particularly relishing his role teaching comedy to drama students at Salford University. He would use his tact and influence to secure stand-up spots for his most promising students, at the new breed of Manchester clubs like the Frog and Bucket and XS Malarkey. Though reluctant to perform at these venues himself, he would turn up to support his students.
A true man of the people, Presley's idea of happiness was a pie and mash, a pint and a football match. Among his proudest achievements was when one of his students secured the job of match announcer for his beloved Bolton Wanderers.
The glorious thing about Presley's last years was that he really was happy – at long last. In the spring of 2005 he said: 'If I'd known life at 44 could be this much fun, I wouldn't have spent so much of my teens worrying!'
In May the same year he suffered a massive heart attack, and after six weeks in a coma, on June 9, he died at the age of forty-four. To slightly misquote his own work: as good times go, he went.
Treat yourself to Presley's exquisite collection Poetic Off Licence. Funny, heartbreaking, and about as human and unique as you can get. And proceeds of this edition go to support the Hovis Presley Memorial Fund which, since being set up by Presley's family and friends in 2005, has raised more than £18,000 for his favourite charities.
• Forgotten Heroes of Comedy: An Encyclopedia of the Comedy Underdog by Robert Ross is published by Unbound, priced £30
Published: 28 Oct 2021
What do you think?