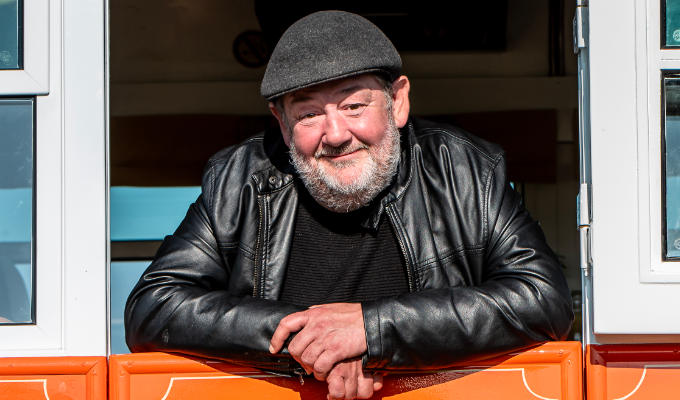 'This is one of the greatest achievements of my life'
I used to have a camper van which I used a lot when I was writing my book years ago. I'm a big sucker for Amazing Spaces and all those shows and I'd always intended to replace the camper.
I lost my dad and I think you go through that thing of going 'if not now, when?', and then I did what any sensible person would do – I got drunk, went online and bought an old Maltese bus. I didn't look for a bus in the UK, I didn't go that far down the searches
I thought 'Malta, that will be easy enough'. I shared it on social media and Plum Pictures got in touch and were like 'are you seriously considering this?' Then we took my mum on holiday to Beaumaris in Wales and got talking to someone from the National Trust who said they had land they wanted to develop.
Things just fitted into place. It all steamrollered from that to opening a campsite. It has accidentally turned into a business.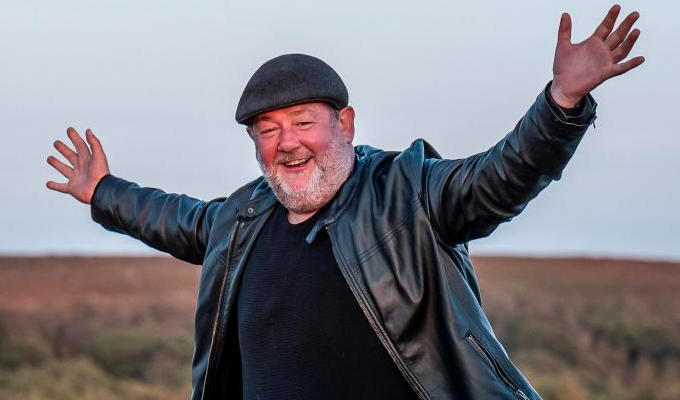 I love that we have this theme of rescuing vehicles that would have otherwise gone to scrap. We very nearly did have to scrap her [the Maltese bus, which he named Patricia].
I was so naïve. From transporting her over, to getting her to the yard to not fully realising the financial implications of fixing her up. But I've been very lucky, the general feedback from people who have seen the whole series is, 'you've had this crazy idea but you've somehow got people to follow you'. I'm more like a cult leader.
We're very lucky we found like-minded people. I'm still not a great businessman and I'm not particularly running the site, I'll just be staying there. Bev [Dixon, his assistant] is the person who makes all the calls that need to be made.
It never started with the intention of opening a full-on site, but when we met the woman from the National Trust it suddenly seemed a viable thing. But there were so many disappointments [including losing the Welsh site]. At one point I was trying to persuade them to make it a one-off episode where we just ended up with Patricia in the back garden and the whole thing would be a joke about my failed attempts at a glamping site.
But we finally found the new land in Yorkshire and then the whole world ground to a halt with Covid. I lost my mum, which was difficult. [he named his bus after her] Over four episodes, it's quite the journey.
We didn't just buy a bus and fix it up in two weeks. It's been two years to see it to fruition. Bev had the nightmare of getting her [the bus] into the country – we had three attempts and on the third attempt the ferry caught fire. Then it all had to be stripped down to the chassis. I could have bought a chassis online in England.
Patricia has basically been built from the ground up to weather-proof her. It's been a genuine learning curve, but there are moments when you have little successes and it starts to pay off. I'm so proud of her, she's one of my greatest achievements.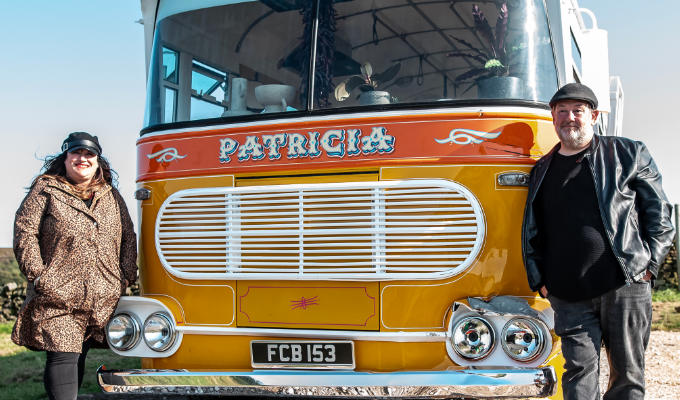 Everything we stripped off the bus we recycled. I've had a barbecue and bar area built with the seats that came out of the original Patricia, I've commissioned a sign for the site with the last bit of panelling.
I think what the producers liked is how you see the heart and the commitment that has gone into seeing this through. There are some very personal touches within Patricia.
I also just love that we picked up all these people along the way and every vehicle on there hasn't been built to purpose, it's been rescued. We've got an American school bus, we've got Billy the Snail, we've got a German fire truck and trailer - and we converted the trailer into a separate children's bedroom. And we've got this bizarre Citroen bus that drives as one but then splits into two, so you've got a decking area on it.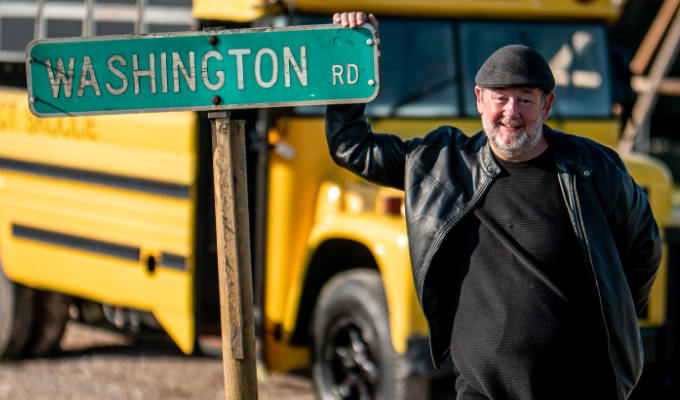 I hope people get the sense from the show that it's a lot of different people's passions coming together and it didn't start out as a commercial venture. But the practicality of it is, she has to start paying her way. Everybody's suffered financial losses and work has been thinner on the ground so it's gone from being to a passion to now she does need to be a going venture.
Everyone we show her to says they want to stay in her, so it's probably going to create a nightmare with family and friends! I'll be staying there whenever I can. It was always somewhere for me to go to. It's a small enough site with five vehicles so there's a sense of community but with plenty of space for folk to keep themselves to themselves.
I can't work at home, especially if I've got writing to do, I need to move myself to a different space and I love that area. The toughest thing is leasing her out, but I genuinely want to share her with other people so they can get the joys and benefits of her. This is an investment, it's not just a mid-life crisis boy's toy.
We've got more plans down the line. We'll talk to Yorkshire Water because there's a beautiful reservoir at the bottom of the hill and I want to give some space and time to artists, I'd like to create a sculpture park around the reservoir and give them a short-term residency there.
There were times I genuinely thought 'should we have got involved?' We'd bitten off more than we could chew. I don't think we would have had that push without it being filmed for TV. We never set out to make a TV show, but we've ended up with this amazing way of telling people about the site. And I think the journey getting there and the stories behind the buses sells it as much as how beautiful the site is.
Hopefully people will see someone who doesn't just go on TV and shout a lot. I do have passions, I'm creative and there are other things I want to do. I think that's coming from a creative background.
Getting Patricia was a really positive thing to do after losing my dad. We still had my mum when we started, and after losing her, it was really hard to get motivated. I know that I can be proactive for a couple of days then I want to hide from the world for a week and that's where Bev is really good at knowing how much to push me.
There was also an element, with Covid, when we had to question whether it was the right time to be fixing up a bus and whether we should be putting our money into other things. We didn't know if we'd end up living on the bus at the end of it with Bev going: 'This is Another Fine Mess you've got us into'!
---
Johnny and Bev's relationship
Johnny: Beverly is one of my best friends, and long-suffering assistant. She basically runs my life. It's nice being on camera together. I think people pick up on the dynamic, Bev is basically home help. At the end of this, I think people will wonder how I manage to dress myself.
Bev: When people ask me what I do, I say I'm a carer for a man with challenging behaviour. I'm not a celebrity PA.
Johnny: Bev basically runs my life. The series really shows how much work Bev puts into this and how well she absorbs my ideas. She swallows her frustrations and get things done.
But then he did give her a surprise - her own bus…
Johnny: All the best deals are done in pubs. I bought a bus in Doncaster in a pub car park and it was the hardest secret to keep because Bev runs my entire life and we had to smuggle it from Doncaster to the yard, we broke down, we had to smuggle it to St Helens.
Normally I ring Bev and ask her to do something, but I couldn't. It turned out I'd accidentally bought one of a kind, an extremely rare 1958 Austin Paralanian.
I presented Bev with it and I've never seen her so lost for words. Bev is always amazing but over the last five years, it was tough losing both parents, so I wanted to do a special thank you, because the site wouldn't be possible without her. We hid it in plain sight in St Helens transport museum and sneaked it back to the field.
Bev: I was so lost for words, totally overwhelmed. I had no idea. Apparently, there have been a few occasions where people had slipped up about it, but I didn't twig. Even my family were in on it. They've kept quiet for a year!
Johnny: Here's the irony, Patricia cost a fortune, Bev could sell hers for double what I paid for it tomorrow.
• Johnny Vegas: Carry On Glamping is on Channel 4 at 10pm ond Wednesday, with all episodes available as a box set on All4 afterwards.
• Article compiled from comments Johnny made in an interview syndicated by Channel 4 press office.
Published: 3 May 2021
What do you think?