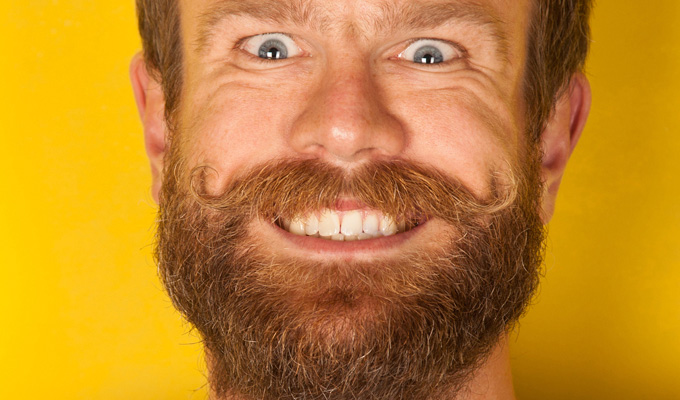 'The greatest thing to happen during lockdown'
Here's our final round-up of the luminaries of lockdown, some of the streaming gigs, social media feeds, podcasts and more who have done so much to provide laughs over the past 12 months. Read yesterday's batch here, and Monday's here.
Olaf Falafel
Any pun cognoscente should already be aware of this British-based Swede's Twitter feed, full of stupidly inspired wordplay. But an even bigger contribution to lockdown has been his Art Club on YouTube, offering lessons and inspiration for kids stuck at home.
One dad, John MacKintosh said: 'It's funny, educational, and has helped my son immensely. He could hardly hold a pencil, now, inspired by Olaf's programme, we are drowning in artwork. His confidence has soared, and his school work has also improved. Olaf's channel was by far the greatest thing to happen during lockdown.'
And a mum, who gave her name only as Sharon added: 'My 11-year-old son has giggled his way through lockdown thanks to Olaf's art club! He's always been afraid to do art in case he "gets it wrong" because he thought he was no good at it, but he now loves it and doodles a lot! Bouncing bums gave him so much confidence and joy.'
Teacher Natalie Harris added: 'I have used his art club when working in school and even participated myself. The children laugh and create and it allows for respite in what is a very difficult time for most. He includes so much fun but also lots of interesting information about the artists who have inspired each episode. Lots of children would have lost their creativity had it not been for Olaf during this lockdown.'
Marek Larwood
The comic has also turned to art during lockdown, via his YouTube series Marek's Mediocre Masterpieces. In each episode he tries to recreate a famous work in just 15 minutes, with mixed effects, while offering education and entertainment while doing so. He's also made his own card game, called Pooman, and uploaded a few video sketches, including a Choose Your Own Lockdown Adventure.
Jack Shephard
A TikTok comic who's been busy making bite-sized character sketches, with social media stars, posh lads and bigots among his favourite targets, as well as occassionally offering revealing glimpses into his own life.
'Funny relatable content that's kept me uplifted over lockdown, while also getting in important political and social commentary,' said fan Imogen Harris, adding: 'He's a witty clever lad'
Tom Little
A former BBC New Comedy Award finalist, the stand-up has been creating some excellent videos on YouTube during the pandemic, most notably his series of TV theme songs with words, but plenty more besides. They are ridiculously stupid - the classic JR Hartley Yellow Pages advert dubbed into German. to the backing of Rock Me Amadeus, anyone? But the fact he commits to such stupid ideas is enough to bring a smile.
The Leicester Comedy Festival
It's impossible to stage a full festival during a pandemic, but Geoff Rowe and his team in Leicester pulled off a major virtual event, with the help of the NextUp streaming platform. With its sister kids' festival, more than 350 performances took place, featuring 150 or so comedians, and attracting an audience of more than 27,000.
One Chortle reader praised them for having 'worked tirelessly to ensure that the best in live (streaming) comedy is being showcased in place of the actual festival window this year. Lovingly curated, it is clear to all just how much they understand the best in new and emerging talent for the industry as well as packing in the big hitting names we already know and love.'
Another comedy fan, Owen Hughes, added: 'Last year's festival was the last big comedy event pre-lockdown; and I was gutted to think I'd miss it again this year. However, the digital coverage has been tremendous. Some of the sets comedians have done over Zoom have changed my mind completely about the format (from not-really-a-fan to wow-that's-really-an-ingenious-use-of-the-format). Q&As, improv, live podcasts and of course straight-stand-up: so impressed with the variety of shows and all of a high standard as I've come to expect from the Leicester Comedy Festival over the years.'
Andrew O'Neill
The heavy-metal loving comedian has been putting on weekly Zoom shows that, like so many others, has built up an online sense of community among like-minded people, both through the performance itself and post-gig hangounts. 'Subjects range from favourite movies to gender to general positivity, and it's a warm and loving atmosphere,' one fan told us.
Another, Leia George, said O'Neill had 'done an amazing job of adapting content for an online audience while still maintaining the atmosphere and experience of a live event more so than any other performer I've seen… Iwas working as a carer and the amount of times having Andrew to look forward to got me through a shift is unbelievable.'
O'Neill's Facebook page is here.
Darrell MacLaine
It's a very simple concept, TV theme tunes as if sung by other people, but MacLaine's mash-ups are brilliant in their execution: from REM sing The Wombles to Pulp singing Danger Mouse, his short tracks on YouTube are unfailingly entertaining.
Boothby Graffoe
The droll comedian and musician has been hosting regular Songs and Stories gigs from his East Midlands home on Zoom with guests of the quality of Rich Hall, Stewart Lee, and Adam Hills.
One fan, Anne Torkington, said: 'Incredibly consistently funny and brilliant musician who has brought much needed joy in lockdown with his superb solo shows and with guests. A joy to be part of these shows.'
He has more coming up every Thursday this month.
Tim Vine
Tim Vine might have started his home-made sketch show even before one bat in a Chinese cave thought 'you know I'm not feeling too chipper'… but it turned out to be the perfect format for the pandemic era, with a weekly burst silly jokes employing whatever household items or cardboard props he could lay his hand on.
That series ran for 54 episodes, although Vine hasn't stopped making his ridiculous YouTube videos ('nuttier than squirrel poop' one fan said). They include daft songs, asking Props: Where Are They Now? and his current self-explanatory project Recreating Columbo.
One fan, Claire Bennett, said simply: 'He has genuinely cheered so many people up when we needed it the most.'
Des McLean
Another comedian who quickly embraced the Zoom comedy experience, staging weekly Saturday-night gigs with top-notch acts and an 'after-party' to help build community.
One regular, Sharon Scotland-Wylie, said: 'He has been putting on interactive comedy shows from Harry's Bar in his garage, getting fantastic acts from all over the world… and singalongs too. He also keeps the Zoom on and some of us have stayed chatting and made a group of friends that has seen us through the lonely times.'
McLean has also been offering coaching sessions, which up-and-coming comics have found valuable at a time when it's been impossible to rack up that all-important stage experience.
David Allison
The creator of the This Is Your Trial live format came up with a new idea for lockdown, Comedy Auction. In the live online show, comedy acts present lots that can be bid on by the audience, physically or virtually.
He has also produced shows from his garden and live performances in the brief window where such things were allowed.
One fan said: 'David's determination and energy to deliver high quality comedy has provided employment to comedians and amusement to audiences, at a time when both have been in desperately short supply. Truly, he is a comedy hero.'
Another said Allison was 'one of the most creative, hardworking and dedicated writers, organisers and doers on the circuit'.
Zara Gladman
Scientist and comedian Zara Gladman has won plenty og fans with her incisive, funny and relateably honest videos posted on Twitter over the past year.
One of them, Alan Fergusson, said the films were 'on point commentary, razor sharp and unapologetically true. Like it or not, she's talking about you and you know it.'
Another, Rosemarie Barbeau, said: 'She has captured perfectly and hilariously the life and random thoughts under lockdown for people who are single, like socialising, and are not at all inclined to bake bread! '
Matthew Highton
Another creator of inventive YouTube videos, most notably those recreating the title sequences of hit TV series using only stock footage. Fellow comic Ali Brice said: 'He has consistently pumped out content for the entirety of all lockdowns. And it's all sorts of stuff, sketches, animations, parodies, Twitch streams…'
And
Anyone who put on a Zoom gig, filmed a sketch or animation, launched a podcast, put on outdoor shows in the summer, consistently tweeted jokes, launched a Twitch project or came up with new TikTok ideas - or helped anyone else do any of these things - in a bid to keep comedy alive these last 12 months. All have provided lifelines until such time as we can get together and laugh again…
Published: 31 Mar 2021
What do you think?