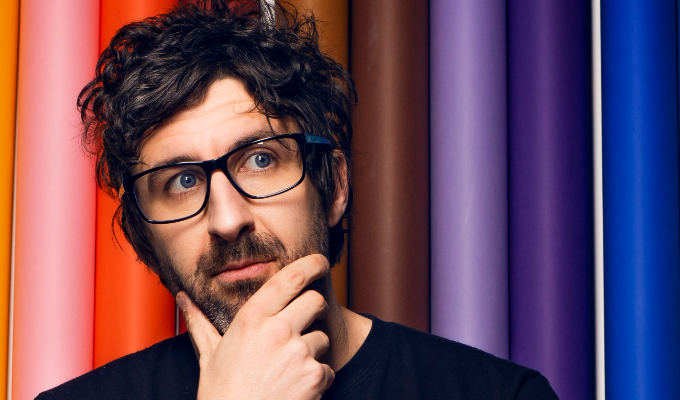 It's the Melbourne comedy festival... virtually
British comedy fans might feel as if they can only watch on in envy as the Melbourne International Comedy Festival kicks off next week.
It's not quite business as normal - there are capacity restrictions and long gaps between shows to mitigate against the spread of Covid, and bars won't be the same - but there are thousands of performances of hundreds of shows over the three-and-a-bit weeks.
But although it's a major celebration of the return of live comedy, a number of events are also being staged online, meaning international fans can get a small taste of the festival from their own screens.
Here's our pick of some of the virtual highlights:
The Watsonathon
This is the third 24-hour gig Mark Watson has performed over the year of lockdown, having raised more than £75,000 from the last two. Expect a host of eclectic guests and a plethora of creative challenges - but most importantly of all a joyous sense of community. Announcing the gig earlier this month - his first marathon show in Australia for 12 years - the comic said: 'Melbourne Fest and the Australian comedy community have been vital to my development as a comic and my love of the "job". It's a steady dull ache being away from there. But this will be fun.'
Tuesday March 30
Melbourne time: 7pm
UK time: 10am
Tickets: $18 (£10), single $22 (£12.25) household here
Mark Watson: Wish You Were Here
Watson also hosts these two showcases of international acts who should be at the festival, but aren't, promising 'mini-comedy shows in our houses, gardens, garages, game-show formats, challenges, songs and poems - really, anything we can do to get the attention of the Melbourne public in the absence of an actual work visa'.
Monday March 22
Melbourne time: 8pm
UK time: 9am

Monday March 29
Melbourne time: 8pm
London time: 10am
Tickets: $15 (£8.40) single, $18 (£10) household here
21 Years Of The Comedy Zone
A showcase for a showcase! Every year a handful of up-and-coming comedians perform under this banner, often as the next step after coming through the Raw competition for very new acts. Many alumni have gone on to great things and some of them perform here - namely Danielle Walker, Emma Holland, Ivan Aristeguieta, Daniel Connell, Sammy J, Nina Oyama, Blake Freeman, Lawrence Leung and Claire Hooper, the co-presenter of The Great Australian Bake Off.
Tuesday March 30
Melbourne time: 8.30pm
UK time: 10.30am
Tickets: $15 (£8.40) single, $20 (£11.15) household here
Then available on demand until April 30
Lawrence Leung: Connected
The super-smart and cheerful comedian and trickster is always a highlight of the festival whenever he performs. and this year he has created a show specially for Zoom. In the comfort of their homes, audience members will be guided through mini-experiences where the idea of 'connection' will be explored. Can participants read each other's minds through a screen? Will complete strangers discover remarkable coincidences? Are we all connected?
Fridays March 26, April 2, 9, 16
Melbourne time: 8pm
UK time: 9am (26th), 10am (2nd and 9th), 11am (16th)
Tickets: $15 (£8.40) single, $20 (£11.15) household here.
Special Guest & Friends
A streaming comedy showcase every Thursday. The line-ups are: Randy Feltface with Luke Heggie, Cassie Workman, Jude Perl , Aurelia St Clair on March 25; Dave Hughes with Claire Hooper, Dane Simpson, Brett Blake and Lizzy Hoo on April 1; Geraldine Hickey with Daniel Connell, Kirsty Webeck, Annie Louey & Urvi Majumdar on April 8; Andy Saunders with Nikki Britton, Sam Taunton, Ivan Aristeguieta and Michelle Brasier on April 15.
Thursdays March 25 to April 15
Melbourne time: 8.30pm
UK time: 9.30am (25th), 10.30am (1st), 11.30am (8th and 15th)
Tickets: $15 (£8.40) single, $20 (£11.15) household here.
Then available on demand until April 30
Indian All-Star Comedy Showcase
Streaming live from the subcontinent, a selection of stand-ups from the Indian comedy scene: Sapan Verma, Azeem Banatwalla, Aishwarya Mohanraj, Anirban Dasgupta and Sonali Thakker.
Tuesday April 6
Melbourne time: 8.30pm
UK time: 11.30am
Tickets: $15 (£8.40) single, $20 (£11.15) household here
Then available on demand until April 30.
Free to view
A 2016 documentary about the festival's roadshow, which takes a group of comedians around rural and suburban Australia, available from April 5 here and Flashback Fridays with Denise Scott introducing archive footage of comics including Sarah Millican, The Boosh, Bill Bailey and Flight of the Conchords, released every week.
Comedy Rooms of Melbourne
This four-part documentary series offers a peek behind the curtain of the year-round comedy gigs in the city, focussing on the comics who test out jokes and try to make a living out of comedy in venues such as Coopers Inn, Local Laughs, Catfish Comedy and Basement Comedy. New episodes will go out every Saturday night, Melbourne time, here, then be available to stream until the end of April.
For a full list of streaming events, check the Melbourne International Comedy Festival website.
Note: All currency conversions are approximate.
Published: 18 Mar 2021
What do you think?