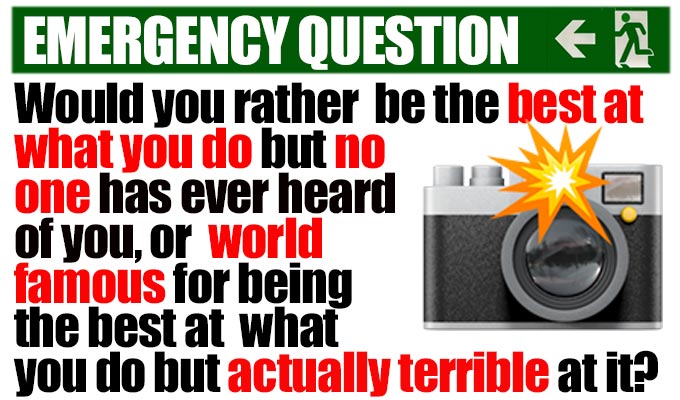 Fame or talent?
Be the best at something and nobody has heard of me. I couldn't take the twitter-sphere of negativity that I see being thrown at famous untalented people. I'd rather be unknown. Plus you can be much more creative (generally) when you're unknown. Simon Caine, Every Room Becomes a Panic Room When You Overshare, Sweet Venues, 20:35
Best but no one has heard of me. Which is currently what I am so this is stupid question. Archie Maddocks, Big Dick Energy, Mash House, 16:50
Definitely the former. Fame, if it ever happens to anybody, should be an unfortunate byproduct of their being good. It should never, ever be the thing people want, that's a disgusting idea. Joz Norris Is Dead. Long Live Mr Fruit Salad, Heroes @ The Hive, 16:40
Definitely world famous but actually terrible. We've had more than a few Popes like that and they've done alright. George Fouracres, Gentlemon, Pleasance, 15:30
Depends what I do. If I was an assassin, it would be handy if no one had heard of me. As a comedian, it's probably more advantageous to be famous and shit. Since I'm an assassin though I'll go for the first one. Andy Field's Funeral, The Caves, 14:10
Fame is a curse. I'm not bitter. Hayden Wood, Confetti & Chaos, The Principal, 17:00
Famous but actually terrible, Chad Kruger seems to have a dope life. Quality is subjective, being married to Avril Lavigne is not. Daniel Muggleton: Pimpin' Ain't Easy (But I Reckon it's Easier for Straight, White Men?), The Counting House, 16:00
First one first three weeks of the fringe, last one, last week of the fringe Darren Walsh: Punimal Farm, Three Sisters, 18:30
Famous for being the best but secretly terrible. It's always nicer to cry into the leather steering wheel of a Ferrari. Richard Stott: Right Hand Man, Gilded Balloon, 12:45
I am content knowing I'm the best mayor Sim City has ever had. Stand-up wise, I'd like to be famously terrible. Tom Taylor: Is the Indie Feel-Good Hit of the Summer, Pleasance Courtyard, 18:00
I was gonna say, best at what I do but no one has ever heard of me… but that sounds like an ideal choice for a murderer. Famous and shite for me please. Colin Chadwick: Quick Thinker, Sneaky Pete's, 14:30
Oh, God! The second one. I'm pretty sure with enough money I could buy off my conscience. John Robertson, The Dark Room, Gilded Balloon, 21:15
Sooo... sort of like Daniel Kitson or Donald Trump? Because... Trump. He has a GOLD ELEVATOR. And just because I was incompetent I wouldn't HAVE to be an arsehole. Laura Lexx: Knee Jerk, Gilded Balloon, 17:15
The latter. Jimmy Carr manages it and he seems to have fun. Rob Oldham: Worm's Resolve, Counting House, 21:00
Tickets for Richard Herring's Edinburgh show are available here.
Published: 10 Aug 2019
What do you think?