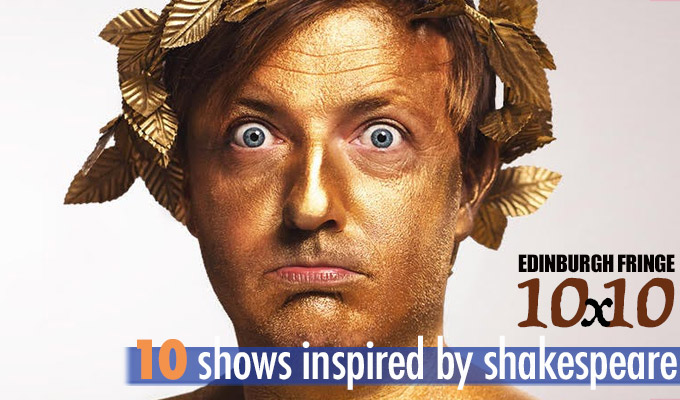 Edinburgh Fringe 10x10: Ten shows inspired by Shakespeare
The Bard always provides a hefty batch of shows in the theatre section of the Edinburgh Fringe programme.., and this year comics are getting involved too:
Julius 'Call Me Caesar' Caesar
Andrew Maxwell makes his theatrical debut playing… well, everyone, in this one-man version of one of Shakespeare's best-known plays, as reimagined with a comic twist by Northern Irish playwright Owen McCafferty.
Gilded Balloon Patter Hoose, 15:00
Clive Anderson: Me, Macbeth And I
He's back at the Fringe hosting Whose Line Is It Anyway, and this year Clive Anderson is doing a one-man show, too, about the Scottish play that promises to b 'be funnier than Shakespeare's greatest tragedy and less divisive than Brexit, Scottish independence and Donald Trump put together'
Even though in an interview this weekend Anderson – who's father was Scottish, so has a link to the work – hinted at some cold feet over the idea, confessing: 'It seemed like a good idea when I initially agreed to it…' Surely that's faux British modesty coming to the fore.
Assembly George Square Studios, 15:00
Tim Fitzhigham and Thom Tuck in Macbeth
You wait years for one comic take on Macbeth, then two come along in the same year. Double, double toil and trouble, indeed!
Here the very silly Thom Tuck, of The Penny Dreadfuls and countless more besides, and Tim FitzHigham, of many an audacious adventure, present what they bill as 'the greatest tragedy of Edinburgh 2019', With a different guest director daily the pair try to take on all the roles in the play.
Heroes @ Black Medicine, 19:00, August 1 to 11 only
Shit-Faced Shakespeare: Macbeth
Oh, hang on. Make that three comic takes on Macbeth this Fringe. Shit-Faced Shakespeare are Now a bone fide festival institution, which also enjoys sizeable London runs in the Leicester Square Theatre, the premise is well-established: a cast of trained actors try to get through a play even though one of their number has gotten absolutely sozzled before the production.
Though it's a cult hit, not everyone is a fan, The Times gave it a one-star review a couple of years back with critic David Jays saying he 'hated it beyond words'.
Underbelly Bristo Square, 23:00
2Elfth Night
In a superficially similar vein to Tuck and Fitzhigham's offering, California-based clowns Keane & Doyle try to stage a two-person version of Twelfth Night after the rest of their troupe fails to show up… and they may well require the audience's help to pull it off. Don't say you haven't been warned.
Paradise in Augustines, 20:00, August 12 to 25 only
Definitely Not Romeo and Juliet
The 'oh no the cast are missing' idea is clearly a popular one, as it's the same starting point for Brightside Comedy's farce, in which one man and his understudy battle through technical glitches with their botched lines and bad acting.
TheSpace on North Bridge, 16:40, August 19 to 24 only
Shakespeare The Panto
The University of Bristol Pantomime Society fuse their usual genre with the works of the Bard in this production, in which Shakespeare must deliver a career-saving performance in the face of treachery. Oh no he doesn't! Oh verily he doth!
TheSpace On The Mile, 19:05, August 2-17
Rubbish Shakespeare
One for the kids as a very different RSC – founded as a street theatre company a dozen years ago – return to Fringe to offer their slapstick take on A Midsummer Night's Dream with the requisite fairies, goblins – and water pistols.
Pleasance Courtyard, 11:30
The Lost Musical Works Of Willy Shakes
'The man that hath no music in himself is fit for treasons, stratagems and spoils' - Lorenzo.
The Bard's work gets a Noughties pop twist courtesy of Guy Hughes, of the Handlebards and several proper Shakespearean productions besides, and Joe Leather, who's been in Jersey Boys and currently in The Best Of Wham covers band. 'Think Flight Of The Conchords with an Elizabethan makeover,' promises the blurb.
Assembly Rooms, 22:40
Impromtu Shakespeare
The inevitable long-form improv show.
Gilded Balloon Teviot, 13:30
Published: 15 Jul 2019
What do you think?