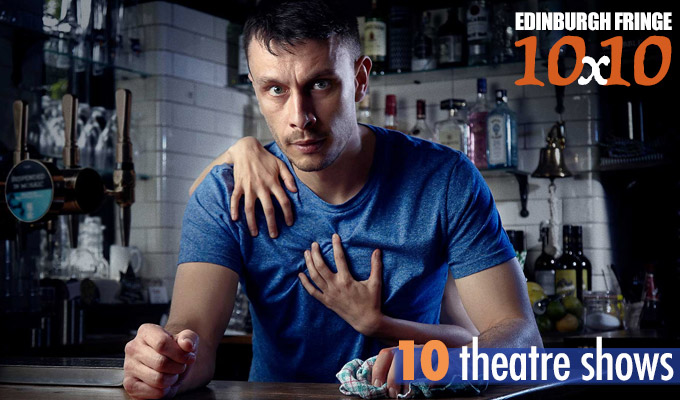 Edinburgh Fringe 10x10: Ten theatre shows
Our build-up to the Edinburgh Fringe starts here! As always we'll take a look at ten shows in each of ten semi-arbitrary categories to preview what you might expect to see this festival. First up, ten comedy-related shows – in no particular order – that you may overlook as they are in the theatre section of the programme….
Richard Gadd won the Edinburgh Comedy Award in 2016 with Monkey See Monkey Do. A challenging and remarkably personal show about overcoming a sexual assault, one of those unforgettable experiences that prompted many a debate along the lines of: 'Yes, but is it comedy?' that's often been repeated since (with Hannah Gadsby, for instance)
The answer was yes, but this year he's ducked out of that section of the comedy programme altogether for what's described as a 'chilling story to tell about about obsession, delusion and the terrifying ramifications of a fleeting mistake. All of which started when Gadd offered a free cup of tea to a stranger.
Roundabout@Summerhall, 18:25
2. Fags, Mags And Bags
The award-winning comedy set in a neighbourhood shop in Glasgow has run for eight series on Radio 4 – and now it's going live. After all it didn't do Still Game any harm. Sanjeev Kohli and Donald McLeary, who co-created the show, star with Susheel Kumar and Omar Raza.
Underbelly George Square, 15:40
3. Funny In Real Life
Comedians tell stories from their lives - but what about the other people they involve? That's the starting point of this play from stand-up Rob Rouse – best known for playing Bottom in the BBC's Shakespearean sitcom Upstart Crow – and his actress wife Helen Rutter.
Rouse plays a comic who's poleaxed when his wife decides he can no longer mention her on stage, fearing her life is being turned into a joke.
Gilded Balloon, 11:15, to 18th only
4. Broken Funnies
Another play in which a real stand-up portrays a fictional stand-up. Martin Bearne, a regular on the Scottish circuit, plays a version of himself who 'gigs around the country, entertaining and disgusting audiences in equal measures with his sick and sexually deviant act'. But what happens when he tries to make his therapist laugh?
Scottish Comedy Festival @ Nightcap, 14:15
5. Eddie Izzard: Expectations of Great Expectations
Tickets are hard to come by for this work in progress as his reads the Charles Dickens' classic. And if you can't get in, he's previously released an audiobook of the epic, too.
Assembly George Square, 14:00
6. Friendsical: A Parody Musical About Friends.
The subtitle says it all. This unofficial sitcom spoof takes up the storyline of Ross's will-they-wont-they romance with Rachel and gives it the Broadway treatment, with songs such as (He's Her) Lobster!, Richard's Moustache and You're Over Me, When Were You Under Me?
Assembly Rooms, 13:00
7. Paul Putner's Embarrassment – Me and Madness (The Band)
Since his early collaborations with Stewart Lee and Richard Herring, Paul Putner has been an instantly recognisable part of many a comedy show, including Little Britain (where he was the most bullied of all the Fat Fighter), Rock & Chips and Kevin Eldon's It's Kevin. Here, as his beloved Madness celebrate their 40th anniversary as a band, Putner tells of being a lifelong fan, with tales of 'demented dancing, dodgy haircuts and glorious gigs'.
The Frankenstein Pub, 18:15
8. Tilda Swinton Answers An Ad On Craigslist
One of the biggest breakout hits of last year returns, with Tom Lenk portrayinh Tilda Swinton as a modern-day Mary Poppins, but 40 times as bonkers as she invades the life of a depressed gay man as a character study for her next role. It's a tour-de-force, and hilarious, performance. Read our four-star review from 2018 here.
The Brighton-based comic has taken on the sort of pointless challenge that Dave Gorman once made his own. In this case, visiting the exact centre of all 105 counties in the UK. There he asks the simple question, 'What makes you happy?'
Whether he unlocked the secret to contentment or not, that sort of travel should give him some decent road stories…
Sweet Grassmarket 18:00
10. Chic Murray: A Funny Place For A Window
Time was when plays about dead comedians were ubiquitous on the Fringe, but they are rarer now most of the favourites have been done to death, if you'll excuse the expression. The exception this year is about Scottish legend Chic Murray, known for his surreal one-liners, written and directed by Stuart Hepburn.
The Stand's New Town Theatre, 15:40, August 19 to 25 only.
Check all Chortle's Fringe listings here.
Published: 8 Jul 2019
What do you think?