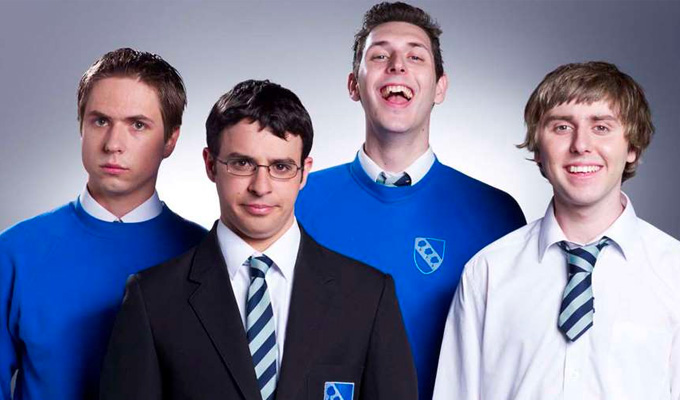 The Inbetweeners turns ten
Want to feel old? It has been a decade to the day since The Inbetweeners first hit our screens.
The comedy is still E4's highest-rating show ever with the last series attracting 4.1 million viewers per episode.
And it continues to be hugely popular, having racked up 86 million hours of viewing on catch-up service All 4 – the equivalent of 10,000 years. Both spin-off movies were added to the streaming service yesterday and will be available for 30 days.
Channel 4 says the show is particularly popular at times when teenagers should be otherwise studying, with viewing rising 22 per cent during the A-Level exam period this time last year.
Here are some facts and figures from the series, courtesy of Channel 4.
Fun facts
1. The Inbetweeners is based on the real lives of the creators, Damon Beesley and Iain Morris. Morris once recalled a university ball when an attractive stranger grabbed him, kissed him and suggested they have sex. He instead suggest they should take our shoes off and "skid" up and down the parquet floor. 'The result was two awesomely long skids from me, her walking off, and a 12-month wait before I finally shed my virginity,' he recalled.
2. Both Matt Smith and Dominic Cooper auditioned to play Will but they were beaten by Simon Bird.
3. The show was the first ever sitcom created specifically for E4.
4. Channel 4 initially wanted the comedy to be set in Central London with the characters always taking drugs and going to raves.
5. The four main characters are supposed to be in their mid-to-late teens. But when the first episode was broadcast in May 2008, the actors playing them varied in age from 20 (James Buckley) to 24 years of age (Joe Thomas).
6. Belinda Stuart-Wilson, who plays Will's mum, Polly; is only 13 years older than Bird.
7. Hannah Tointon played Taraa, the girlfriend of Thomas's character Simon in three episodes of the third series 3. But they got on so well they started dating, and are currently engaged.
8. A US remake aired on MTV in 2012, but was cancelled after one series in the face of poor ratings

9. The first Inbetweeners movie racked up £45million at the UK box office, but in the US it took less than £23,000 in its opening weekend. Morris attribute it to Americans not understanding the accent.
10. Anthony Head, who plays Will's dad in the film, is the real-life father of Emily Head, who plays Carli.
11. In the movie, a body double was used to stand-in for Jay when his shorts were pulled down to expose his privates.
12. When the first movie came out, Bird said: 'It feels like the right time to finish it, as none of us wanted it to continue beyond its sell by date.' The sequel come out three years later.
13. Neil's email address is revealed in the second movie: sexydanceneil95@gmail.com"
Top clips online
1. Mr. Gilbert
2. First car
3. Dirty talk
4. Jay's Random BS
5. ID
6. Camping texts
7. Revision
8. Shitty trousers:
9. Football friend
10. Bus wankers:
Top 10 most viewed episodes
1. First Day (S1, ep 1)
2. Field Trip (S2, ep 1)
3. Home Alone (S3, ep 5)
4. Bunk Off (S1, ep2)
5. Thorpe Park (S1, Ep 3)
6. Caravan Club (S1, ep 5)
7. Will Gets a Girlfriend (S1, ep 4)
8. The Gig and the Girlfriend (S3, ep 2)
9. The Camping Trip (S3, ep 6)
10. Will's Birthday (S2, ep 3)
Published: 1 May 2018
What do you think?