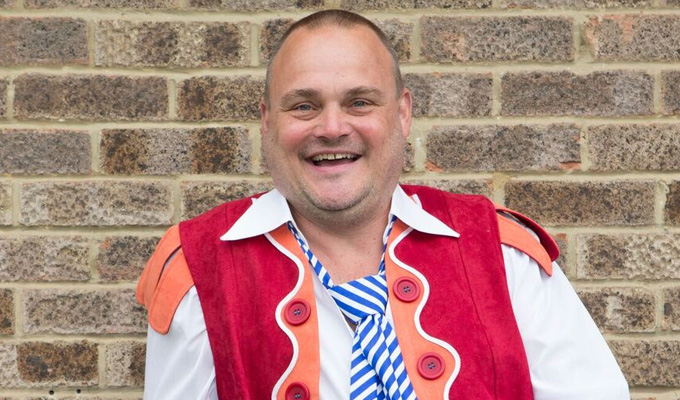 'I always knew I'd do this'
Once upon a time, pantomime was rather sneered at: collateral damage from the alternative comedy boom that indiscriminately swept aside everything that went before and condemned for its tired, cheesy, end-of-the-pier sensibilities.
But the shows have flourished into a multi-million pound industry – and while 'cheesy' might still be a fair description, panto has been embraced by stand-up stars embracing its anarchic spirit (not to mention healthy paycheques)
'Panto was something I always thought I'd do,' says Al Murray, who makes his debut in Jack And The Beanstalk at South London's Wimbledon Theatre next week: It's goofing about, which is what I do anyway.
'Last year I saw Tim Vine here with the kids [daughters Scarlett, 18, and Willow, 14] in Dick Whittington and they said; "Why don't you do this?" And it looked like fun.
'Plus I was available! I normally tour through the winter but we decided not to do that this year. So I was available.
Murray has channeled much of his larger-than-life Pub Landlord character into his role as Idle Al. 'I have a maroon waistcoat and blue neckerchief, so there are elements of the Pub Landlord but refracted through Jack & The Beanstalk.'
However he will have to temper his shtick for a young audience and admits there's plenty to learn about how pantomime works..
Speaking to Chortle on the first day of rehearsals in the actual theatre earlier this week, he said: 'I'm lucky that my first panto I'm working with one of the absolute great dames in Clive Rowe because there is lots to learn.
'And because I'm a virgin they tell me it'll all change when we're put in front of an audience. But for now I'm having such a ball.'
Murray's has set pieces where he must stick to his lines, but there are parts of the script where it just says 'Al does 5' allowing him to improvise as he wishes.
Jack And The Beanstalk is one of dozens of pantos produced by the giant of the genre, QDOS entertainment, which keeps the classic shows updated.
Yesterday, managing director Michael Harrison said that sexist scenes in some of his pantos – in which males stars would end up looking up an actress's skirt, or the woman would end up exposing her undies in a slapstick scene had been exorcised given the new focus on sexual harassment. 'That just feels wrong, with everything that's going on,' he said.
But Murray said he'd not been privy to any conversations about whether the innuendo might be misinterpreted by some easily offended Twitter warrior.
'It's panto! The context is panto. That's the excuse in itself', he said. 'If people are going to take it that way, then what's the point [of them going to see it]? I'll be honest, this is the first conversation I've had about this.''
Murray is also back on ITV this month with Make Christmas Great Again – a surprise return to the broadcaster after eight years away..
The comic said the offer came 'out of the blue.. but in a positive way. ITV were looking to make a number of specials for Christmas and asked if I would be up for doing that. '
While the mix of celebrity guests – which he jokingly calls a 'proper "Who's That?'"of light entertainment' – and audience games gives the show a 'Noel's House Party vibe', there's still a slight political edge to the Landlord's shtick.
'It's based on myth that you can't say Christmas any more,' says Murray – surely aware that President Trump is taking credit for Americans being 'allowed' to say that magic word again.
'It's based on the idea of the angry British person who thinks we invented everything. People say to me "Why are you banging on about that" - but it seems more relevant than ever.'
Other comedians in panto this season
GARY TANK COMMANDER: Greg McHugh returns to his alter-ego to take a headline slot in Jack and the Beanstalk at the SEC Armadillo in Glasgow.
COUNT ARTHUR STRONG: Appears alongside panto legend Christopher Biggins in Aladdin at the Richmond Theatre, South West London
VIKKI STONE: Plays villainous Squire Fleshcreep in Jack and the Beanstalk at the Lyric Hammersmith, West London – where she also appeared last year. This time around, one critic commented tat she 'proves herself a top-notch baddie'.
JULIAN CLARY: Stars as the Spirit of the Bells in Dick Whittington at the London Palladium, a production that also includes comedy ventriloquist Paul Zerdin as Idle Jack.
PATRICK MONAHAN: Is the Henchman in Snow White at the Darlington Hippodrome… And at the Lyceum, Crewe there are two henchmen: Cannon and Ball
JOHNNY VEGAS: Playing the Magic Mirror in Snow White And The Seven Dwarfs at the Theatre Royal in his home town of St Helen… but not in person; his role has been pre-recorded.
PETE FIRMAN: The comedy magician plays Middles in Snow White at the Churchill Theatre Bromley.
ABDULLAH AFZAL: The comic who plays Amjad Malik in Citizen Khan is appearing in the UK's first Muslim pantomime, simply called The Great Muslim Panto, which is touring six UK cities later this month.
PHIL BUTLER: Is Buttons in Cinderella at the Orchard in Dartford
AND… Bobby Davro is Simple Simon in Jack And The Beanstalk at Southend Cliffs Pavilion; Joe Pasquale is Wishee Wahee in Aladdin at the Bristol Hippodrome; The Krankies are in Dick Whittington at the Manchester Apollo; and The Chuckle Brothers are in Snow White at the Southampton Mayflower
Published: 9 Dec 2017
What do you think?