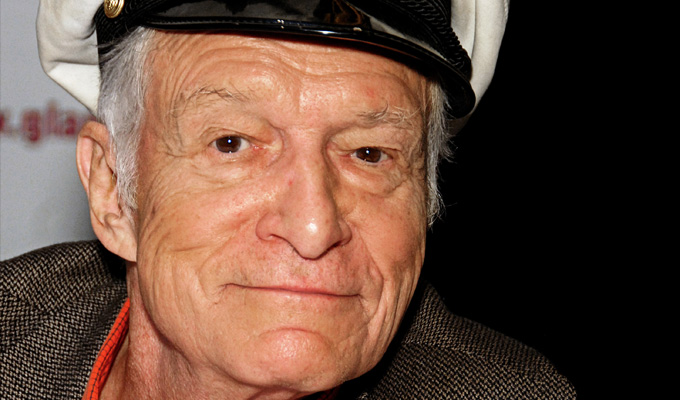 What Hugh Hefner did for comedy
His legacy will be as the man who sold a sexual fantasy – in his magazines and in his nightclubs, populated by the Bunnies who'd serve drinks in their revealing outfits.
But Playboy founder Hugh Hefner, who died yesterday at the age of 91, also had a role to play in the development of America's comedy circuit – his clubs providing a bridge between the old-school resorts of the Catskill mountains and the comedy club explosion of the 1980s.
His network of dozens of clubs, beginning in Chicago in 1960, offered its members a fantasy escape, the special key they were given granting them access to Hefner's idea of sophisticated entertainment. And for comedians, it granted them a steady source of income if they were prepared to work several shows a night,
And Hefner, who had been an aspiring cartoonist in his youth, also encouraged a new style of comedy. His reaction against the button-down morality of 1950s America that spawned the magazines extended to championing more provocative acts – and certainly helped eroded the racial segregation in entertainment.
Pioneering comedian and social rights activist Dick Gregory, who died in August, was certainly a fan.
In the recent book Playboy Laughs, which chronicled Hefner's contribution to comedy, Gregory was quoted saying: 'It's undeniable that Hugh Hefner—aside from what everyone knows or think they know about the girls and all that stuff—believes in humanity. He waged a lifelong battle for racial equality.'
The Playboy founder was in the audience of the black-owned Roberts Show Bar in Chicago when saw Gregory perform, and hired him to work at his Chicago Playboy Club, the first in the chain that had opened the previous year.
During the 2001 Comedy Central roast of Hefner, Gregory said: 'You had a courage when no one was bringing in blacks and minorities, and let you stand flat-footed in America and just talk, you brought me in. You didn't give me a lecture. You gave me no instructions."
'I come here tonight not to roast you, but to say that had you not had the guts back then, we black comics that the world has been able to look at and understand our genius, we would be in some pot, roasting in debt, knowing we were never going to make it.'
Hefner also proved an unlikely champion of Lenny Bruce. The Playboy chief gave Bruce slots on a Playboy TV when no one else would book him, and backed his autobiography, How to Talk Dirty and Influence People, which was published by Playboy and serialised in the magazine.
However, as Playboy Laughs author Patty Farmer said: '[Hugh] took him out of the clubs when Lenny went over the top and started making a lot of enemies, mainly the police. They threatened to close down clubs where Lenny performed. Hef went on to support him in other ways. He helped financially and legally. Hef is first amendment all the way, free speech. He sent attorneys around the country to defend Lenny. But you couldn't protect Lenny from himself.'
Last night, comic and Curb Your Enthusiasm regular Richard Lewis tweeted: 'Few did more for writers, inc myself, breaking boundaries and helping Lenny fight for his 1st Amend Rights.'
Other comics who played the Playboy clubs included Milton Berle, George Carlin, Mort Sahl and the nonsense-spouting 'Professor' Irwin Corey, who also died earlier this year, who espoused socialist politics and stood for President in 1960 on a Playboy ticket.
For all his work on racial equality, Hefner's liberalism didn't necessarily extend to sexual equality, and some of his clubs would not book female comedians
But, of course, there was a place for women. At one point during the mid-Sixties, Playboy magazine wanted a spread of nude comedians. According to Playboy Laughs, Phyllis Diller's photos were spiked because for a comedian who based her act on being ugly, 'underneath her frumpy housecoat and fright wigs, she was quite the babe – editors decided she was just too sexy to be a part of the gag'.
And to be fair Joan Rivers Lily Tomlin and Diller herself did play his clubs.
But as one feminist critic, Susan Brownmiller, told Hefner during a TV debate: 'The role that you have selected for women is degrading to women because you choose to see women as sex objects, not as full human beings.'
• Playboy Laughs by Patty Farmer was published last month by Beaufort Books. Click here to buy on Kindle. There's a full review of the book here.
Published: 28 Sep 2017
What do you think?