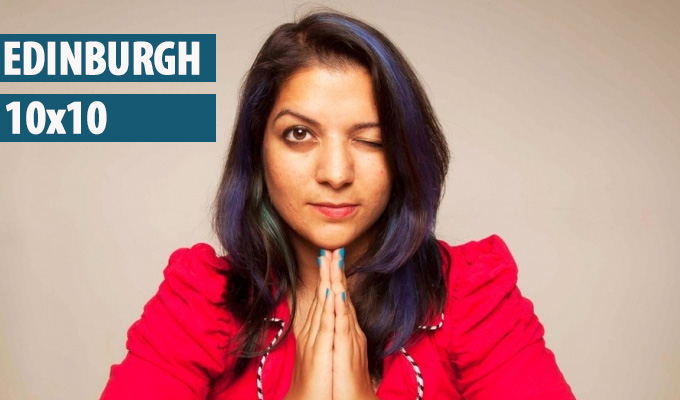 Edinburgh 10x10: 1. Children of the subcontinent
Much celebrations this August for 70 years of the Edinburgh Festival Fringe. But August 1947 was also the partition of British India, a typically ill-considered Imperialist move that was much less cause for celebration given the huge loss of life and massive refugee crisis it caused.
Crass as it may be to link the two, here are 10 comedians either from the subcontinent or with family heritage there, playing this year's Fringe.
1. Aditi Mittal
Aditi Mittal, pictured, was one of the first women to do stand-up in India, and has been named one of the top ten comedians by The Times of India. Not bad for a country of 1.3billion.
She previously made the Radio 4 show The Beginner's Guide To India, and has been on The Now Show – and this year makes her Edinburgh debut with Global Village Idiot
Underbelly Med Quad, 18:35
2. Sundeep Rao
From Bangalore, Rao is billed as Indian's only partially blind stand-up, coming to comedy six years ago after getting frustrated with his IT job.
Describing his comedy as edgy, and influenced by the likes of Bill Burr and Jim Jefferies, he says: 'A lot of the issues I face as a partially blind person can be translated into comedy. It is more healing that way.'
Blurred Lines. Laughing Horse @ Southside Social, 19:30
Needing much less of introduction to comedy-savvy crowds is Paul Sinha, whose brand of stand-up is hallmarked by the same intelligence he deploys as a leading quizzer, and ITV Chaser. He's just finished a third series of Paul Sinha's History Revision on Radio 4, offering a fresh perspective on past events.
Not that his Edinburgh show is about that, or his Bengali background. It's a breakup story, entitled Shout Out To My Ex.
Stand 1, 16:55
Dharmendra Singh is a major figure in Indian cinema, with more than 300 film credits to his name, who went on to become an MP, earning one of the nation's highest civilian honours.
He is not the same as Dharmander Singh, who is playing the Free Festival.
But comedian Singh does have stories about growing up brown in Birmingham and Berlin to share…
Laughing Horse @ Southside Social, 15:45
5. Ruven Govender
Ruven Govender describes himself as 'one of the funniest Indian comedians in Australia' … though that qualifier somehow makes it less of a boast. His Fringe show, rather provocatively titled Ethnic Cleansing, promises to 'wash away white guilt'.
Laughing Horse @ The Golf Tavern, 19:30
6. Eshan Akbar
In his Edinburgh Fringe debut, Eshan Akbar talks about the cultural expectations associated with English being his fourth language after Urdu, Bengali and Hindi, as well as explaining how he was once a learned and devout Muslim… but is far from that now.
He was crowned Piccadilly Comedian of the Year in 2016, and has been tipped for good things… let's find out!
Gilded Balloon Teviot, 14:45
Talking of much-tipped, Tez Ilyas's star is certainly in the ascendant, with his upbeat charm and well-honed societal sensibilities make him a sought-after commentator – especially since Muslim comedians are still relatively thin on the ground.
From a Blackburn family and of Pakistani descent, Ilyas's third solo Fringe show takes aim at all the assumptions the world has against him.
Pleasance Courtyard, 20:30
Covering both sides of the partition, Sharma is an Indian comedian who was born in Pakistan while his father was working for the Indian Embassy there. The diplomatic job meant Sharma also grew up in Beijing, Hong Kong, India and the United Kingdom.
His name has given him the best ever Edinburgh show title, 2014's Sharma Sharma Sharma Sharma Sharma Comedian! – although this year's, Sharmanator, doesn't work half as well.
Laughing Horse @ Espionage, 14:30
In a previous show, the smart and politically active Ahir Shah has spoken of how his grandfather arrived from India with just £3 to his name. Two generations later, Ahir became a Cambridge student, where he joined the comedian-factory that is Footlights.
His latest, fiercely intelligent show, Control, covers freedom, fascism, complacency, complicity, resistance… and milk.
Laughing Horse @ Cabaret Voltaire, 14:00
After cutting his teeth on the London comedy circuit while working as a a management consultant during the day, Papa CJ returned to Delhi in 2008 ago to help set up the still-burgeoning English language scene over there. He's back in Edinburgh for a limited run of a show about growing up in India and his adventures around the world.
Laughing Horse @ The Counting House, 20:00, August 21 to 27 only
Published: 17 Jul 2017
What do you think?