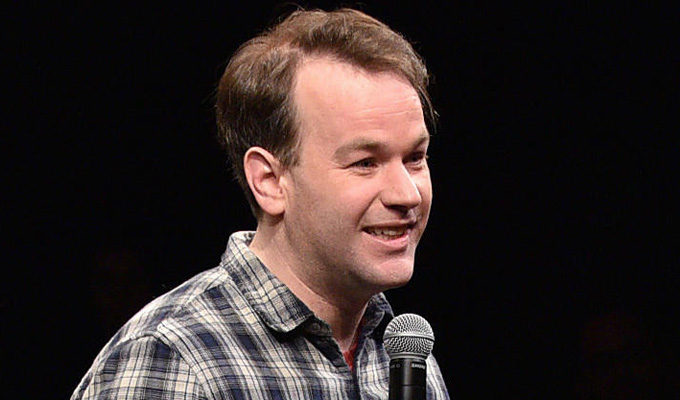 'I have to show myself warts and all or else I'm not an interesting character'
Acclaimed storytelling comic Mike Birbiglia wrote, acts in and directs Don't Think Twice, a film about a New York improv troupe and what happens when one of them becomes a star on a Saturday Night Live-type show.
Featuring Keegan-Michael Key, Gillian Jacobs, Chris Gethard, Kate Miccuci, Tami Sagher and Birbiglia, it's his second film after the loosely autobiographical Sleepwalk With Me, and has been released on digital platforms such as YouTube this week.
His most recent special, Thank God For Jokes, arrived on Netflix this year. And he's just announced his next work-in-progress show, The New One.
JAY RICHARDSON spoke to him about his projects…
So, you're publicising Don't Think Twice, while touring Thank God For Jokes and writing The New One?
[Laughs] Yeah, something like that.
Do you worry about burnout or does it feel like you've got creative impetus?
I don't worry about burnout as I try to maintain as consistent a writing schedule as possible. If you continue to create and push yourself, if you have a schedule, you're going to write something. And it might be good or it might be bad. Or it might be great. But if you don't keep to the writing schedule, you won't have that issue at all. I know that's simplistic. But as a writer, writing is the only option.
Don't Think Twice asks how long a creative person should pursue their dreams before quitting, something you don't often see in films.
There are so many movies about making it and no movies about not making it. There was this funny moment in the edit where people weren't quite getting that that was what the movie was about. Half the people watching it in screenings weren't getting it.
There's a great interview with Ron Howard where he says that the reason he does test screenings is not to have people tell him what the movie's about. But to understand whether his vision is translating.
And in our screenings, only half the audience got the failure theme. So we picked it up in post, where Chris Gethard's character, Kate and Tami are packing up the boxes. And Chris says 'I feel like your twenties are about hope and your thirties are about realising how dumb it was to hope'. That was basically our way of saying: if you don't get what the movie's about by now, here's what it's about.
Have you ever reached that point in your own career?
To some degree. I feel like artists are always self-evaluating, thinking 'should I be putting my energy into this or something else?' Certainly, in my comedy community, I've seen similar circumstances to the movie where people's family members get sick, they move home or they have a kid. One of my closest friends to this day was in my improv group in my twenties at college. And anyone would say he was the best in the group. But at a certain point, he decided that he wanted to live in Illinois, raise a family and get a day job. And I said to him, 'Chris, don't you realise, we're going to make it. It's going to work!' And he goes: 'But I look at the people who've made it and I don't want to be those people.'
How important has your improv training been to your stand-up and filmmaking, that collaborative mentality and saying 'yes and …'?
I was cast in the improv troupe in my first year at university. And it fundamentally changed the entire trajectory of my life, because I think that the 'yes and' spirit, in such an extreme way, to a point of it being entirely spoofable and silly, actually ingrains in you a spirit that anything is possible.
And as a director, you really need that because you're merging, conservatively speaking, seven art forms simultaneously - photography, acting, sound, music, costume design, make-up and all these things. And you can't know that much about all those different departments unless you've been making films for 20, 30 years.
I imagine that by the end of his career, Robert Altman had a decent handle on costume. But I don't know if he did in his first couple of films. Woody Allen knew nothing about photography in his first three or four films and claims he learned an extraordinary amount from Gordon Willis, the photographer on Annie Hall. So I feel like there's a lot of 'yes and-ing' early on in your directing career.
Live comedy is seldom portrayed convincingly in films. But you've done it in two. Were there any rules you set yourself or mistakes you were determined to avoid?
I think I did this a little better in the second film than the first … one of the key things I think about when I'm filming comedy in a comedy is that you can't tell the audience that what's happening is funny. My cinematographer Joe Anderson and I developed this idea where if we shot the improv scenes with steadicam, as if from the perspective of a seventh member of the improv group, we'd know what it feels like to be on stage with the performers and not what it feels like to be in the audience.
So the thrill of improvising is present regardless of whether you think it's funny or not. And that's how it worked out. Some people find those scenes funny and some don't. And I don't think that matters. What matters is the relationship and the feeling of camaraderie.
What was the balance between scripted and improv in those scenes?
The balance was we'd shoot what I'd scripted word perfect and then we would shoot about ten minutes of pure improv during costume changes. And I would say the final version is two-thirds scripted to one third pure improv, something like that. And actually, I'd be remiss if I didn't bring up that one of the influences on the film is The Trip, that British film that Steve Coogan and Michael Winterbottom did.
I've seen that film maybe two or three times. I was blown away when I saw it because it had such an emotional impact on me. Even to this day, when he walks into that empty apartment at the end, it's just devastating, a visual moment that I'll never forget. And from that moment, I had this thought that making a movie with a dramatic arc about people who are funny is something worth pursuing.
[The Trip] does that thing I like to experience when I go to films, which is to laugh and cry and live in someone else's shoes over two hours. And I feel like the arc in that movie, two characters, and six in ours, who are very funny, inherently, if the dramatic arc is sound you have a pretty good chance of making people feel something.
Did you have to get the six core cast members to bond?
We spent three weeks together doing improv workshops. We did shows at the Upright Citizens Brigade and at the People's Improv Theatre in New York. And yeah, I think that was fruitful.
It was a completely illegal thing to do really, to convince the cast to basically show off for a low-budget film off the books, improvising for three weeks. So it was huge favour to the film that they did it. Had Keegan not agreed to that, had Gillian not agreed to do it, I don't know that the movie would be what it is. We were very lucky in so many ways.
We tend to think of stand-ups and improvisers as having different mentalities. But I've heard you disagree with that distinction.
I do. I think both of them have to do with making the same objective truths that we're all staring at and looking at from a canted angle. You can do that alone and you can do that in a group. And both are valid. I actually don't think they're that dissimilar. And I do both, so I really stand behind that.
In Sleepwalk With Me, you reveal your infidelity. Was there a revelatory moment in your career when you decided you were going to share the uglier aspects of yourself?
I think so. I studied playwriting and screenwriting in university. So I was actually from a dramatic training that holds that characters should be flawed. So when I started writing solo shows in my early twenties, when I started writing Sleepwalk With Me, I really had it in mind that I had to show myself warts and all or else I'm not an interesting dramatic character.
Thank God For Jokes also touches on sharing risky inner thoughts. And you cite Charlie Hebdo. Was it prompted by issues of offence and creeping censoriousness towards comedy?
I don't think we're at this point yet. But it's possible we're approaching a moment in culture where we're going to have to have a real conversation about jokes. Because, like I say in the show, the world is getting smaller. It's shrinking and the sense of humour in different parts of the world is so vastly different, it's either going to lead to a conflict or …
But as a counterpoint, I was talking to Eddie Izzard about six months ago, and he's done shows everywhere. He just said: 'They get it everywhere now. Comedy is going to be everywhere. I was in Moscow and they got it. There was nothing really lost in translation.' And I thought that was fascinating. And probably right. He certainly has a lot of experience and spends a lot of time with it.
As an actor, you've had everyman roles in things like Orange Is The New Black, The Amy Schumer Show and her film Trainwreck. As a newish director, are you learning on those jobs?
Yeah, that's really why I do that stuff. One is, if I feel like I can contribute, if I feel like I can do the job as well or better than anyone else and it's something I can imagine being proud of. And the other is to learn from people like Judd Apatow, Amy Schumer and Jenji [Kohan] on Orange.
I can't announce them but there's a few things I'm doing in the fall that are with people I really admire. Whenever I'm acting or directing or writing, whatever it is, for stand-up, for movies, for TV, I'm always trying to think in terms of how can I be better, how can I learn more? Because ultimately, it's when you stop learning that artistically you're dead in the water.
Was there a particular reason you returned to improv after Sleepwalk with Me?
When you direct a movie for the first time, you realise that no matter how much training you've had, how many classes you've had, you don't know anything about directing. And it was my improv skills, my ability to say 'yes and' that let me figure out how to make this work. So after that realisation, I started improvising again. I really loved it and that's when I came up with the idea of Don't Think Twice. It's been sort of a free-flowing project.
Most of your work has been autobiographical to a significant extent. Would you direct someone else's idea?
I'm open to it but right now I have enough ideas on my bulletin board to keep me busy for a while. But if it reached a point where I didn't, I would definitely consider that.
I should say that one person who gave me a lot of advice about the Don't Think Twice script was Jimmy Carr. He actually agreed to play a part that I ended up taking out of the script because it was too much of a digression. It was essentially a fake TV psychic, he was going to play that. He gave me a lot of great notes along the way. I don't know if people realise how multi-talented he is but his sense for drama is pretty extraordinary as well.
You've mentioned Steve Coogan, Eddie Izzard and Jimmy Carr. Are you a keen Anglophile? Or are you tailoring your answers for a UK readership? Are there UK comedians you'd like to work with?
Oh, absolutely. If I could get Daniel Kitson to do anything other than perform in venues that are not recorded for film, I'd try to convince him to be in everything I did. Kitson's funny, because whenever I explain my shows to anyone outside of America, I use him as an example of the type of show I do. Which is to say that they tell a single story, they have more of a theatrical tone than a stand-up show per se. I'm referencing more UK comics than I would in an American interview. But no, those are definitely a handful of comics who are inspirations for my work.
In Thank God For Jokes there's an incredible extended interaction with an audience member, in which you're incredulous at the way he emphasised he had a run-up with a 'woman cop', rather than just a 'cop'. When did you decide to keep that in the edit?
For every show we film four performances and pretty much just use one, with a few exceptions for things that were cleaner or less bumpy. When the 'woman cop' bit happened, I came off and my co-director Seth Barrish told me it was priceless, that it would be amazing in the edit. I wasn't sure. I felt it could have been too over the top, like it's not even believable. But he defended it, saying he was riveted while listening. I've seen a lot of tweets asking if it was real. And then some people admonishing me for shaming him. I don't know if this has made it over to the UK but people were accusing me of being a social justice warrior ...
I've seen that phrase used on social media.You were hardly berating him about gender equality
Well, I think it's a little silly in this instance. My reply is simply, have you ever been to a comedy show where a comedian talks to an audience member? They're looking for the humorous nugget, they're not looking to shake hands and make friends.
It's not like the guy shut down on you ...
Afterwards, we asked his permission to use it, he signed the form and was thrilled at the idea of being in it. He had a good sense of humour about it. Better than some Netflix commentators.
Finally, you've not said anything about The New One beyond it being your best show yet. How so?
I emphatically try to tell people nothing about what they're about to see. I don't like trailers. The greatest gift you can give someone is telling them that they have to see something and then telling them nothing about it. That's how I feel about Jordan Peele's movie Get Out. Telling anyone anything about it is a curse.
What I will say is that if you liked Sleepwalk With Me, My Girlfriend's Boyfriend and Thank God For Jokes, you'll love it because it's in the vein of those, in the sense that it has an emotional arc and tonnes of jokes in it. But when all is said and done, I venture to say that it'll be better than those. I like to think I'm getting the hang of it.
Published: 25 May 2017
What do you think?