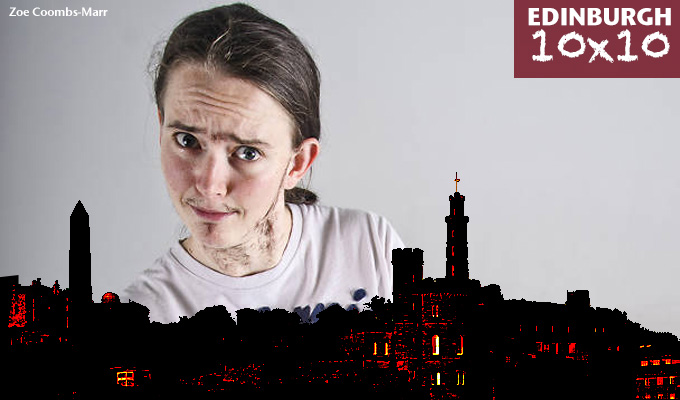 Edinburgh 10x10: Aussies
1. Zoe Coombs-Marr
The runaway winner of the Barry Award at this year's Melbourne comedy festival, Zoe Coombs-Marr's Trigger Warning is a wild, intense, ride into the psyche of a comedian having a breakdown. Her alter-ego, Dave, is a blokey stand-up being battered by the 'feminazis' for his appallingly misogynistic jokes, so attends the Gaulier school to find his inner clown – and hates what he discovers.
Underbelly Cowgate, 18:50
2. Tom Ballard
One of the comics she beat was fellow nominee Tom Ballard, with a show demonstrating a sharp social and political edge – and despair at a lot of his twentysomething generation's reluctance to do anything more than click 'like' for a cause they believe in.
Assembly George Square, 21:15
3. Tom Walker
And speaking of comics called Tom who did well in Melbourne, Walter scooped the best newcomer prize for his hour Beep Boop. It's absurdist clowning, of the sort increasingly seen on the Fringe, but he does it so well, with a real sense of playfulness – and triumph when things go his way.
Underbelly George Square, 20:10
4. Sam Campbell
Walker was also in THE cult hit of Melbourne Zanzoop, headed by Sam Campbell. It was the sort of show that attracts comics keen to see what sort of madness unfolds, which is always very much the vibe of this other Sam Cam's ridiculous work. You would never call him slick, and he gets sloppy with things that should work just as often as he persists with things that should, but there's always a wild, anarchic, juvenile silliness to his comedy.
Assembly Roxy, 20:15
5. Nazeem Hussain
This is the Edinburgh debut for a comic who's increasingly becoming a big deal down under thanks to his show, Legally Brown. As the name suggests, race is a big part of his comedy, but he's no tub-thumper. instead offering cheery cultural observations about his daily life as a Muslim man in Australia. Also he hosts an entertaining podcast called Burn Your Passport, in which comics exchange travel stories.
Assembly George Square, 20:00
6. Alice Fraser
There's some delightful and satisfying storytelling on offer in this sharp stand-up's second Edinburgh show, The Resistance, a poignant and funny which revolves around an eclectic collection of peculiar characters who share a tumbledown, cockroach-infested house owned by her grandmother.
Gilded Balloon Teviot, 20:15
7. Peter & Bambi Heaven
Asher Treleaven is already known in some quarters in the UK, since he was based here for a while, becoming a regular on Robin Ince's Book Club and earning a best newcomer nomination in Edinburgh in 2010. His latest incarnation is as rubbish magician Peter Heaven, performing a show in all his camp, overblown glory with his wife Bambi, played by burlesque star Gypsy Wood. The pair were married in real-life, too, but divorced just before the Melbourne festival. Good job they still get on…
Assembly George Square, 22:30
8. Rhys Nicholson
Zoe Coombs-Marr's ceremonial husband (they are both gay but tied the knot earlier this year to highlight marriage inequality in Australia) was also nominated for a Barry for this acerbic show that's as self-deprecatory Bona Fide as it is catty.
Underbelly Cowgate, 21:20
9. Steen Raskopoulos
One of Nicholson's stories is about getting drunk at the wedding of Steen Raskopoulos, a maestro of positive audience participation who returns to the Fringe with a slightly higher profile after starring in the BBC Three police spoof Top Coppers.
Underbelly Cowgate: 19:40
10. Nath Valvo
It's the Fringe debut for this successful Australian comedian and radio presenter, known for his feelgood, happy style. Happy Idiot is the third of the four observational, anecdotal solo hours he's put together so far.
Gilded Balloon: 1845
Published: 29 Jul 2016
What do you think?