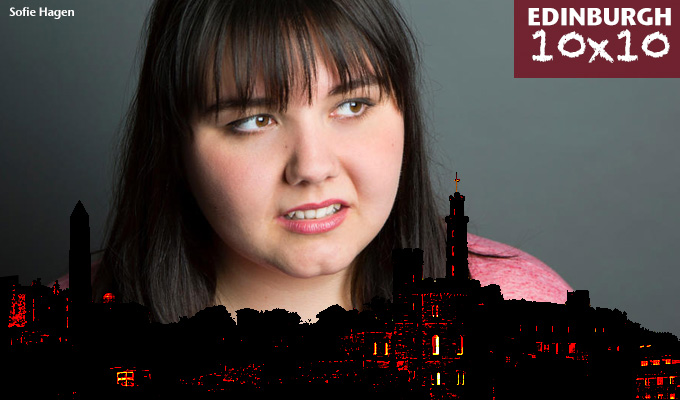 Edinburgh 10x10: Award winners
A total of 65 comedy shows this Fringe use the phrase 'award-winning', though most fail to mention exactly what award they've won. Employee Of The Month?
The figure shows what a plethora of comedy accolades there are out there. That's way more, even, than the 17 shows which say they are 'hotly', 'highly' or 'much' anticipated…
So here's our pick of those award-winning acts.
As winner of last year's Edinburgh Comedy Award best newcomer, all eyes will be on this Dane; with those who didn't get to see her investigating what all the fuss is about and those who did, seeing what she can do to follow up Bubblewrap, an exploration of both her teenage obsession with Westlife, and more serious issues. The follow-up is called Shimmer Shatter and concerns her attempts to tackle her inner and outer demons…
Liquid Room Annexe, 19:50
2. Showstoppers
What's that? You won the Chuckle Caravan's Best New Act of March 15-22, 2016. Well, Showstoppers won a frickin' Olivier award for their West End transfer and it doesn't come any better than than that on the UK stage. The team, which improvises a full musical before your eyes, hit Edinburgh's big time this year, too, with a run in the 750-seater Pleasance Grand.
Pleasance Courtyard, 18:00
The Showstoppers team includes Pippa Evans, who won Chortle's Music and Variety award earlier this year in her own right. And she's back at the Fringe with her mix of stand-up and musical comedy entitled Same Same But Different.
Bannermans, 13:45
Darren Walsh won Dave's Joke of the Fringe last year, with the line: 'I just deleted all the German names off my phone. It's Hans free.' Although it was later the subject of a plagiarism row as he wasn't the first to have cracked it – something that's always a risk with wordplay-based one-liners. But if puns are your thing, and you think you can stomach an hour of them, Walsh has got shedloads of the bad boys…
Pleasance Courtyard, 20:30
5. Pleasance Reserve
This annual showcase of the best new talent is running two shows this year, at 7pm and 9.30pm. And the awards haul of the second show, especially, is impressive, with Yuriko Kotani, whose dry observations won her the BBC Radio New Comedy Award last year; quirky George Lewis, who won the Amused Moose Laugh Off in 2015; and Michael Stranney, also known by his naive Irish alter-ego Daniel Duffy, who won the 2014 NATY award. The line-up's completed by Darren Harriott, who hasn't won anything as far as we can see… though he's very hotly tipped and has already been snapped up by Micky Flanagan's agent, Christian Knowles..
Pleasance Dome 21:30
Meanwhile, the winner of this year's NATYs jumps straight into Edinburgh with his own show, Cakes, based around his experiences with the furious far right after he posted a silly status update about owning a 'Muslim-only cake shop' – a joke they immediately took at face value, since separating fact from fiction never being in the average extremist's skill sets.
Just the Tonic at The Mash House, 15:40
7. Puppet Fiction
This is surely the only show this fringe to have won a show for 'best death', but then it is a Quentin Tarantino spoof, but played out with marionettes, so violence is only to be expected. The New Zealand production also features James Nokise, a stand-up who won best male comic at his homeland's Comedy Guild Awards in 2013, and is also the first Pacific Islander to work full-time on the UK comedy circuit. Here's what to expect:
Laughing Horse @ The Newsroom, 12:00
Edinburgh-based, Dublin-born Daisy Earl was named Scottish Comedian of the Year in 2015, and part of her prize was to have this show produced for her. At the event's final, the newcomer won praise for her 'natural stage presence' and her strongly written and delivered set'.
Scottish Comedy Festival @ The Beehive Inn, 18:50
Mark Steel has won radio's top accolade, a Sony, for his stand-up travelogue series In Town, where he travels the nation affectionately mocking the ridiculous regional quirks of the places he visits. Now with a full month to lay into Edinburgh (and the rest of Scotland, he promises), he should find plenty to rant about.
Assembly Hall,21:30
Imaginative, gentle Benji Waterstones won the Beat The Frog World Series held at the Frog and Bucket club in Manchester -a deserved win after a lot of also-rans in the likes of So You Think You're Funny? and the Leicester Square New Act competitions. He's in a two-hander called Performance Anxiety with fellow newcomer Jake Baker.
Laughing Horse @ The Free Sisters 15:15
• Ten legends of the festival.

Published: 28 Jul 2016
What do you think?