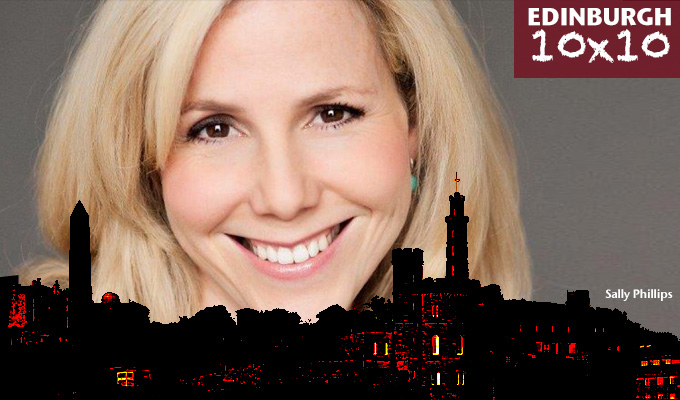 Edinburgh 10x10: As seen on...
You'll never see a stand-up introduced in an American comedy club without the phrase: 'You've seen them on…' And many a Fringe blurb, too, lists TV credits as a mark of status, leading to a lot of comedians being billed as 'the star of Russell Howard's Good News', when the title makes it pretty damn clear who the star of that show is.
Anyway, here are ten acts at the Fringe who you may know from other TV shows, stand-up appearances not counted:
1. Mary Lynn Rajskub
Best known as Chloe O'Brien, the most trusted colleague of Kiefer Sutherland's agent Jack Bauer in all 204 episodes of 24, Rajskub is also a stand-up of some pedigree. The title of new show is entitled 24 Hours With Mary Lynn Rajskub to acknowledge her biggest role, while she has also appeared in Bob Odenkirk and David Cross's cult sketch hit Mr. Show and taken guest roles in Flight Of The Conchords, Modern Family and It's Always Sunny in Philadelphia.
Assembly George Square, 20:20
2. Jake Yapp
Yapp was a semi-finalist in the 2000 Daily Telegraph Open Mic Award. Yet perhaps surprisingly, that's not what he's best known for… rather his appearances on Charlie Brooker's Weekly Wipe summing up the likes of The Chase, This Morning and Take Me Out in less than 100 seconds; while a similarly swift run-through of a day on Radio 4 went viral on YouTube.

Underbelly George Square, 18:50
A long-serving member of the comedy circuit, Black last year became the first trans person to star as a transgender character in the UK when she got a role in Russell T Davies' TV series Cucumber/Banana/Tofu. She also appeared in the Sleep No More episode of Doctor Who last November as a Grunt; a cloned warrior designed for strength rather than intelligence.
Stand 2, 18:00
4. Steen Raskopoulos
The co-star, with John Kearns, of BBC Three's silly police spoof Top Coppers, Raskopoulus has also just been named as one of the team members on the new Australian version of Whose Line Is It Anyway. Though festival-goers might already know him better for his playfully interactive live shows, the latest of which, You Know the Drill, he brings to Edinburgh.
Underbelly Cowgate, 19:40
5. Joe DeRosa
Fans of Better Call Saul know DeRosa as Dr. Caldera, a vet with criminal ties, who's appeared in a handful of episodes. But he's also a comic with three albums under his belt and a long-time associate of Bill Burr, and last year opened for him at New York's Madison Square Garden.
Underbelly Cowgate, 21:00
Father Ted roped in a host of Irish comedy talent to play supporting roles, with Rooney playing the rebellious teenage type Father Damo. The Edinburgh show Further Ted had originally been due to be a three-hander with fellow Craggy Island emigrants Michael Redmond (Father Stone) and Patrick McDonnell (Eoin McLove), but Rooney has been left to do a solo show since the programme went to press.
Heroes @ The Hive, 22:00, August 16, 17, 22, 23 and 24 only
7. Sally Phillips
You'll known Sally Phillips from… well everything: I'm Alan Partridge, Bridget Jones, Veep, Miranda, Gren Wing, Smack The Pony and plenty more besides. With her actor chum Lily Bevan they wrote a series of monologues in response to what they saw as the paucity of decent roles for women over 40. Talking To Strangers has already been a Radio 4 series, and now they bring it to Edinburgh.
Assembly George Square, 20:00, August 15 to 21
It takes a lot to steal a scene from Joanna Lumley AND Kathy Burke, but that's what Nick Mohammed did as the uber-camp Casper in the Ab Fab movie. He's also in the forthcoming Bridget Jones's Baby movie as Ariyaratna Sithamparanathan, and even appeared in the Matt Damon movie The Martian. On TV he's been in Fresh Meet, The Job Lot, Uncle, Reggie Perrin and many more. But to many there will always be a bit of him who is the precious Mr Swallow – the guise with which he returns to the Fringe, staging a musical biography of Houdini.
Pleasance Courtyard, 19:00
Hoult was Geoff in seven episodes of Ricky Gervais's Derek, Ian Crumb in Being Human and various roles (including a sinister Jimmy Carr - as if there's any other kind) in Murder In Successville. Live he's created a number of alter-egos, with his best-known, Ms Anna Mann, now getting her own Fringe show…
Pleasance Courtyard, 19:00, August 3 to 28
Stockport's friendliest housewife entertainer is the creation of Janice Connolly, who recently recorded a series in this guise for Radio 2. She's still remembered as Holy Mary in Phoenix Nights, while has the rare honour of playing two characters in Coronation Street: Dolly Gartside in 2004 and Shiela Wheeler over four episodes in 2009.
The Stand 5, 3.45pm
• 10 Edinburgh acts aged over 60.
Published: 22 Jul 2016
What do you think?