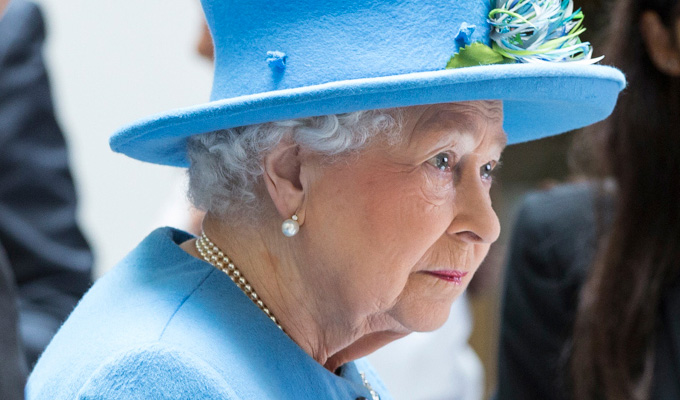 We are not amused...
Deferential messages have been flooding in for the Queen on her 90th birthday today. But comedians are not always so reverential. so here we present six famously bad-taste jokes about Her Maj:
On the Big Fat Quiz Of The Year from 2007, Frank Skinner retells an old joke from the Midlands – which requires a Brummie accent to work. Warning: You will have an image of the Queen in her pants after this...
In 2009, Ben Elton caused a tabloid storm when he joked about the Royal Family on Australian TV show Good News Week.
Drawing parallels with a 'bog-standard British family', he said: 'She's a sad little old lady who lives in state sponsored accommodation, her husband is a mad old bigot who wishes it was still the war, three out of four of her kids' marriages have failed - that's very common.The eldest one is a disillusioned ex-hippy, the middle one a bit of a yob, the youngest lad we used to think took it from behind. I'm just saying that's a bog-standard British family in all its rainbow glory. If she had a black one and a disabled one, she'd have the full deck.'
After the press strom, he grovelled: 'I have huge respect for the Queen. We're lucky to have such an honest, decent and trustworthy person as head of state... It was comedy delivered with affection and respect. But you can't take stand-up out of context, it looks ridiculous.
I wrote an email to the Prince Of Wales, explaining what had happened and apologising for causing such a hoo-ha.' Now where's that MBE?
There's no video of this online, but on one of his specials Carr cracks the joke: 'What do you get if you cross the Queen and Prince Phillip? Killed in a tunnel'
Back with the Big Fat Quiz of the Year, this time from 2012.
Talking about the diamond jubilee celebrations, Jack Whitehall pondered why the Queen didn't sit down for the regatta. 'It was the day after the night of her anniversary, he said. 'And Prince Philip woke up with a urinary infection... I'm just saying what everyone's thinking, people.'
The joke prompted the Daily Mail to froth at the mouth,and attracted 160 complaints to Ofcom. However the watchdog did not launch an investigation, saying it was 'post-watershed programme which... was preceded by a warning of strong language and adult humour'.
3. Michael O'Leary
The Ryanair boss's attitude to customer service might be a joke, but when he tried cracking one about the Queen, he ended up in hot water.
Addressing the British-Irish Parliamentary Assembly in 2014, he said the occasion 'reminds me much of making love to the Queen of England – you know it is a great honour, you're just not sure how much pleasure it is going to be.'
He later had to apologise, admitting he misread the room. 'It normally is a joke that works quite well and I thought it might work well here,' he said.
Frankie Boyle was dropped from a BBC Three broadcast of a Comic Relief concert staged in Wembley Arena in 2013 because of his brutal gags about the Royals.
'I wish the Queen had died the night before the Royal Jubilee - I wish she'd just fucking died,' he said to a mix of cheers and boos. 'Cos no way would they have been able to tell us that she'd died. They would have had to hollow out her body and get that guy who plays Gollum to wear it like a suit.'
Yes, him again. Surely not the most offensive joke about ER, but the one that attracted the most attention. Appearing on Mock The Week in 2007, he gave as an unlikely line from the Queen's Christmas Message: 'I've had a few medical problems this year. I am now so old that my pussy is haunted.'
It attracted no attention at the time, but a rerun in October 2008, at the height of the Sachsgate scandal drew a storm. The BBC Trust later accepted was a 'sexist and ageist' gag – but dismissed complaints.
Published: 21 Apr 2016
What do you think?