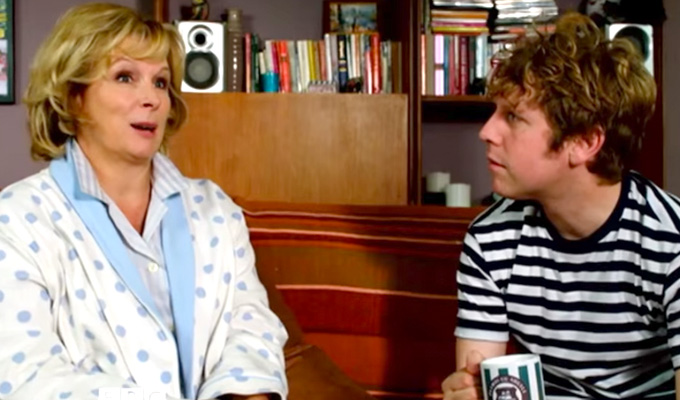 Meet the parents
◼ BY JAY RICHARDSON
You can't choose your family. But when it comes to casting sitcoms, a little nepotism goes a long way. Here are ten shows featuring real-life parents and children drawing upon their relationships onscreen.
Josh
In one episode of Josh Widdicombe's self-titled BBC Three comedy, starting tonight, Kate (Beattie Edmondson) is disturbed by the thought of her flatmate (Elis James) and landlord (Jack Dee) romantically pursuing her mum. Exacerbating the horror is the fact that Judith is played by her actual mother Jennifer Saunders...
Master of None
As Aziz Ansari has pointed out, America isn't exactly saturated with mature Indian comedy actors. And in his groundbreaking new Netflix show artfully exploring race, bigotry and the generation gap between immigrants and their offspring, he reasoned that no one could play his character Dev's parents with greater authentic awkwardness than his own mother Fatima and father Shoukath – a gastroenterologist who used to lobby Parks and Recreation producers to give him a role on the acclaimed comedy alongside his son.
Detectorists
Dame Diana Rigg cameos as her daughter Rachel Stirling's mother in Mackenzie Crook's understated comedy. She was a Bond girl, kicked serious arse in The Avengers and portrays the redoubtable Queen of Thorns in Game of Thrones. So naturally she's going to look down upon the scrawny, jobless father of her grandson who spends his days digging up rusty metal in fields with his odd friend.
Angie Tribeca
Husband and wife Steve and Nancy Carrell are producing this upcoming police procedural spoof starring Parks and Recreation's Rashida Jones as a ten-year veteran of the Los Angeles Police Department's elite Really Heinous Crimes Unit. Appearing as Mr and Mrs Tribeca, Jones's divorced parents, are legendary music producer Quincy Jones and actor Peggy Lipton, who split in 1990, when their daughter Rashida was 14.
Last Of The Summer Wine
When Compo Simmonite passed away on the long-running comedy following the death of actor Bill Owen, his long-lost son Tom moved into town, played by … Tom Owen. He was cast after creator Roy Clarke saw a photograph of him at his father's funeral, alongside Peter Sallis, who played Cleggy. The Owens weren't close though, with Tom telling the Daily Mail: 'People thought he would have loved it, but I'm not totally convinced. Knowing him as I did, I think he would have thought I was encroaching on his territory.'
The King of Queens
Jerry Stiller has performed alongside his son Ben in film like Zoolander, Heavyweights, Hot Pursuit and The Heartbreak Kid. But in a novel twist, Ben played the father of Jerry's character Arthur Spooner in sitcom The King of Queens, appearing in a flashback sequence when Arthur underwent therapy. Keeping it all in the family, Ben's mother and Jerry's late wife Anne Meara also popped up in the show as Arthur's recurring love interest and eventual wife, Veronica, while their daughter Amy had several guest roles.
The Mighty Boosh
Noel Fielding and Julian Barratt routinely called on friends and family for their cult comedy, with Fielding's brother Michael the most prominent as psychic shaman Naboo. Both sets of parents feature on the board of shaman, with Fielding's father Ray also portraying a freaky Chris De Burgh in the episodes The Priest and the Beast and Party. Such familial involvement feels appropriate, as Fielding maintains several of his characters were inspired by his parents' 1970s acid trips.
Scrubs
Friends star Matthew Perry made his directorial debut shooting an episode of the hospital sitcom, which featured his dad John Bennett Perry as a patient awaiting a kidney transplant. The perfect donor match appears to be his character's son, played by, you guessed it, Matthew Perry. But their estranged relationship is about as straightforward as the North By Northwest homage amusingly crowbarred into this most tangential of comedies.
M*A*S*H
The episode Lend A Hand features both Alan Alda's brother Anthony and his father Robert, who made a couple of appearances in the Korean war sitcom as Hawkeye's rival, Dr Anthony Borelli. Alan had irked his father by making suggestions for his vaudevillian musical comedy act and the overbearing Dr Borelli reverses the friction by encroaching on Hawkeye's authority. At Robert's suggestion though, the two surgeons ultimately operate together, a nod to the pair's reconciliation in real life. M*A*S*H episodes aren't available online, so here's a clip of Alan failing to identify Robert as a mystery guest on What's My Line?
Mrs Brown's Boys
The gold standard of sitcom nepotism. Brendan O'Carroll's monster mainstream hit co-stars his daughter, Fiona, who's married to the show's producer, Marin Delany, who also plays Trevor. But it also features his wife, sister, daughter-in-law, son-in-law, son and grandson. And for good measure his dresser is the producer's auntie. Jobs for the Boys? Feck off!
Published: 11 Nov 2015
What do you think?