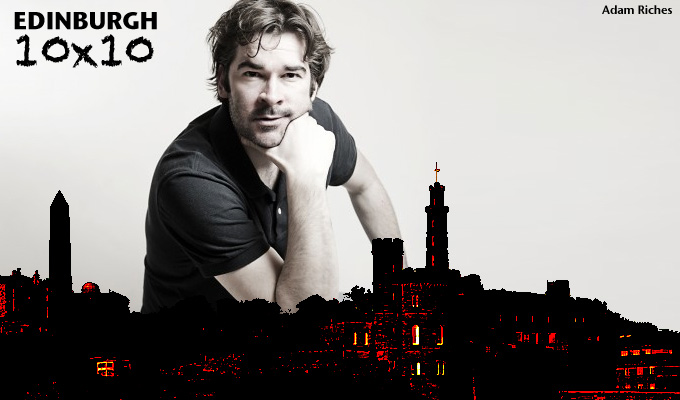 10. Award winners
Winner of the big Edinburgh prize in 2011, Riches is back with a show billed as 'the greatest frickin' sports movie you ever done saw, live on stage' featuring a cast of 11 and based on Volfsball, a high-octane game invented by fellow comedian Marek Larwood. Riches says: 'The idea is to use the stadium–like atmosphere and shape of the Queen Dome to recreate an American High School Sports Movie complete with all the big, heartstring-tugging moments that genre entails. The show will end with the actual match being played for real that we will then have to adapt our script and actions to according to how the scoring goes.' Pleasance Dome, 21:45
Chortle's reigning best newcomers – as well as scooping a couple of accolades at the London Sketchfest last year – Kath Hughes, James Meehan, Ed Easton and the offstage presence of Kiri Pritchard-McLean return for their second hour of dark sketches. Pleasance Courtyard, 22:45
Aisling Bea took a year off Edinburgh in 2014, unusually for someone nominated for best newcomer at the pervious Fringe. But she only went and won the Best Female TV Comedian gong at the British Comedy Award in the meantime, thanks to appearances on the likes of QI, Trollied, Live At The Apollo and 8 Out Of 10 Cats Does Countdown. She also starred in ITV's The Delivery Man, which Netflix may pick up for a second series. The anticipation for her sophomore stand-up show is such that all but the last week of her run has sold out already. 21:30
4. Dr Neal Portenza
The clown alter-ego of Josh Ladgrove won the Best Comedy Award at last year's Melbourne Fringe. This oddball character comedy act, involving some full-on levels of audience participation, but all in the name of fun. Just The Tonic @ The Mash House, 19:40
Phil Jerrod won best debut show at this year's Dave's Leicester Comedy Festival. And when Chortle saw an even earlier version, at the Brighton Comedy Festival back in October, we called it 'an impressive calling card' – which hopefully almost nine months of honing will only have improved. Pleasance Courtyard, 19:00
6. Winston Spear
Surely a new name to all but the most completist British comedy fans, Winston Spear won the Canadian Comedy Award for best stand-up as long ago as 2003. Back home, he's known for incorporating dance routines into his act, and now makes his Fringe debut over here. Here he is on an old TV show called Comedy Inc:

Winner of the 2013 BBC Radio New Comedy Award, Bugeja has more recently been seen supporting Russell Kane. His debut tells the story of going to a wedding and giving a lift to the bride's father – from the prison he was leaving for the first time in 18 years. Scary. Just The Tonic at the Mash House, 20:00
Tim Shishodia is winner of both the New Comedian Of The Year and the Old Comedian Of The Year competition run by the Leicester Square Theatre - the first in 2010, the second this year. Scurochiaro, one of the more impenetrable titles on the Fringe (especially since his name's not part of the title either) is the Edinburgh debut of the silly comedian in the Hawaiian shirt who isn't Milton Jones…. Cabaret Voltaire, 12:05
That rarest of things, a Scottish comedian in the Edinburgh festival – and the winner of the Scottish Comedian of the Year title this year, no less. He has two shows on the Fringe: one acknowledging his esteemed title at The Scottish Comedy Festival @ The Beehive Inn at 20:10,plus his History Of Scotland show, which spans Robert The Bruce to Alex Salmond, which is on at Stand in the Square at 17:40
Winner of surely the most coveted accolade of them all: a loo seat spray-painted gold to honour her achievement of having the best toilet joke of 2014, which was handed out by Water Aid to highlight its charity work. More relevantly, she also won a Barry Award last year – the ones set up by Barry Ferns, not the esteemed Melbourne titles – for being the performers' choice for best show. The follow-up, Caught On Tape, is about her biggest regret. Gilded Balloon, 17:30
That's all our previews. For a daily taster of what's on at the Fringe, see our Fast Fringe showcase at the Pleasance Dome at 18:40 daily, starting Wednesday. Tickets.
Published: 31 Jul 2015
It surely says something about the number of comedy awards that there are more than 100 winners of something-or-other at the Fringe this year. Here are ten of them:
What do you think?