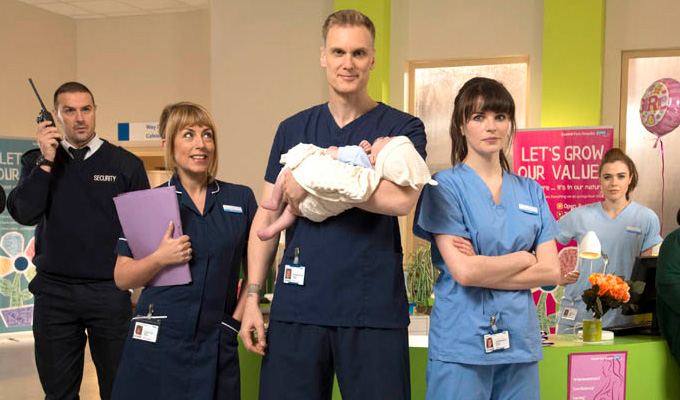 Netflix to save The Delivery Man?
Netflix could move into commissioning British comedy by picking up axed ITV sitcom The Delivery Man.
The subscription broadcaster is in talks to make an 'edgier' second series of the show, which was cancelled by ITV after disappointing ratings.
Netflix will carry the original six episodes from next month, but co-writer Rob Harley said the company was interested in making more episodes if it performs well.
He told Chortle: 'There's a possibility of commissioning a second series through them. We're discussing potential storylines and other characters.'
Harley, who co-wrote the show with James Henry, added: '[Netflix] can't get enough of British comedy at the moment, they're very keen to get as much as they can.'
And he disclosed that the US subscription giant, which has more than 65 million subscribers worldwide, was especially interested in 'edgy' comedies.
The Delivery Man stars Darren Boyd as a policeman-turned-midwife, alongside Aisling Bea, Paddy McGuinness, Fay Ripley and Alex Macqueen, and is made by Monicker Pictures, the production company Harley founded with his wife, the sitcom's director Victoria Pile.
The pair's previous work includes Green Wing, Smack The Pony and Campus for Channel 4, so Harley says they 'had to cut our cloth for ITV and take a little bit of the edge out of it, particularly as it was originally supposed to be for an 8.30pm audience but changed to a 9.30pm slot once we were shooting.
'So there's potential to put some edge back in if we felt that was more suited to the Netflix audience. There's subject matter you can deal with and obviously, vocabulary you can use.'
Netflix also 'didn't baulk' at the possibility of matching the first series budget, Harley said.
The Delivery Man began with an audience of 3.2 million viewers on ITV in April but was up against Peter Kay's Car Share on BBC One and ultimately slumped to 1.3 million by its final episode.
Although Harley did credit ITV executives for being 'very supportive' of the show, he admits: 'It didn't work out the way they hoped'.
He added: 'The scheduling in hindsight might have been different but we can't complain. If the figures aren't there, if they can't sell the advertising space, that's the bottom line for ITV.
'We're all scratching our heads a bit because it got very good reviews in all different types of papers'.
The Radio Times described The Delivery Man as 'gag-heavy and rather preposterous' but the Observer praised it as 'seriously funny' and 'quiet genius'.
The Guardian ventured that it was 'underwritten' but had 'a game cast' who 'enhance the farce as best they can'.
And the Daily Mail reckoned it was 'as if a team of American gag-writers had taken over Holby City. 'There isn't a wasted word. If you enjoy rat-a-tat one-liners, the way Friends and Roseanne were written, The Delivery Man will win you over.'
Netflix has previously picked up Arrested Development after it was cancelled by Fox – with plans for a fifth series now inching forward – and Tina Fey's Unbreakable Kimmy Schmidt, after NBC decided not to broadcast it.
Netflix declined to comment on any plans for The Delivery Man or moving into UK comedy.
-by Jay Richardson
Published: 30 Jul 2015
What do you think?