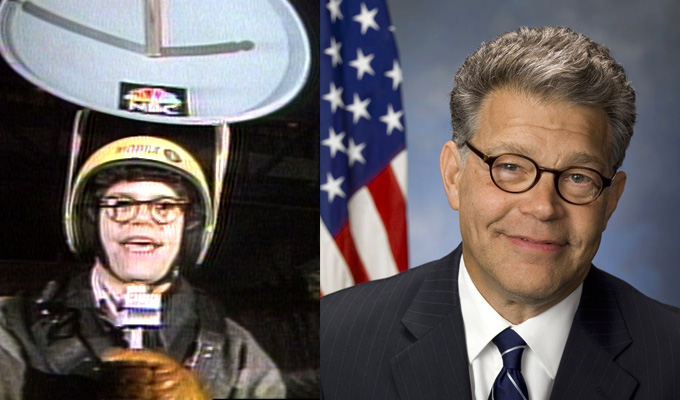 Joke candidates?
As Al Murray announces his tongue-in-cheek, pint-in-hand bid to become MP for Thanet South in Kent, we look at some other comedians with political ambition:
The elected…
Al Franken
BEFORE POLITICS: Al Franken was one of the original writers on Saturday Night Live, earning seven Emmy nominations for two stints from 1975 to 1980 and 1985 to 1995. He's written four bestsellers, including Lies And The Lying Liars Who Tell Them: A Fair And Balanced Look At The Right, a satirical book on American politics. He went on to host a radio show aimed at being a counterbalance to right-wing jocks, quitting in 2007 to run for Senate.
ELECTED: He was elected Democrat senator of Minnesota in 2008 by a whisker, and re-elected last year more comfortably.
POLICIES: In the senate, he has shed his showbusiness past and works seriously for his liberal views, for example making amendments to Obamacare legislation that has saved customers an estimated $3.4billion.
SERIOUS POLITICIAN? Most definitely. 10/10
Jon Gnarr
BEFORE POLITICS: Played in a punk band called Nefrennsli ('Runny Nose') as a teenager; and in 1994 started performing comedy on Icelandic radio, moving to TV in 1997 where he starred in several comedy TV series, movies, and stand-up comedy shows including Ég Var Einu Sinni Nörd (I Used To Be a Nerd).
ELECTED: In late 2009, in the wake of the financial crisis which hit Iceland hard, Jón formed the satirical Best Party with other people who had no background in politics. Its aim was to put fun back into politics. The party won six out of 15 seats on Reykjavík City Council in 2010, and he became mayor.
IN POLITICS: Not all his policies (outlined, pre-election, in a 10-point plan which had 13 points) are entirely serious, but they make a statement, such as pledging a drug-free parliament and 'meetings with women'. He generally left running the city to managers, but used his position to campaign for issues such as gay rights and banning religious groups from schools. As the party tackled serious issues, such as making ten per cent cuts to city budgets, its popularity waned – but he is still liked by many voters. His term expired in June last year and he did not seek a second term.
SERIOUS POLITICIAN? Serious about making a stand; but still not seriously interested in politics 5/10
Beppe Grillo
BEFORE POLITICS: He has a career in Italian television dating back to variety shows of the 1970s, a couple of years after starting out in comedy. Travelogues in the 1980s cemented his success. Soon afterwards, his performances began to display a growing level of political satire, which has often landed him in trouble with authority, and he has found it increasingly hard to get on TV. But a special that aired in 1993 attracted 15million viewers, showing his popularity.
ELECTED: In 2010, he started the 'Five Star Movement' in protest at out-of-touch and corrupt politicians. They won seats in regional elections in 2010 and in 2013 became the largest opposition party in the Chamber of Deputies – the equivalent to the House of Commons. Grillo leads them, although he was not an electoral candidate.
IN POLITICS: Despite his political stance, he is not without controversy. For example, he says that politicians should not have criminal records – but has one himself for for involuntary manslaughter following a crash which claimed three lives. He has also been called a hypocrite for owning a yacht and a Ferrari despite claiming to be an environmentalist. Oh, and he once called an 94-year-old Nobel laureate an 'old whore'.
SERIOUS POLITICIAN? Hard to tell 5/10
The unsuccessful
John O'Farrell: Comedy writer who worked on Spitting Image and Have I Got News For You before launching a successful career as a humorous author, O'Farrell stood for Labour in the unwinnable seat of Maidenhead in the 2001 election; and in the Eastleigh by-election 2013, where he increased Labour's share but still came fourth. SERIOUS POLITICIAN? He is a die-hard Labour supporter and education campaigner, but whether he would put becoming an MP ahead of his writing career may be open to question. 7/10
Rufus Hound: Stood in last year's European Parliament Elections in the London Constituency for the National Health Action party, to draw attention to reforms he said opened the door for privatisation of the NHS. His party came ninth. SERIOUS POLITICIAN? He was serious about raising awareness of threats to the NHS, even though he had no realistic chance of winning. 7/10
The hopeful…
Al Murray: After claiming Nigel Farage stole his act, the Pub Landlord has announced he will stand against the Ukip leader in Thanet South in May's General Election with 'common sense' policies such as revaluing the pound at £1.10, so it will be worth 10p more. SERIOUS POLITICIAN? Hell no 1/10
Eddie Izzard: A longstanding Labour supporter, Izzard has declared his intention to stand for election as London Mayor for the party in the 2020 elections. He has long been an active pro-European and was vocal for the 'no' campaign in the Scottish independence referendum. SERIOUS POLITICIAN? Oh yes. And if nothing else he's proved that if he sets his mind on something - whether running a silly amount of marathons or doing stand-up in a new language – he can. 7/10
Russell Brand: Has said he does not want to become one the politicians, or 'pricks' as he calls them. Many of his antiestablishment views strike a chord with the disenfranchised but beyond the broad points, his calls for revolution don't stand up to much scrutiny. SERIOUS POLITICIAN? In his mind, yes. In reality, no – though he has sparked engagement with people who wouldn't otherwise get involved 3/10
Tommy Sheppard: Not a politician, but boss of The Stand comedy clubs in Edinburgh, Glasgow and Newcastle, Sheppard is bidding to become the SNP candidate for Edinburgh East in this year's election.A lifelong socialist, he was formerly Scottish Labour deputy general secretary before jointing the SNP post-referendum. SERIOUS POLITICIAN? He would be 8/10
Those that went the other way
MPs occasionally try their hand at stand-up – most notably Lembit Opik, who did a set in 2010 that Chortle described as a 'nondescript speech culminating in a strange moment of self-conscious weirdness' which included talking to his own shoe. Read our review here. Ealing North Labour MP Stephen Pound has tried his hand at stand-up a couple of times, too.
Published: 16 Jan 2015
What do you think?