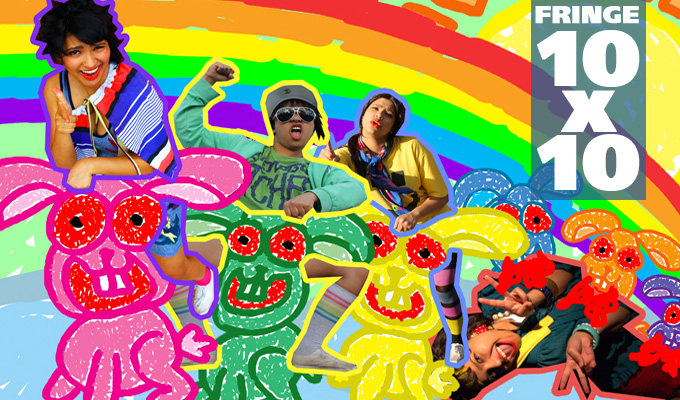 2. 10 Loonies
1. Candy Gigi: I'm Not Lonely
Once seen, never forgotten' we said of the ultra-eccentric Candy Gigi when she appeared at the last NATY New Act of the Year final. Strange doesn't quite begin to cover it… Heroes @ The Hive, 16:00

2. The Human Loire
By day, Michael Brunström is a Cambridge classics graduate who has a respectable job at a publishing house. By night he performs an absurd comedy act, which he developed with the aid of the late king of improvisation, Ken Campbell. When Chortle saw him at a line-up gig a year or so ago, he filled his trousers with breakfast cereal while spouting Chaucerian prose. Cowgatehead, 13:00, 16th to 25th only

Before the event, few would probably have tipped John Kearns for the best newcomer award at last year's Fringe, thanks to his often room-dividingly surreal comedy. Yet he made his lunacy gel into a coherent, hilarious show that proved a well-deserved winner. All eyes will be on seeing if he can do it again. Voodoo Rooms, 17:05

4. Narin Oz: Addicted to Love
Weird acts might be one thing, but would you want to be trapped in a car with one? Well, that's what Narin Oz is offering in her 20-minute site-specific show, in which she berates the poor punter over their love life and demands: 'Love or beaver? Make your choice…'' C South, on the hour and half hour from 2pm to 5pm

5. Billie Was Tap Dancing for the Seagulls
This is a character show from Katie Bridget O'Brien, who performs on the alternative circuit as SuZanna GonZo. Crazy capitalisation, crazy gal! La Favorita Freestival at St John's
Penny Matthews
6.
Luke McQueen
: Now That's What I
Luke McQueen
Poorly advertised in an obscure venue, Luke McQueen nonetheless provided one of the most interesting shows of the 2013 Fringe. Swinging from the hilarious to the disturbing, he certainly showed weirdness and originality in a show performed with a commitment that made you fear for his mental well-being. Now he's moved into a prime-time slot at the Pleasance…. could be make or break. Pleasance Courtyard, 20:00

7. Rainbow Rabbits with Rabies
After touring the Australian festival circuit for three years, Nicole Henriksen is bringing her alternative character show to Edinburgh, 'It'll have you vomiting rainbows,' she promises, menacingly. Just looking at the tacky artwork, above, might be enough to do that…

8. Penny Matthews: Cup of Boiled String
The blurb for this show sounds fairly straightforward: 'Silly, strange and playful with a nod to surrealism. For adults who like to let out their inner child.' Then you see Penny's YouTube video:

9. Dead Ghost Star
Cheekykita and Mr Dinner (aka DoonalCoonan) take the Astraudience(TM) for a stupid ride across the space-time continuum. Award-winning oddball performer
Dr Brown
says he 'loves' the show, which has to be some sort of yardstick.
Cowgatehead, 17:00
10. Ironbark Pumpkin and the Quest for the Lost Pudding Quaich of Ecclefechan
The title may be the funniest thing… but what a title. This is a live action sketch comedy game in which the audience call the shots as the hero 'struggles to stop an all-powerful cake tin from falling into the wrong hands'. Sadly there's no video online of this one…
Laughing Horse @ The Free Sisters, 23:00, to 13th only
Published: 15 Jul 2014
The Edinburgh Fringe is a weirdo-magnet, and long may that continue. A proportion of these oddballs may be absurdist geniuses, a larger proportion may simply just be batshit crazy, to use the medical parlance. Some may even be both… With no comment on the quality of the shows, here are 10 of the strangest shows from the comedy section, with videos of their work:
What do you think?