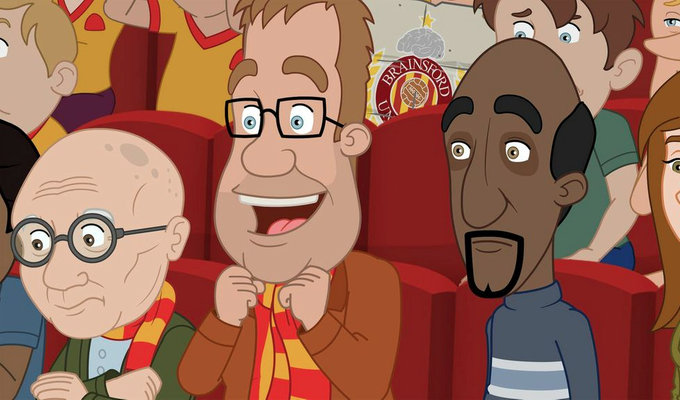 'He reminds me of Homer Simpson'
The new animated sitcom, Warren United, revolves around Warren Kingsley, an overweight kitchen salesman, family man and fervent fan of struggling football club Brainsford United. Written by Simon Nye, David Quantick and Dominic Holland, the show starts on ITV4 next Tuesday, April 22. Here Darren Boyd, who plays Warren, and Johnny Vegas, who plays club manager Fat Baz, talk about their roles. And here's a clip from episode 1:
Darren Boyd: 'I have no interest in football whatsoever'
How did you find the voice for the character you play?
You get a feel for him just by looking at him. Then you see him in action and you start to understand how he operates, where he comes from, etc. I decided to lighten my voice in tone and give him a little bit of a regional accent. I think (hope) this gives him an endearing quality. Most importantly it should feel like it belongs to him. 
What do you think of the character?
I love his dedication, or should I say obsession with Brainsford United. Generally, he reminds me a little of Homer Simpson, in the sense that even though he might seem to put his own interests before everything and everyone else, at the end of the day he's a family man first, and his loyalty to being a husband, father and son always shines through.
Did you get a shock when you first saw the character you play?
What are you suggesting?! He's a fine figure of a man, is he not?! I remember feeling that he looked like the perfect blend of lovability and accessibility, and I think and hope that the audience will too.
What's your favourite scene / line in the script? 
There's a sequence where Warren gets 'therapy' from a rather over-enthusiastic German 'doctor' which was fun to record and watch back. Let's just say the doctor's methods are a little… unique. 
Have you ever played an animated character before? 
Yes, but not to such a degree. The workload on Warren has kept me busy for quite some time. There are constant changes, script tweaks and updates, so the recording process has been on and off for over a year. 
How does playing an animated character compare with a live-action character?
There's no costume, no make-up, no lines to learn because you're reading them. No pressure to get it right first time. It's really hard…
How much of a football fan are you?
My favourite piece of irony regarding this project is that I have absolutely no knowledge or interest in football whatsoever. My level of indifference to the sport is record-breaking. I'm a motorsports fan myself, with motorbikes being my thing. Whenever I'm speaking as Warren and having to get excited about a cup match, I'm secretly thinking about the Monster Energy Supercross 450 main event or something similar…! 
---
Johnny Vegas: 'In my head I sound like Errol Flynn'
How did you find the voice for Fat Baz?
I don't know why but for some reason I base most football managers in the Midlands, where the voices are rough and ready. Unfortunately my Brummie accent's terrible… I thought there's no point trying to give someone a voice I don't have, so in the end I used my own accent.
The producers were happy. They just asked me to turn up on the day so they could record me being moody and shouting at people. I thought, 'Yeah, I reckon I can do that…' I didn't have to immerse myself in the character too much.
What do you think of the character?
I love him. Although Fat Baz is a manager, I see him as a lad who's grown up in the terraces. He's seen it all and done it all and was probably polishing boots for the players at some point. He's worked his way up through the ranks but in many ways he's still one of the fans, even if the fans are giving him grief.
Nowadays you've got to be part-coach-part-businessman, but Fat Baz is old school. He's very anti-modernisation and he's got little time for the commercial aspects of the game. He's concerned with the players and how they play. But he wants to be left to coach without being dragged into the politics of the club.
Fat Baz is a character, but hopefully people will think he's likeable enough. And football needs characters… like Kevin Keegan; they're the ones you remember.
Can you see a bit of yourself in him?
Definitely. Fat Baz is someone who's very no-nonsense. He speaks his mind and says it as he sees it. There's no skulduggery or conniving with him – he wouldn't do well in the House of Cards. There's no lightness of touch to what he says or what he does and he makes trouble for himself. But you know where you stand with him and he wears his heart on his sleeve. I think that's all very much me.
Did you get a shock when you first saw the character you play?
Not really – I think the name, Fat Baz, was fairly self-explanatory.
What's your favourite scene / line in the script?
My favourite scene is one where Fat Baz is asked to take care of the cash in the office. But I still haven't seen the full script, just the pages where I'm involved. It'll be really nice to see the whole thing, although I'm not a huge fan of hearing my own voice back. In my head I sound like Errol Flynn. Then I hear it back and go: 'Oh no, totally different… that's how I sound to everybody else'.
Have you ever played an animated character before?
I've done a couple. Last Christmas, I voiced the character of a disco chicken in The Cow That Almost Missed Christmas for CBeebies. It was really sweet. A few years ago, I also voiced a character in a Danish film called Terkel in Trouble. It was an animated feature for kids but it contained very dark themes. I played the drunken uncle. I called that bar-side casting.
How does playing an animated character compare with a live-action character?
To be honest it's a similar process because when you're in the studio and you're recording, although it's animated and you're not on screen, you end up doing a lot of the gestures and mannerisms. You look a bit mad but you want to get the whole sense of performance through in your voice.
I think the difference is you don't get to play off other actors, as with animation you record all your dialogue in isolation. There's no sense that you're contributing to an overall performance but it does give you the opportunity to get the lines right and to play about with them. You haven't got a room full of other actors going, 'Oh gosh, this is the tenth take', which takes the pressure off.
How much of a football fan are you?
Growing up I was more of a rugby fan. My dad was laid off at that period when boys would go to matches so we couldn't afford to see the football, except on telly – it would've been a luxury. But we had St Helen's rugby ground right on our doorstep so that's what we got into. Today I'll happily watch the match if I've got the time but I've still only been to handful of games in my life.
I'm a bit like John Thomson's character in The Fast Show – I like to talk football, and I can be a bit of a know-it-all after a few pints, but it soon becomes evident that I don't have a clue what I'm on about. My son's 11 and he's into his football but he changes his allegiance every week. Throughout the World Cup he supported whoever won the last match. I think he's settling on Liverpool now, despite the fact that he's growing up in London.
• Warren United, which is made by Baby Cow Animation, starts at 10pm on ITV4 on April 22. For more details – and to download a iOS game tied in to the show – visit the official website
Published: 16 Apr 2014
What do you think?