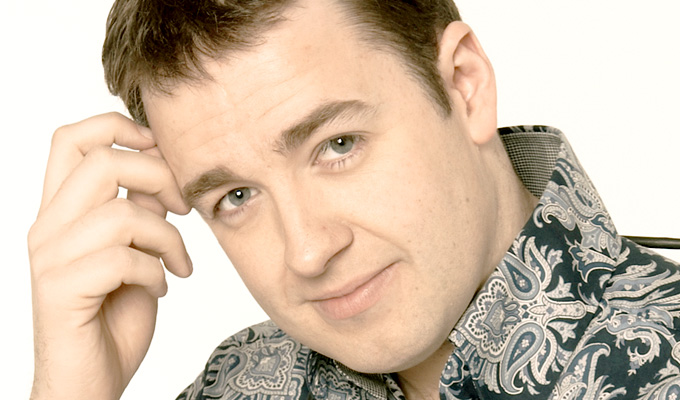 Can Jason Manford save the comedy circuit?
The comedy club circuit is, by all accounts, in crisis. Squeezed by the recession in general and deserted by audiences who are thought to want only to see TV stars live, many venues are closing or floundering – with the country's biggest chain owing their comedians months of unpaid wages. Yet against this bleak landscape Jason Manford has stepped up to open a new chain of comedy nights across the country, with his first weekly venture set to open in Birmingham next month. Here he tells us what he plans – and the formula he hopes will buck the trend.
When was the moment you decided to do this? And why?
It was a few ideas coming together.
Firstly, I was always angry after the demise of the Laugh Inn in Chester because I lost a lot of money as an investment in people I trusted. It was a lovely club, and we had great feedback from audiences and comedians. I suppose that once I realised it was being mismanaged I should have bailed. But the club owed thousands of pounds to comedians and staff and I just couldn't walk away and leave them so I kept throwing good money after bad to pay them off, I wouldn't have been able to look a fellow comic in the eye if I'd have left and not done that. 
Secondly my brother Colin was starting to run some really lovely gigs, small but well-done with good acts getting well paid. He organised one in Huddersfield that got 220 people and it got my attention.
I love the comedy circuit. I was a comedy fan long before I was a comedian and I worked in a comedy club for a few years, albeit as a glass collector, but I know how magic it can be when it's a great night, no other art form can touch it. I tour as much as I can but we all know there are acts on the circuit just as good, if not better than acts on the telly and I figured if people trusted me enough to spend £25 on a ticket to see me live, they might trust me to spend a tenner on some other comedians that I find funny.
The third thing was that from speaking to mates on the circuit, I felt there was a sense of despair with comics not getting paid for many, many months from clubs that really should know better – like Jongleurs.
There also seemed to be a lot of badly run gigs by certain companies who were only in it for the money, and maybe I could do something about that.
I saw that the big clubs like Comedy Store, The Glee and The Stand were still doing well during a recession in their purpose-built venues – but what about those smaller promoters like Rob Riley or Peter Vincent who were still filling out their monthly shows in smaller towns just because people will always pay for quality?
I wondered if there was a way of doing what those guys were doing but on a national scale, putting on gigs all around the country which were well run with enthusiastic staff paying decent money to brilliant comedians for a reasonable price in front of a well-behaved, supportive audience.
If the club scene is in difficulties, does it make good business sense to launch your own chain now?
Only time will tell. I've been burned once and who knows, it could happen again. My aim for my first three years isn't about making money, if the clubs are full with laughing audiences and I can get close to breaking even, then that's fine.
The good thing about me having a go at this is that this isn't, and will never be, my primary source of income. Of course I don't want to lose money and I can definitely see that there's a profit to be made, but I genuinely would love it to be a legacy. I know that's a wanky word but what's the point becoming successful and then raising the drawbridge and not caring about anyone else? Maybe it's my Dad's influence; he was a shop steward and union leader for most of his working life and I think it's the job of those at the top to look after the rest.
I sell around 300,000 tickets on tour, so does Sarah Millican, John Bishop and Jack Whitehall, while Michael McIntyre, Lee Evans and Peter Kay do around the 1 million mark. Mcintyre's Roadshow used to get 4 million viewers, even my own Comedy Rocks on ITV used to get just under 3 million. So the audience are out there, it's just about convincing them to part with hard-earned cash in exchange for a night of fun.
My opening night in Birmingham on May 10 has Barbara Nice, Alun Cochrane, Paul Tonkinson and Tom Stade. We are already half full and I can guarantee it will be one of the best nights of stand-up any of that audience has ever seen. The hard part isn't convincing them that comedians are funny, it's getting them in the room in the first place.
I envisage that with start-up and staff costs, traveling to source new venues as well as paying above market wages and supplying hotels to acts who need them, we will make a considerable loss in the first two years. But long-term, over ten years we will be self sustaining and I won't have to use my own money to keep us afloat. Over 20 years we will make a profit and over 40 years, I will be on a yacht with the Comedy Store's Don Ward, The Stand's Tommy Sheppard and The Glee's Mark Tughan! 
How can you persuade audiences to come out and see comedians they don't know from the telly?
That is what I'm trying to figure out. I think I can use my name and my experience and spend a bit of money on advertising and PR to get people through the door. After that, it's up to the comedians I book to convince the audience to come again.
But for me a night out at a comedy club is a no-brainer. But why isn't it on the list of things people do regularly? When folks have a night out these days they go to the cinema, a quiz, a restaurant or just drinks at the local. Even ten-pin bowling is higher up the priorities list than going to watch a comedian. Why is that?
Do people think they will get picked on? Do they think all gigs are like a Jongleurs weekend and full of drunken stag dos? Have they been to a badly-run night with crap sound and deathly silence as the fourth of eight open spots tries desperately to win round the room at only their second gig. I don't know the reason.
If a punter goes to see a bad film, he doesn't rule out the cinema forever, he just puts it down to that one film, but I think when a punter sees a bad comedy night, he thinks: 'You know what, live stand-up is not for me.'  My guess is that if they have forked out £20+ for a couple of tickets, plus a babysitter and a meal and a taxi back afterwards, so after a few drinks, they can be approaching £100. That's a lot of money at the best of times, but in a recession, that is astronomical. So if they have had a bad time, they feel aggrieved and angry that 'I was promised a night of laughter, and it was stolen from me' and all of comedy suffers.
Where do you think some of the big clubs have gone wrong? Or at least what will you do differently?
Well I think the Comedy Store, the Glee, The Stand have been well run and have been entertaining audiences for a lot longer than I have. I mean, the Store is two years older than me! So I'm not looking to pick holes out in them, because they're well run by knowledgeable enthusiastic staff and audiences trust them for a good night. They treat their comedians with respect and pay on time.
Yes I'm sure a lot of comics would say 'well the money at the Glee etc hasn't gone up in over a decade' but after being involved in a purpose-built comedy club myself, I know it's not as easy as thinking 200 punters all paying, £15, that's £3,000, why am I only getting £200?'. But the risk is all on the club, they still have to pay the comedians and staff wages and council tax and energy bills even if they don't sell one ticket. The real money to be made is at the bar, but those clubs named have focussed on a quality show and not just selling as much beer as possible. The bar closes while the show is on and big groups are shunned to keep the audience pure and simply there for the comedy.
Then at the other end of the spectrum is the local gig run by an enthusiastic comedy promoter who is out flyering themselves and doing their best to put on a lovely night with a solid headliner and a couple of carefully selected newer acts. These gigs take many many years to perfect and often get a loyal fanbase.
Between these two extremes are some mismanaged, roguish promoters who are looking to make a quick buck of the back of some talented individuals. My brother Colin told me of one gig booked by a national comedy booker (take a wild guess!!) at a restaurant in Manchester. When the comics got there there was no PA, no lighting, no stage and the what little audience there was had got in for free!
They had Alun Cochrane to close. I mean, nobody deserves to turn up to a gig like that, but Alun fucking Cochrane? The guy is quality and has been for years, and this promoter had absolutely no shame in booking him and sending him to this non-gig which eventually got cancelled. Meaning the woman who ran the restaurant had to pay out more than £350 to comedians who never performed, and this booker did this, for a £60 booking fee! It boils my piss!
Then there's Jongleurs. Who knows what this latest management change will bring, but they still haven't paid many many comedians thousands of pounds from last year, including usually lucrative Christmas shows, so they've really screwed a lot of people over.
They have some lovely gigs, and they have some people working for them who are genuine comedy lovers. But I guess they fell into the trap of prioritising the selling of beer over the show: cheap drink offers, letting in huge parties etc. Of course, it's tempting to let in a huge group of stags when money is tight, but it doesn't make for long-term success. Yes, those 12 pissed blokes with blow-up sheep have had a great time but they were never going to come back anyway and what about the 40 people sat around them who have had their night ruined...
I'm not saying I wouldn't be tempted either, but I've seen from the Stands and the Glees that there's a way of managing these things, of acting responsibly and ensuring that the respect for the show seeps down from management, to comics to staff to the audience and that way everyone can have a great night.
It is better to have a room half-full of people who paid full-price than it is to have a full room of people who got in for free or used Groupon. We made that mistake with the Laugh Inn, we would panic because we'd only sold 80 tickets and post online offers for cheaper tickets, or even give them away free because we knew that the punter would spend £20 at the bar so it didn't matter if he'd not bought a ticket. But of course it does matter, if he's not bought a ticket, he's not invested in the show, he doesn't have the same level of respect as the guy sat next to him who paid full price
I also learned from the Laugh Inn that a show manager is just as important as your comics in making the night a success and you should have one at every gig no matter how small.
How big are you aiming? How many venues would you like to have?
Well we currently have seven monthly nights and one weekly. My aim before the end of the year is to have 15 monthly nights and a second weekly. Weekly ones are obviously the hardest and most risky.
For the first year we are throwing everything at the wall and seeing what sticks, it may mean some of the nights don't make the grade and we don't continue them into the second year. It's all trial and error, but at the moment we haven't made any errors! We have sold out our first four nights and the rest look healthy.
But the hard work is yet to come. We need to get over the World Cup, the summer holidays and Christmas, they're all very different but equally difficult challenges. 
We've not put a number on venues, we will just grow naturally. When I first asked for venues that would be interested in having one of our comedy nights, we received more than 500 emails, I read every one of them, looked at pictures and whittled it down to 20. We went and viewed them and whittled it down again to eight. We are are not aiming to put on as many gigs as we can. I wouldn't put a comedy night in a room that I wouldn't play myself. I'd be embarrassed.
The long-term aim would be to help the next rung on the ladder, those comics who are stepping out of the circuit with their full shows who deserve more of an audience than they're getting, Patrick Monahan, Craig Campbell, Jo Caulfield etc. Those comics that I could say to my own audience 'Look, i don't know why this comic isn't on telly every week like some, but they deserve an evening of your time, and you will not regret it'
I would eventually also like to be able to support those comics who are about to make the grade from open spot to full 20-minute sets, to give them a real sense of achievement and progression. We have given out a handful of open spots but would always pay expenses to them no matter how new they were.
I would also like to pick four of five acts a year and take them to the Edinburgh Festival under the club's banner. I had a great time with Darrell Martin doing his Just the Tonic gig in 2005 and I'd like to support that, it's exciting when you see a newer act like Penella Mellor or Johnny Pelham who you just know has got an exciting future, and you can be part of that. 
Are you only seeking places that don't have decent comedy clubs, or would you open in, say, Edinburgh, even though it's already got The Stand?
Well we are being selective. Obviously I wouldn't pick somewhere that was over-saturated in comedy, Nottingham for example. For a city of only 300,000 people, three clubs is enough. We have been respectful with our nights, our night in Oswaldtwistle is only 20 minutes from Blackburn, which has a monthly night at King George's Hall. I spoke to the manager there and she told me when her night was on so we booked ours two weeks later, the distance and time meaning that quite a large section of Lancashire now have two solid well-run comedy nights a month, with enough distance apart that they shouldn't clash. 
We aren't here to put anyone out of business. My aim is for every town to have a well-run comedy gig and for bigger cities to have a couple, whether that's run by us or not. I wouldn't put one in Saddleworth for example as Rob Riley runs a lovely gig that we'd hate to spoil and we've turned down places like Darlington which already has Hilarity Bites running great regular gigs. Places like Leeds, Liverpool, York and Leicester are tempting if we could find the right venue and we have our biggest club and only weekly club in Birmingham which already has a Highlight and the Glee. 
But I think Birmingham is big enough to take it. With a population of nearly 4 million and with more than 33 million visitors a year, I think Birmingham could well become our flagship club. If an experienced promoter and club owner like Mark Tughan thinks that Nottingham could take a third club with their small population, then I think Birmingham can too. 
I certainly wouldn't touch central London but there are some lovely venues around the metropolitan boroughs that could do with a night a month. But I am really interested in places like Grimsby, Hull, Doncaster, Cumbria, Cornwall and the South Coast that really deserve much more comedy offerings than they currently have. There are so many old working men's clubs, art centres and civic centres that are being under-used, why not try and get them cooking again with a new younger audience?
Are you running this yourself? Or have you got staff? Will you decide who gets booked? And is there any sort of act you'd favour?
Well at the moment me and my brother Colin have been running it together. He's really passionate about comedy and he's becoming a very good MC, he's learning a lot by seeing acts who are better than him. We own the company 50/50 and all decisions are from the two of us.
We have employed Charlotte who used to do some marketing and PR at the Laugh Inn and Clair who was the technician at the Comedy Store and the Laugh Inn. She is our show manager.
At the moment I have been booking the acts myself, pulling in a few favours to get the bigger headliners and dealing with agents and other promoters. It's been strangely therapeutic and a nice break from the high pressure of a tour and television work, it's also been a real buzz being able to book people like Phil Nichol, Andy Askins Jo Caulfield and Justin Moorhouse to play our nights, a real treat.
As for what acts I favour, well I just favour funny people. I'm not too worried about how they get the laughs, as long as they get them. I'm not playing it too safe, I would book Jim Jefferies in a heartbeat, but I am booking acts that I think respect an audience as much as I do, acts who can assess a room and work out which way to steer the ship.
I love acts who just nail it every time, Hal Cruttenden, Mick Ferry, JoJo Smith Janey Godley, Raymond and Mr Timpkins Revue. I regard myself as a crowd pleaser, and I want to book other crowd pleasers. I don't need divas or comics who pull out last minute and let the club and audience down, I want comics who regard the audience as the most important people in the room, not them.
I think going forward I will look at employing a booker, but I don't ever envisage a time where we open a night in a room that I've physically never stood in or have a line-up of comics I don't believe in.
What will be your measure of whether it's a success or not?
Well first and foremost, it's a business. So it will be whether it makes enough money to sustain itself. After that it's about what it's reputation on the circuit becomes and how much audiences support it. I am presuming that every show is at the very least 85 per cent sold and have structured the pay accordingly.
If in three years it is sustainable and can pay Colin a good wage and support a back office staff of three or four and if it has as good a reputation as The Stand or the Glee, then it will have done its job. My other optimistic  long term aim is that we make other clubs buck their ideas up and improve.
Is this all your own investment or is anyone else involved?
Yes it is all my own investment. I have had many messages of support from TV comics and big-time agents and I'm sure I will be calling in a few favours. All my friends from the telly have said that when they're come to try out some new material, they will get in touch. But I need it to be sustainable by itself.
I envisage the odd time where I'll turn up and do half an hour to give the night a little push, but long term, I want it to be like Stringfellows. I mean nobody turns up and asks what time Peter is dancing, do they?
• Click here for details of all the Manford's Comedy Clubs.
Published: 4 Apr 2014
What do you think?