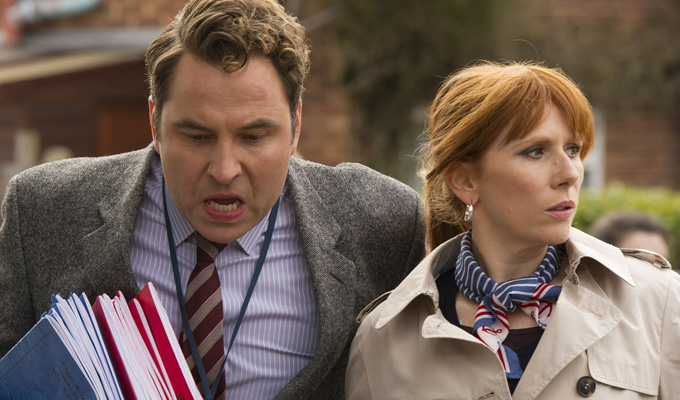 Win Big School on DVD
Big School – David Walliams's BBC One sitcom co-starring Catherine Tate – has been released on DVD this week, and we have five copies to give away.
In these exclusive comments, Walliams explains the success of the series.
'I think viewers related to the characters. We tried to make the characters archetypes that people would recognise from their own schooldays. Everyone had a sadistic PE teacher like Mr Gunn [played by Philip Glenister] who fancied himself as a lothario. Everyone had an awkward science teacher like Mr Church [David himself], a pretentious languages teacher like Miss Postern [Catherine Tate] and a head with very little interest in the school like Miss Baron [Frances de la Tour]. We tried to touch on recognisable traits from everyone's childhood.
'We also got very lucky putting this cast together. It is one of the best sitcom casts in recent years. All of the actors have been leads in their own series.
'We worked very hard on the plot – coming from a sketch show, that was the most difficult thing. I had some experience of narrative from writing children's books, but it's a real challenge to create a sitcom story that moves forward all the time. 'It's not like writing a storyline for a soap. Sitcom has to have a plot that is full of turns and surprises. We looked to Fawlty Towers – that's the ultimate comedy and is very, very plot-heavy. It's beautifully constructed. But you never notice the mechanics of the plot because you're on a journey with the characters.'
And here's a deleted scene that was to have featured in episode one, but was cut for running time. 'It helps set up the tension between Miss Postin, Mr Church and his lab assistant Pat,' said a spokesman for BBC Worldwide, which has released the DVD.
To stand a chance of winning a copy, just answer the following question by the end of October 4, when we will randomly select the winner from all correct answers received. Usual terms and conditions apply.
Good luck!
Which classic sitcom did Frances de la Tour also star in?
Recent Features
What do you think?