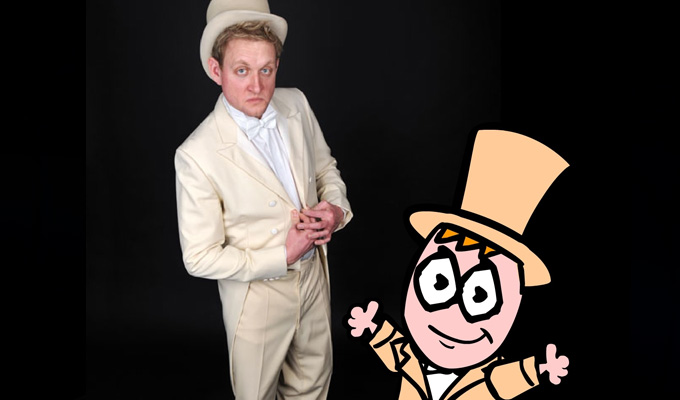 6. Ten children's shows with comedians
This is probably the daddy of them all. The kids' show that almost a decade ago challenged the big and brash primary-colour clowning of most kids' shows to present proper circuit comics, but without the rude bits. And it turns out a lot of the acts took to it like a duck to water, revelling in the constraints and the unpredictability of heckles like: 'Why is that your face?'. Underbelly, Bristo Square, 3.20pm
Campbell was the comic who started the Comedy Club 4 Kids, and this is his solo show on the same principle of delivering stand-up like the grown-ups get, but appropriate for the over-sixes. The Famous Spiegeltent. 2pm, 8th to 11th only
Howard Read and his animated child sidekick are, of course, a big deal on CBBC, thanks to The Slammer and Little Howard's Big Question – not to mention their Royal Variety Performance appearance. And Read's inventiveness at bringing his computer-generated chum to life, complete with live audience interaction, is always a joy, if sometimes a endearingly shambolic one. Underbelly Bristo Square, 2.45pm
4. Showstoppers' Family Hour
One of the hit adult shows to emerge from the Fringe in recent years now offers a family-friendly version, too. And the award-winning team that improvises an hour-long musical from audience suggestions is likely to impress adults as well as kids in their daytime show. Gilded Balloon Teviot, 2pm, 2nd to 13th only
5. Funny Stuff for Happy People
He's got an adult stand-up show at The Stand, but Northern Irish comic Martin 'Bigpig' Mor draws on his 30 years of circus and comedy performance for this rambunctious show, which also features storytelling, stupid science adn fart jokes... Laughing Horse @ City Cafe, 12.30pm, 9th to 18th only
6. Bec & Tom's Awesome Laundry
Brit-based Aussie Bec Hill and Tom Goodliffe have formed a double-act to perform kids' comedy, and make their debut with this sketch show, suitable for all ages and promising 'a world of silliness, make-believe and bad celebrity impersonations'. Gilded Balloon, 11am
7. The Very Scariesome Lollipop Lady
Scottish comic Martha McBrier premiered this, her first children's show, at last year's Fringe and won comparisons with Roald Dahl and Dr Seuss. The tale of a crossing patrol officer is told in rhyme, and is the first in what will become a series of Very Scariesome books and shows. Laughing Horse @ The Free Sisters. 12.15pm, 3rd to 11th only.
He's known to those of a certain age as Uncle Peter from Vic and Bob's Big Night Out - but to those of a younger vintage Charlie Chuck is Dr Frankinmachine on the Nickolodeon show Ross Lee's Ghoulies. Now he offers youngsters a trip back to prehistoric times, with his crazy friends...TheSpace@Symposium Hall, 11.35am, 20th to 24th only.
9. Huggers:
Another stand-up show for children – the Free Festival version of Comedy Club 4 Kids – returns for its third year, with two shows daily hosted by Nik Coppin. Laughing Horse @ The Free Sisters. 11.15pm and 2.30pm.
10. The Breakfast Club
More of a variety showcase, Assembly's version of the family-friendly club puts comedians among other acts on the Fringe.Assembly George Square, 11am, weekends only
Published: 22 Jul 2013
What do you think?