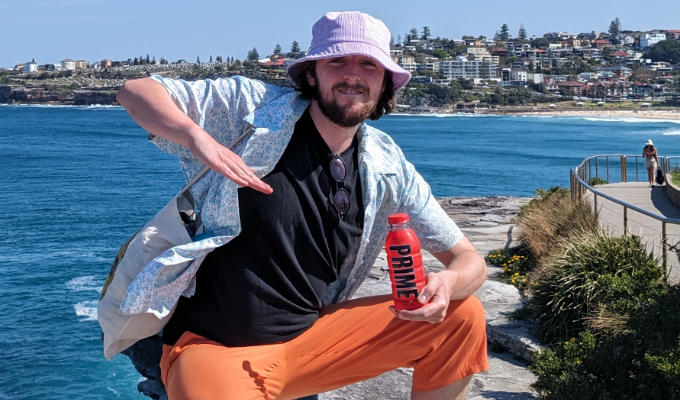 Joe Kent-Walter's Australia diary: Sydney
Goodbye Australia! What a whirlwind. The last entry I wrote in a cafe next to Bondi beach, this one I'm writing in a bungalow in Sheffield, that's showbiz ay?? To be fair I'm
happy to be back eating Marmite (I think it's better than Vegemite but don't tell them I said that).
After Perth, I had a week off from gigs and my own agenda which began with a stay at a hostel in Bondi. My bodacious expectations of the place were immediately confirmed as a Californian receptionist handed over my room keys along with a complementary skateboard. I had not skated in a few years but I took the opportunity to unlock my inner dude, and soon enough I was spending my days whizzing past beachside gym bros and being pretty bad at surfing. A particularly abysmal surf session resulted in a paddling Aussie child jeering 'you should call it a day mate'. And so I did.
Bondi complete, I headed north of the city to the suburb of Narabeem where I was hosted by a older lady I'd met on couchsurfer (a website where travelers can find free places to stay). My host was eccentric local with wild stories and some interesting opinions on vaccination. On my first night, she took me to a pub quiz, made me gamble and rounded off the evening with some dumpster diving. The next day we snuck on to the set of Home and Away. Crazy days indeed.
Week off over, I headed back into the city for my final run of shows. First up, Enmore Comedy Club. Far from the horror of a Perth gong show, here I was faced with a small crowd of hipsters in a converted shipping container. My kind of gig, nom nom nom! Small crowd but the act went down well. I'd invited along the Californian receptionist from Bondi, who I had a sneaking suspicion would enjoy my brand of surreal antics. He said it was 'most excellent'. My best review to date.
Next was a gig at a very swanky hotel in FreshWater, it felt like the setting for a horror film about a high-society cult. When I went to the bar, I was told that acts had a tab for food and drink. I got very polite and British about it and made the measly order of hummus and bread. Regret set in as I watched my fellow comics tuck in to full steak dinners. Despite my regrettable tahini-based timidness the gig was a smasher. I was just what the posh cult was looking for, a laky freak with a song about his trowel.
Last up was a three-night run at The Comedy Store… What?? Yes! Did I stutter? The real deal! A 200-seat, built-for-purpose room complete with framed pictures of the comedy legends who'd played there. What a treat! I did four shows and they all played great apart from one where the punters were a 50/50 split of amused and terrified. But if you can't beat 'em, scare them!
For the whole week I got to perform with the same set of comedians which was really rad and I made some great pals. What a time! But for now I'll get back to my marmite and Sheffield drizzle. Catch you later Chortle readers! See you later down the comedy line when I achieve something else or when this site's editor, Steve Bennett, slates my Fringe debut with the tone of a disappointed dad. He had such promise
» The first part of Joe Kent-Walter's Australia diary is here.
Published: 19 Oct 2023