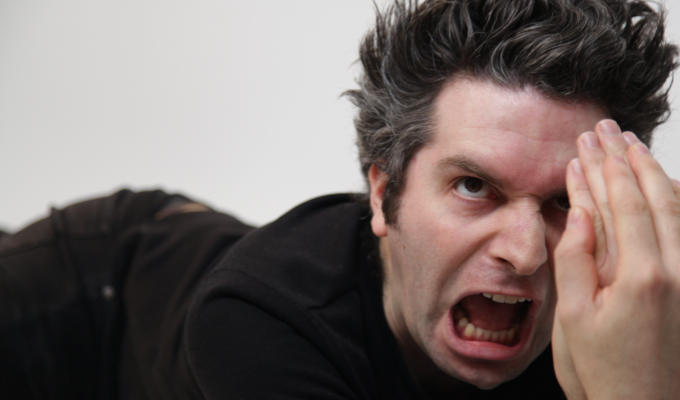 It's a strange, uncertain year for comedy
Not since the 1990s has there felt like such an uncertainty in the direction that the medium is going in. Historically we all know the 'official' comedy narrative: the 1970s were a staid and regressive era for the genre before the 1980s introduced alternative comedy and kicked a lot of the old guard out in favour of something more exploratory and politically attuned. But we almost seldom talk about the 1990s era of comedy in all of this, and part of that seems to be because it's just so much harder to chart any dominant trends from back then.
As a late 1980s baby, I remember various aspects of it myself, at least from a UK perspective. Three-camera sitcoms were still big. People loved Red Dwarf and Father Ted, yet both still held the mantle of 'cult' favourites when compared with the likes of The Brittas Empire, Birds Of A Feather and Keeping Up Appearances. Newman and Baddiel tore up Wembley, and when they split up Baddiel shifted his brand with the help of Frank Skinner towards the football crowd.
Vic and Bob and Harry Hill flew the flag high for surrealism. Chris Morris and his compatriots were running roughshod over news conventions in The Day Today and Brass Eye, as well as notions of good taste with Radio 1's Blue Jam. Sketch shows were all the rage, to the point where The Real McCoy and Goodness Gracious Me could hold their own within an artistic medium that now seems purely the reserve of rich white people. Panel shows like Have I Got News For You, Buzzcocks and They Think It's All Over paved the way for an easy-access money-saving trend in televised comedy for years to come.
Lee and Herring managed to make alternative comedy into a Sunday afternoon staple, to the point where two-bit copycats like The Sunday Show were nibbling at their heels with their CGI shark's jaws. Spaced crept in at the end of the decade and showed there was hope for nerds everywhere. And yet throughout all this, there was still room for the old guard to present light entertainment shows, from Bruce Forsyth and Cilla Black to Roy Walker and Bob Monkhouse.
This is very much a potted, journalistic and half-remembered summation of 1990s comedy, yet I'm sure many other accounts would have just as many glaring holes in it. In short, comedy had so many potential directions it could go in during the decade that it didn't know where to start. And that feels like part of the reason people remember the 1990s with such affection: there was room for a wide range of different stuff in the mainstream.
It was the same with pop music. Although much of the early 1990s very much felt like 1980s run-off, burgeoning genres like rave, grunge and G-funk paved new ways for dance, rock and hip-hop respectively, and by the second half of the decade the next big thing was anyone's guess, culminating in the clusterfuck free-for-all of 1999, which had room for everyone from Ricky Martin and The New Radicals to Bran Van 3000 and Eiffel 65.
The point is that right now, it feels like we've reached a similar position after two decades of fairly homogenised comedy trajectories. The noughties were a haven for what Chortle's Steve Bennett once called 'white male comics in their twenties with a sizeable budget for hair products', if shows like Mock The Week and 8 Out Of 10 Cats were any kind of benchmark.
Meanwhile, in sitcom, The Office showed us how people (apparently) really acted, with a knock-on effect of everyone from Green Wing through Nathan Barley to short-lived shows like Hyperdrive following in the footsteps of the new realism that David Brent and co showed us, all the while with the traditional three-camera sitcom slowly dying out. Despite some surrealist outliers like The Mighty Boosh and Limmy, it largely felt like the return of a comedy status quo.
Then in the 2010s, a few shifts happened. I started comedy near the beginning of the decade and I saw many trends come and go on the open mic circuit over the years.
There were the Mock The Week-era Frankie Boyle wannabes, throwing rape and cancer jokes around like there was no tomorrow. There were the Stewart Lee fanboys, trying to wring laughs out of failed jokes by commenting extensively on their failure. There were the Louis CK and Bill Burr worshippers, trying to pass off casual chit-chat about what a piece of shit they were as soul-baring, confessional comedy.
There were the Nick Helm homages, shouting punchlines at the top of their voice before fabricating nervous breakdowns on stage. And then, most recently, there were the James Acaster devotees, cultivating a stilted measured delivery in tandem with weapons-grade pedantry towards all of life's minutiae. Ultimately, it felt like there was no shortage of easy inspiration in the last two decades, particularly if you were a straight white male.
In the turn of our current decade, however, what happens next is anyone's guess. People of a more conspiratorial mindset referred to the lockdown days as The Great Reset, and while I can't agree with their narrative of how such a momentous cultural shift came to be, it does nonetheless seem like we're at a brand new fork in the road.
Comedy now seems to be willingly opening its doors to a wider demographic of people than it was twenty years ago, and whilst there is still plenty of room for improvement outside of the cozy confines of the London metropolitan elite (and even within it), it does now seem that being of a different gender, race, sexuality, neurodivergence, disability etc. in comedy is no longer quite such a rare USP, meaning that we're now hearing much more in-depth accounts of peoples' lived experiences.
Terrestrial television is no longer the unanimous gatekeeper of comedy that it once was, with on-demand services ranging from Netflix to NextUp having everything to prove in the changing world of content creation, and platforms ranging from TikTok and YouTube to Twitch and Kick offering potential new routes to the summit.
Most importantly, however, no specific of style of comedy seems to be clearly leading the charge at the moment. And from a creative standpoint, this is a godsend. This means that it's time for comedians, more than at any point in the last two decades, to make their own destiny.
There is everything to play for right now. The last act we had in the UK who remotely seems to have had the 'auteur' privilege of calling their own shots was Acaster - a very talented comedian who now seems to have a troubled relationship with stand-up, and has branched headlong into other creative avenues like his experimental international music collective Temps.
Meanwhile, other stalwarts once considered untoppleable totems of excellence have frequently found themselves ill-equipped for the modern, interconnected social media age, whether it be slowly diminishing returns or just outright going for 'cancellations' in order to boost their career via the news cycle.
The few who put in the work to adapt to the times often end up as legacy artists akin to 21st Century David Bowie: still around and making worthwhile art enjoyed by those who make the effort to watch them, but at the very real risk of being underappreciated by the wider sphere.
Some years ago on Chortle, Markus ​Birdman wrote about how Bob ​Monkhouse remained relevant in comedy right up until his death by maintaining a curiosity towards the comedy that came after his heyday. True enough, I remember him appearing on Graham Norton's chat show in the early noughties, banging out a series of great one-liners based on rapid fire audience suggestions. I remember Aaagh! It's The Mr Hell Show, an animated comedy (back when the UK dared to attempt such a thing on the regs) in which Monkhouse played the titular character, a casting decision which - for all the show's failures - remains in my mind a truly inspired choice for such a distinctive antagonist. And there was the story of him recognising Josie Long as the clear frontrunner the year she won the BBC New Comedy Awards.
The point I'm trying to make here is that the time is now, whether you're a fresh act who started comedy post-pandemic or a many year veteran looking to reinvent themselves. People regularly fret over the future of our world, wondering if we'll even be here in a few decades time, and because of this there's no better time to fully push yourself in the direction of comedy you want to go in.
Don't worry what your comedy comrades think. Don't be held back by notions of what people think you should be as a stand-up. No one truly knows what's going to take flight next. More acts are making it on to TV now than at any point in the last century of stand-up. Those who aren't are often finding alternative routes to their entertainment utopia, whether it be via podcasts, reels, online sketches, live streams or sometimes several of these things and more. Everyone's got a special untapped resource of creativity within them, and while they may not always know the most efficient way to unearth it, there's plenty of fun to be had in the process.
Comedy is such an oversubscribed artistic medium because so many people see it as preferable to the drudgery of a normal job, yet so many people within it succumb to the pressure to treat it with the same resigned malaise and jobsworthiness as they would a typical 9-5er.
Try your best to overcome that urge. This is your moment. Seize it. Get in there before the next big trend in comedy tells you what you should do. Shape the comedy narrative the way you want to. Make the entertainment you always wanted to see, or even the entertainment you never knew you wanted to see. Right now is perhaps the best shot you'll have in a while for it to find some legs, so don't miss the opportunity that you have right now.
Published: 2 Oct 2023