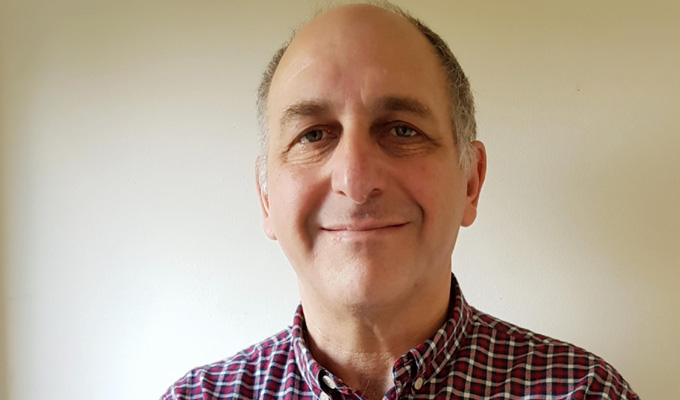 So... what is a joke?
What is a joke? Considering this is key to comedy, there are remarkably few attempts to answer this question.
The Oxford English Dictionary defines a joke, somewhat lumberingly, as 'a thing that someone says to cause amusement or laughter, especially a story with a funny punchline.' To which Wikipedia adds 'and is not meant to be taken seriously,' and to which I would reply 'Wikipedia! What a joke.'
Denis Norden described jokes as 'the temporary removal of sympathy" and I think that covers an awful lot of them.
I don't think there's a single answer, but I have attempted to come up with a few definitions of my own.
This is a by no means exhaustive list, but it's a handy one which could help aspiring comedians improve their comedy writing, and increase their output.
It Turns Reality On Its Head
George Orwell described every joke as 'a tiny revolution', and it is this, which can also be described as 'surprise', that is one of the most effective ways in which jokes work. Without wishing to be too dry about it, this joke sets you up to think something will happen, but then the unexpected occurs. When you're writing your jokes, if you're struggling to surprise yourself you might have difficulty surprising an audience.
Also included here is the reversal gag - the first of its kind was said to be from Rowan And Martin's Laugh-In, when a comedy Eastern European character said 'I love America, here everybody watches television. In my country television watches you. Not bad for 1967.
Recognition
This is perhaps the mirror image of turning reality on its head. It gives you the reality you always knew, but it took a comedy writer to point out to you.
The best impressionists capture recognisable traits in famous voices and with only the smallest exaggeration can make them funny. The ubiquitous, clunking set up favoured by the unskilled comedy writer 'Have you ever noticed…' is usually the set up to a gag of recognition.
'Strained tension into nothing'
This is a quotation from the 18th century German philosopher Immanuel Kant, not a funny man himself although his surname never fails to raise a childish chuckle.
The Latin word that best describes these jokes is 'bathos', which means anti-climactic. It's the kind of line that may follow the unwarranted boasts of a pompous fool. You might call that schadenfreude - enjoying someone getting their comeuppance.
Bathos of course is not to be confused with 'pathos', which means deserving of our sympathy - but I think pathos is also relevant here. I love the word 'strained' in that quote. This definition for me brings to mind those moments after great pathos in sitcoms like Frasier and Only Fools, so that when the next big laugh comes it's greeted with an explosion of relief.
Also many lead characters in sitcom can be described with the cliché of 'larger than life', or as a 'monster'. These are characters with no self-awareness, and we talk of pricking their pomposity, in the way you might pop a balloon.
Kant's definition is apt here. James Acaster stories are full of these moments where sometimes he mocks the protagonist with a flash of angry wit, and at other times, even in the same story, he casts himself as the pompous fool
Unpredictable
This is closely related to the first category, but rather than turn reality on its head, it takes reality in a new direction. The obvious word to use to describe these jokes would be 'surreal' but be careful - starting a joke about a bicycle and making the punchline a fish rarely works unless there is some very un-surreal foundation to it.
The outlandish comedy of Vic & Bob and The Mighty Boosh succeeds because it is rooted firmly in their extremely familiar comedy relationships.
I'd also include silly jokes in here: jokes that usually involve some kind of word play, punnery, knock-knock jokes, innuendo, repetition - anything that subverts our language.
Satire
Often taken these days to mean 'jokes about what's in the news', satire is one of our oldest joke forms and its strict definition is an attack, usually in verse, on authority and power.
Nowadays it's best described as a chance to let off steam, proof that in our democracy it's possible to mock the strong and powerful and not be locked up, as still happens in some parts of the world.
By the way, I've been writing topical comedy for more than 30 years and I'm afraid I can conclusively reveal that despite my best efforts, no joke has ever brought down a government.
Cruelty
This is a word that encompasses a large collection of types of joke which I don't really need to define, do I? We're talking about mocking people's flaws and weaknesses, attacking people who are already weak, poking fun, bullying, all kinds of things that we are far too cultured and urbane to attempt. You probably think you know exactly what I'm talking about, but you might be wrong.
Of course there's plenty of room in this category for the racist anger of those who still carry Bernard Manning's torch (and wear his hood), and the cruelty of Jimmy Carr towards travellers and the disabled.
Jokes attacking women are back in the mainstream - though people who think they are being edgy doing rape jokes need to be reminded that in the 1970s, those were the kind of gags you could find in BBC One family sitcoms.
But cruelty in humour goes way beyond this. We all like cruel humour, more than we might be prepared to admit. What's so funny about someone falling over in the street? It's probably happened to you and it might have been really painful. I knew a man, a friend of my parents, who died after falling over in the street. And go on, admit it, you're suppressing the urge to laugh even though I've just written a sentence about someone dying after falling over in the street.
I can't think of anyone I know who doesn't love Laurel and Hardy, or Morecambe and Wise. We love them partly because there's so much warmth and a genuinely innocent love between the men in each pairing.
That may be the case, but we're also laughing at the fat man falling on his backside, the skinny weed crying like a baby at the slightest problem, the man in glasses slapping his best friend on the cheeks, quite hard, while mocking his toupee and his short fat hairy legs. Schadenfreude again.
Which reminds me of the last type of joke I can think of:
repetition.
If you're working as a stand-up, or want to become one, or a better one, are you spending enough time writing?
Last time I wrote about this here, I suggested that if you're starting out you would do well to consider that writing is an important element to the job. More than a year has passed but I've become more extreme: if you want to be a comic, you don't just have to consider writing, you need to make it an essential part of your work.
Why is that? The simple answer is, telly. You'll know if you want a long career in stand-up you're going to find it incredibly hard without exposure. And whatever changes may happen in the future, at the moment exposure means being on TV.
Telly has an insatiable appetite. An hour's top stand-up material, if you're a successful stand-up, is about a year of your work. That year of your work is an hour's telly, the time it takes to watch two episodes of EastEnders. And if you're a very successful stand-up, your Netflix special is currently being held in a queue, soon to be released in the slipstream of latest efforts from Seinfeld, Gervais and others.
I looked at the TV listings last week for comedy. There were 24 shows listed - a mix of narrative sitcom, chat, panel shows, clip shows, travelogues, gentle humiliation of members of the public, weird undefinable Harry Hill shows (just the one) – airing on TV last week.
Dave Gorman, Jimmy Carr, Russell Howard, Graham Norton, Katherine Ryan, Harry Hill, Adam Hills, Greg Davies, Alex Horne, Alan Carr, London Hughes, not forgetting Lee Mack, Alan Davies and Paul Merton, all returning with those Friday night monoliths Have I Got News, Would I Lie To You and QI - every one of these people, like you, started out performing in tiny rooms above pubs as stand-ups.
Unusually of the 24 shows listed, a massive SEVEN were new episodes of narrative sitcom. There's been a renaissance of narrative shows in the last couple of years, thanks partly to the comedy writers' union the Writers' Guild banging on about this. Some of the writers of those sitcoms include Tom Basden (Plebs), Holly Walsh (Motherland), Will Harltey for Zomboat, and Frayed, written by and starring Sarah Kendall. Once again, you can see how becoming a performer who writes is going to give you a number of advantages over one who doesn't.
How many jokes did you write today? It doesn't matter, you can always be writing more.
• Dave Cohen's writing for stand-up course is on November 11, details here.
Published: 31 Oct 2019