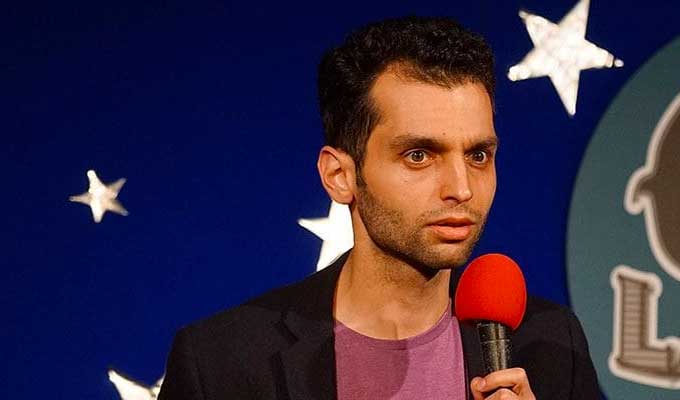 I've changed my mind about free speech
It's been a sobering week. After news of my refusal to sign a behavioural agreement form because it demanded that I not joke about religion and atheism and ensure that 'all topics are covered in a way that is respectful and kind' broke in the mainstream media, I have had the opportunity to reflect on my actions and I would now like to make a public apology.
Let me state unequivocally: I no longer believe that free speech matters. Especially in comedy.
It's hard to pin down the exact moment when the realisation hit me. It wasn't when a fellow comedian called me a Nazi on national radio. It wasn't when a journalist said live on national television that I was 'not funny' despite the students who invited me describing my set as 'fantastic' and asking me to perform at their charity night for that reason. It wasn't even when a leading British comedy critic, who has twice reviewed my act, positively both times, insinuated that I must have turned down the offer because I wanted to be a bigot on stage.
No, the real breakthrough came when I received public support from the well-known right winger, John Cleese, a man responsible for such horrific works as Fawlty Towers and the Life of Brian. For anyone who thinks I may be slandering Herr Cleese, I would like to offer irrefutable evidence in defence of my argument:
Imagine my horror when I discovered that in the wake of his message of hateful support other infamous bigoted comedians like Omid Djalili, who has repeatedly joked about Muslim suicide bombers, fat-shamer-in-chief Jo Brand and neo-Nazi journalist Jonathan Pie, followed suit:


'How would my Jewish great-grandfather who died fighting Nazis in WWII feel about this?' I thought to myself.
It was in this moment that I had an epiphany: what we need is a new type of comedy. Rather than debating like idiots about 'punching up' and 'punching down', we should stop punching at all. We should embrace, instead, the comforting and cosy conformity of the 'woke' cause.

For too long the world of comedy has struggled under the toxic yoke of irreverence which has stifled much-needed uniformity of thought. Why else go on stage night after night if not to deliver exhilarating 'please clap' comedy that bravely does away with the problematic tradition of making people laugh.
I have a dream that one day we might even follow the example of Manchester University which eliminated the triggering microaggression formerly known as 'clapping' and replaced it with jazz hands, which only discriminate against the blind, the deaf, the physically disabled and people who aren't morons. Collectively, they only make up a mere 95 per cent of the population and, let's face it, statistically-speaking most of them probably voted Brexit so what do they know?
We should seek to take the words we had previously uttered for comedic effect as seriously and as literally as possible. Numerous studies have shown that words are violence and we must treat them as such. (The disturbing reality is that no studies have shown anything remotely like this but we know that 'reality' is the product of right-wing media propaganda).
Context, intent and nuance are old fashioned relics from a bygone era. Never again must a comedian be allowed to explain that what they meant was something other than what-they-didn't-say-but-we-wanted-them-to-have-said-in-order-to-be-rightfully-outraged. We know exactly what they didn't say and they must be held accountable for it.
This is a novel concept, of course, and some might argue that you can't teach a dog of respectable age new tricks but we should at least consider clubbing him to death to try to make him bark the way we want. Apologies for that horrific example: assuming the imaginary dog's gender is out of line but previously-established-long-standing habits die hard.
Thankfully, inspiration is close at hand: SOAS, the college at the heart of this story set a perfect example of 'safe space comedy' with a gig on last year's International Women's Day. The environment was so uniquely welcoming and inclusive that some of the people in the room felt safe enough to allegedly harass the female host with no challenge from the staff in attendance.
Naturally, when the female performer used a triggering word in response, the gig was cut short. It is 2018 and we must listen to women. And when they speak up to defend themselves, we must cut their mic and kick them off stage. For progress.
Meryl O'Rourke, the act in question, explained that 'It's about SOAS… fundamentally not understanding words and how they're used.'
How naïve – she has clearly not grasped that we live in a world in which words matter more than actions and if your words can be taken out of context, misrepresented or if a coked-up bully makes you fear for your physical safety, you must nonetheless ensure that you protect everyone's feelings at all times.
The age of irony is over and I, for one, salute it.
In conclusion, and most important of all, we must ask no questions as to why a story about a no-name comedian turning down an unpaid charity gig at a college no one cares about made international headlines on the day the Prime Minister of this country was nearly removed from office by her own party.
Could it be that ordinary people feel strongly about political correctness and a culture of fear in society? Is it possible that the great unwashed care so passionately about their inability to express their views that they saw their own experience of imposed speech codes reflected in this incident?
For the sake of everything that is progressive, we must never, ever find out.
Published: 22 Dec 2018
What do you think?