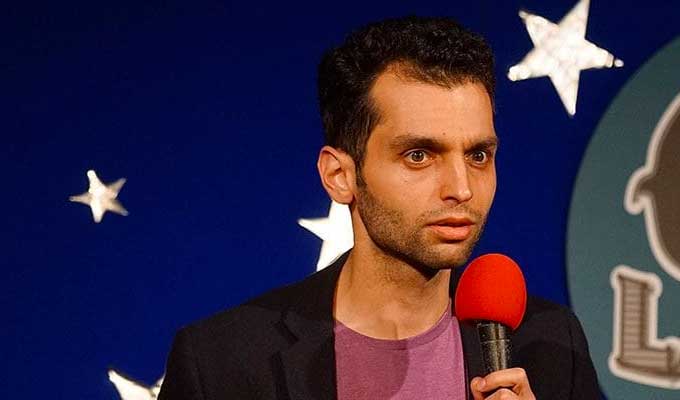 A 'safe space' contract for comedians is a bit silly... but the backlash is just as ludicrous
The 'safe space' conditions that comedian Konstantin Kisin was asked to sign before doing a university gig this week was a little bit silly: certainly naive, and probably a bit patronising. But were they really deserving of the contempt with which he treated them?
As everyone now knows from the days of blanket coverage, the stipulations required him to be 'respectful and kind' on stage and dodge all manner of -isms, from racism to homophobia.
In a full-page article in the Daily Mail today, Kisin makes the charge that he was being censored, calling the terms a form of 'idealogical oppression'. The comedian likened them to the diktats handed down during the Soviet era in his native Russia. As well he might, given that his great-grandparents were sent to the gulag for saying the 'wrong thing', and his grandfather was exiled after similarly falling foul of the KGB.
But it seems rather alarmist. After all, Kisin is freely sharing his opinions about how he was asked to be racist with millions of newspaper readers – orders of magnitude greater than the few dozen students he would have performed to at Soas, the School for Oriental and African studies in London.
What if he'd disregarded the rules the well-meaning students had laid down? Would he be marched off to the Siberian salt mines? Or would it have been precisely nothing?
At worst they could have cut his microphone, as has happened at college gigs before. Kisin wasn't getting paid so he wouldn't even take a financial hit. Again, I'm sure his fee for writing a column today has more than compensated.
In fact, had he been paid, would it have been so unacceptable for an employer to lay down some terms? Otherwise let's hope Kisin isn't doing Comedy 4 Kids anytime soon and decides that a request not to call seven-year-olds 'motherfuckers' is an unacceptable violation of his right to free speech.
That said, almost all 'safe space' terms are a clumsy way to try codify what a comedian can say, so end up being more about virtue-signalling, for want of a better term, than being enforceable or all that helpful.
Anyone should be prepared to at least hear opinions with which they disagree – whether they be liberal students or grumpy old reactionaries – and the 'behavioural agreement form' does sound like wrapping the comedy audience in cotton wool.
But such rules are underpinned with good intentions, that well-known paving substance for Hades-bound highways. Who would really want to side with a comedian doing transphobic, Islamophobic content at a Unicef show, which is what the student gig was?
After the news of his contract broke, Kisin performed at the proudly unPC Comedy Unleashed night in East London, where for his set he needed do no more than read out the conditions. The audience roar in contemptuous boos at the very notion of being asked not to be a bigot. The laugh he initially gets sounds cruel and scornful at the idea we should be nice to each other… which makes the naive kindness of the students seem a much more appealing side to be on.
The direction of travel for comedy – and indeed society – is not in their favour, leading to the kickbacks against increasing political correctness.
Some might throw their hands up at that, in the same way that the old-school comics of the 1970s found that it was no longer acceptable to do sexist mother-in-law gags or racist dumb Irishman jokes any more. It felt to them like a baffling new regime, but it's what audiences increasingly wanted, rather than the lazy tropes of old. Not all audiences, and Roy Chubby Brown tours successfully to this day, but the majority.
That is why safe-space contracts are largely redundant. If an act is offensive, audiences are able – and frequently do – express their disgust.
American comic Chris Gethard put it well earlier this month, when he said: 'What comedians often forget is that while we are allowed to offend, audiences are also allowed to get offended… This idea of, "We get to be able to say whatever we want," it's very much a double standard to say, "But you don't get to react the way you want"'
Jerry Seinfeld and the like might feel college audiences are too easily triggered, and he's probably got a point as we stumble towards trying to find the society that generation wants, but comics find their audiences – and audiences find their comics. And there are big problems that offence is always defined by the offended, no matter what the true intent of the speaker, which no safe space contract is ever going to resolve.
What is also overlooked is that it's surely the responsibility of an organiser to book a comedian who will fit their sensibilities, than asking a performer to sign an agreement? It's easy to research stand-ups – and there are bloody hundreds of them – so it shouldn't be beyond a promoter's wit to find someone who's not a bigot and whose material would fit their bill.
So no, shutting down debate does nobody any good. And comics should be able to say what they want, but maybe not always. As in everything, context is all. There are nights, lie the aforementioned Comedy Unleashed, that revel in their political incorrectness. A Unicef student gig has a different dynamic from that.
If Kisin couldn't agree to their terms, it makes you wonder what sort of gags he wanted to do.
Published: 14 Dec 2018
What do you think?