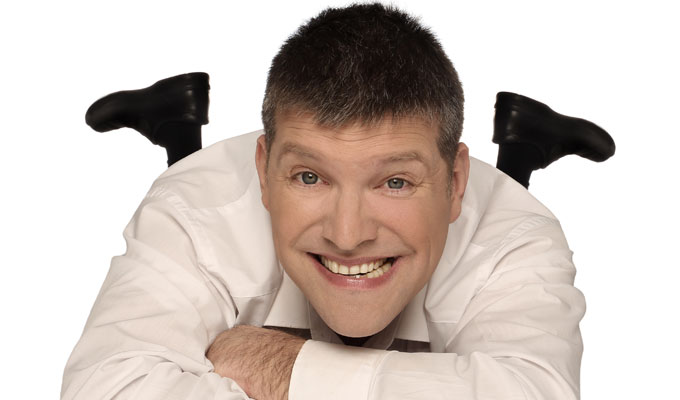 It's fun to laugh at disability
The other week I was asked on a podcast why so many of the disabled comedians around today have cerebral palsy like me. The questioner certainly has a point, with the likes of Josh Blue, Francesca Martinez, Lost Voice Guy and Tim Renkow to name but a few.
The only answer I could think of is the well-worn stereotype that we maybe had a hard-time at school and turned to comedy as some sort of survival mechanism. From my experience of going to a special school, we kids with cerebral palsy were pretty far down the pecking order. This probably explains why I'm still doing material about my schooldays at the age of 42!
I think that before coming to one of my shows, sometimes people have the preconception that it's going to be worthy or not particularly funny. Once at a corporate gig a woman came up to me beforehand and said: 'This is going to be one of those challenging sorts of evenings isn't it?'
I replied sarcastically: 'No it's going to be one of those laughing out loud at jokes sorts of evenings actually.'
All stand-up comics use aspects of themselves and their experiences to create material. No one would ever dream of telling Graham Norton not to do jokes about being gay. Nobody tells Jo Brand to lay off all the cake-eating gags. It's surely the things about a comedian that make them different which give them a unique perspective and make them interesting, engaging and funny to listen to? Why should this be any different for comedians who happen to be disabled?
For example, my fringe show Independence is mostly about what it is like to go through life needing help with certain tasks like getting dressed and going to the toilet. It's a very funny show told from a unique perspective but it's been difficult to find an angle to sell it. If I tell people it's a show about the day-to-day realities of using social care, I see their eyes glaze over before I've even finished speaking.
Yes, the title I eventually settled on is more than a little ambiguous! As August loomed I was having nightmares about front rows of expectant SNP supporters with faces painted like Braveheart; or bitterly disappointed back rows of Ukip-voting pensioners hoping for a show extolling the virtues of Brexit and kicking out immigrants. I'm praying that my smattering of topical gags will keep both sides mollified.
But needing help from other people has quite naturally led to some very funny situations. For example, one major task I struggle with is fastening buttons. When I was young my mum replaced all my shirt buttons with Velcro, which worked great until some smart-ass kid discovered the joy of ripping me open whilst shouting: 'Don't make him angry, you won't like him when he's angry.'
Of course, the big disadvantage to this is I can't fasten my jeans either. There's not always someone around to fasten them for me, but as I'm sat down all day that's not a problem. In fact I've grown quite used to going round the house all day with my pants wide open.
It's handy for getting rid of nuisance doorstep callers like Jehovah's Witnesses!
• Laurence Clark: Independence is at Assembly George Square at 19:00.
Published: 11 Aug 2016
Recent Opinions
What do you think?