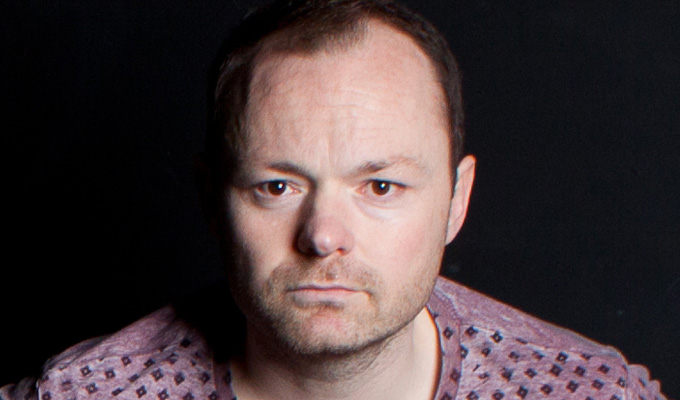 NATY New Act Of The Year final 2018
It's apt that the nomadic NATY awards – homeless since their days of being linked to the Hackney Empire – wound up in East London's Rich Mix studios this year, given that the variety-skewed showcase offers a richer mix of styles than most new act competitions.
Indeed, the ultimate winner, or 'top of the bill', Ada Campe isn't the sort of act you often see in clubs these days, more's the pity. Done up like an ageing showgirl – peacock head-dress, flapper-style skirt and a face heavy with slap – she gave off the vibe of a dotty pensioner full of mad, possibly tipsy, enthusiasm. Beryl Reid might spring to mind for older viewers.
Her mental, mentalist act involves a psychic duck, and is as surreal and silly as that sounds, ramped up by her sterling crowd work and extravagantly mischievous persona. Her boisterous eccentricity is certainly compelling.
So compelling, in fact, that hat it's a bit of a disappointment to learn that this batty character is fake, and actually the creation of performance academic Naomi Paxton, who wrote a doctoral thesis with the rather more sober title Re-Evaluating The Actresses Franchise League: Actresses, Politics And Activism From 1908-1958. But the fact she knows her music-hall history shines through in a brilliantly crowd-pleasing act, which rightly took the title.
The night had started in more conventional fashion, with Mary O'Connell griping about the customers she has to endure in her day job at Claire's Accessories. She has a nicely superior attitude, but much of the material was simply workday gripes she slapped down with a dismissive, superficial 'bitch!' When she touches on racism, it suggests more – but the set never quite delivers what her swagger promises.
With his keyboard strung around his neck, grumpy musical act Huge Davies has become a regular sight at new act finals, standing out for his sardonic lyrical analysis of popular dance music. Accompanying gags offer some deft switcheroos, with proven comic techniques deployed with well-practised timing and a resigned deadpan, even if they're not quite as distinctive as his calling card. A joint third-placed ranking on the night seemed about right.
Next came Polish comedian Maggie Kowalski, living up to at least one stereotype of being far more industrious than many British counterparts. Her set is packed with tight one-liners, from tricksy puns to wry comments about her Catholic upbringing, or how she wound up in the none-too-chic Lewisham area of London. She's not redefining comedy, but she's an excellent craftswoman who keeps the sharp punchlines coming, which easily earned her the runner-up place tonight.
By comparison, Paul Cox's observations about fatherhood seemed decidedly woolly, while his comments about being raised working-class but being middle-class now pale against Micky Flanagan's astute comments on the same. He's pleasant company, but the material's instantly forgettable.
Double act Elis & Rose burst on to the stage in eye-catching tartan suits and big energy, displaying all the powerhouse aggression of 1980s-era Rik Mayall and Adrian Edmondson… but sadly none of the charm. They come across as far too unlikable, with grubby bits of business licking cakes and inflating condoms, doing little to endear. 'We're not doing this for the glowing reviews,' they say – which is lucky.
Camp Kiwi Jake Howie was a far more engaging presence, although his writing could be tighter. Lots of millennial tropes raise their head, from Instagram to old folk being racist, and a nicely cynical reaction to hippies like his mum who buy into all manner of airy-fairy 'spirituality'. Although he can also be sincere about being given the chance to speak his truth as a gay man on stage – a gear change that didn't quite work as we were waiting for the rug-pull. With luck, and skill, he can bring the gags up to Match his big personality soon.
Irish comic Kevin O'Connell makes no bones about why he got into comedy, saying bluntly: 'I want fame.' He's got the indie rock-god look: tight jeans, black shirt exposing his chest, chiselled hair and cheekbones that could cut diamonds. Russell O'Brand, basically. For all that his naked ambition, good looks and posturing could count against him, he does – like Brand – embrace his own preposterous vanity. Some of the lines are rather good, though by no means all, and he gets some flighty surrealism to work in his favour. As a stand-up, he's still under construction, however, and hopefully he'll get the chance to find a good voice before being plucked from the ranks to be comedy's next pin-up for the teenagers.
Introduced as The Bride To Be, the next act stumbled into the room with all the reserved grace of the typical hen – ie none at all. In fact, her drunken, intimidating shtick was a little too accurate, making her as unwelcome as the real thing. However, as anyone who read their programme would have known, this performer's stage name is Amy Hooplovin' and, as you'd expect, she's a hula artist. Pretty good at it she is, too, if you're in the market for such a turn. But the supposedly comic preamble didn't add much – quite the opposite, in fact.
First up after the interval was Steve Whitely as spoken work artist Wisebowm, an engaging, three-dimensional character, who'd brought along a backing track to enhance his urban poetry. He slightly falls between the two stools of doing respectful justice to the artform and mocking it – and certainly his first number, a hard-hitting rap about giving up gluten was too long, even if he did largely pull off the old trick of adopting a serious tone for a frivolous subject. The second track morphed into a Happy Days pastiche to try to avoid the same pitfall of being over-stretched, with partial success. Wisebowm is nice creation, but Whitely's execution could be punchier.
Exactly the same verdict could apply to Bunny Hopkyns, who appeared after Ada Campe. Somewhere between Brian Pern and Spinal Tap, he's a bluesman who just happened to be present at the death of a surprisingly large number of beloved entertainers. It was essentially a one-joke set, each time he began singing his 'hit', Me And My Guitar Have Got Too Much Blues, Deal With It (Yeah), he'd interrupt himself with a reverie about another drug-fuelled party. But Bruce Williams, the man behind the shades (and, dare we say, wig) eked out the underplayed joke nicely, and shared the bronze honours on the night.
Dannie Grufferty has a lot to offer, too, as the only politically informed comedian on the bill. She's snarky and sarcastic on the likes of Brexit, cheekily emphasising her role as a card-carrying member of the 'always right' liberal elite. With her superior tone, playfully acknowledging her privilege, she's working in the same ballpark as Bridget Christie, with a set built on an intelligent, interesting base. Yes, some jokes need more kick, but she's someone with strong opinions, who we'll surely be hearing more from.
As a comic who did his first Edinburgh show seven-and-a-half years ago, Will Mars might be stretching the definition of 'new act' a bit. But he is newly back on the UK circuit after a stint in New York, his return home drenched in misery. As it happens, the bleak sadness at the heart of his act – and indeed life – is a little too real, putting a damper on the whole set. It's a shame because he's got some very fine one-liners about the misery both of his upbringing and his present circumstances. But the comedy-tragedy balance is off-kilter, and we end up feeling more concerned about his wellbeing than laughing at his pain.
John Meagher likes to imagine he has a lyrical, poetic, Irish soul - though has come to reluctantly recognise that in real life he's more of the 'spud-faced' type you'd find doing manual labour. He's got a commanding delivery as he discusses all this, even if he leans a little too heavily on familiar tropes. That includes gags about his part-Geordie, part-Middle Eastern girlfriend that lean on the terrorism stereotype (Wae'ISIS, I suppose) as well as any more about common Irish tropes. Though to borrow one of those, he has got the gift of the gab – even if on this outing he seems more like a safe pair of hands than a must-see comic.
And finally came, sharp-suited Jon Udry, a juggler. There's little more to say about an act that is more Covent Garden Piazza than comedy club. He's got reasonable patter, largely about the unpopularity of juggling, and decent tricks – but not enough distinctiveness to stand out from other exponents of his art.
Read More
Published: 12 Feb 2018
'I don't know who I am as a person,' Will Mars…
9/08/2016
Every year there seems to be at least one Fringe play…
31/08/2015
This Sassenach sister of the well-established Scottish…
8/07/2014
Television has long distrusted a straightforward stand-up…
11/06/2013
This is a debut show that very much feels like a debut…
25/08/2012
Past Shows
Agent
We do not currently hold contact details for Will Mars's agent. If you are a comic or agent wanting your details to appear on Chortle, click here.