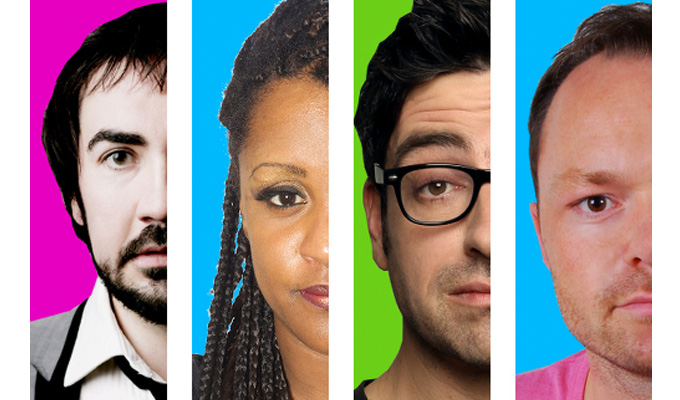 Routines
Note: This review is from 2015
Every year there seems to be at least one Fringe play set in the green room of a comedy club, but Routines is a rather different prospect.
It's half a straightforward stand-up gig, but between each act the comics on the bill are seen chatting among themselves in part-improvised banter. So it's more of a format change on the three-comics-and-a-compere setup… and one that's not entirely successful.
That the conversations are insider-y is to be expected, but they don't seem any different than those held in bars around the city this month. For example, knowing that this show's being reviewed by Chortle, they have a bit of a discussion about the benefits and drawbacks of our new half-star ratings. It's hard to see too many general punters caring too much about this.
Where it does work is when they talk about the audience in specific; essentially doing the banter they might otherwise have done on the mic into a different energy. Thus they'll talk about the chap in the Captain America T-shirt in the third person, and the next comic in the spotlight will then target him. And some in-jokes work in the context of the show, such as the presumably scripted accusation that Matt Roper's character act is basically trickery, and mocking his pretensions that donning a wig and glasses to become the spittle-flecked self-imagined lothario Wilfredo is somehow 'shamanic'.
The four comedians all bring a different energy to these backstage bits, which makes for an inconsistent mood. Stephen Carlin projects like an actor, while Dana Alexander is more soft-spoken.
Their stand-up sections work predictably better, especially Carlin's wry take on being Scottish that turns into a tongue-in-cheek advert for heroin – but even so it'd probably be better without the distraction of the other comics sat behind him. It's compered by Will Mars who created the format, but he structure doesn't offer the same entertainment potential as his last big idea, Joke Thieves.
Instead Routines feels indulgent, and too dependent on the mistaken belief that people will care as much about comedians' petty everyday concerns as the comedians themselves.
Review date: 31 Aug 2015
Reviewed by: Steve Bennett
Reviewed at: Laughing Horse @ The Free Sisters
Recent Reviews
What do you think?