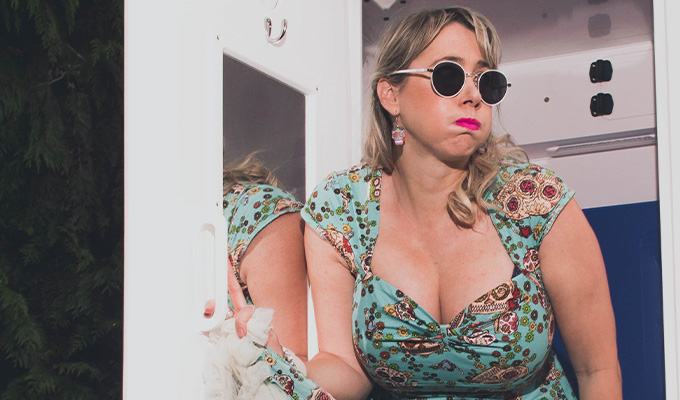 Tiff Stevenson
Contestant in ITV1's 2011 reality/talent series Show Me The Funny.
Read More
Tiff Stevenson: Mother

Plenty of comics share their experiences of becoming a parent. But with blended families on the rise, it's perhaps surprising that you don't hear more stories like Tiff Stevenson's, that of a much-maligned figure, the stepmother.
Having only recently got comfortable using the term around her fiancée's 11-year-old son from a previous relationship – despite knowing and loving the boy for most of his life – she's going all in. Rejecting Disney stereotypes, she's chosen to become a Tennessee Williams-style Southern belle and lush, imploring the child to fix her another drink.
But if she's teaching the boy cocktails, she's also trying to open his eyes to being a good feminist, a situation that's inextricably bound up with equal opportunities and reproductive rights.
Growing up working-class, Stevenson saw her chances limited and much of her ambition slapped down by the system. Yet when she got pregnant in her teens by her ne' er-do-well boyfriend, she chose not to become a mother. And she's been resisting the patriarchy ever since.
Extrapolating the political from the personal, she recalls an incident in a coffee shop where she saw a pregnant woman advised to watch her caffeine intake by the barista. Sharing the story on social media, splitting opinion and attracting trolls from various viewpoints, she flips the experience on its head by imagining a similar example with the genders reversed, making her point classily yet forcibly.
A proposed boycott of this show by a pro-life group, incited by an opinion piece she wrote in a newspaper, is swatted away with the contempt it deserves. But as Stevenson reflects on Northern Ireland's hard-won gains on abortion and the war on women being fought in the US, she takes every chance to stress the ongoing urgency of the issue, her satirical snipes often brutally uncompromising.
Articulately put and finding overwhelming agreement in the room, she nevertheless leavens the seriousness with some silliness. As much as her class, her body type has seen her sexually defined since puberty. And Stevenson treats the unfamiliar to the obstacles and irritations of being a bigger breasted woman, expressively funny in the act-out.
Similarly, her concerns that her relatively uncultured accent might have held her back in her career inspires a joyful impersonation of Joanna Lumley, those exceptionally plummy tones cutting straight to men's better reasoning. Or something in them anyway.
The impression that Stevenson projects of a scrappy upstart, battling her way into the bastions of middle-class male privilege is cemented by her encounter with oblivious gentleman adventurer Ben Fogle on the radio, cheerily indulged in his talent for failing upwards.
Moreover, she offers some choice advice for Meghan Markle about Britain's suspicion of upward mobility and the roles she might now find herself constrained within.
Well reasoned throughout, but with an edge of controlled anger, Mother perhaps lacks the revelatory insight or fresh perspective to rise above similar feminist shows, even with the stepmother angle.
It does conclude with a neat circularity though, with Stevenson at 40 having resolved many of her anxieties, passing on the wisdom of her experience.
Read More
Published: 12 Aug 2019
On Thursday night, Channel 4 viewers would have seen…
20/07/2019
Roisin Conaty's sitcom has got a deserved promotion…
17/07/2019
Tiff Stevenson's show takes a wide-ranging look…
18/08/2017
With the gender pay gap and music videos still pandering…
24/08/2015
It's just a two-word phrase, but it points to something…
19/07/2015
Tiff Stevenson, jokily dissatisfied with her initial…
16/08/2014
For the opening night of its 20th anniversary year,…
3/06/2014
The traditions of Burns Night are well-established:…
27/01/2013
They always insisted it wasn't the X Factor for comics,…
26/09/2011
The British Library is fast becoming an unlikely fixture…
19/01/2011
Say what you like about dictators, but they tend to…
8/08/2010
Has Tiffany Stevenson ever mentioned she used to be…
18/08/2009
Tiffany Stevenson has a detached style, delivering…
29/10/2007
Comics doing theatre is a recent staple of the Edinburgh…
1/01/2006